Helping communities highlight the wonder of nature
Master of Landscape Architecture alumna Shanika Tuinder has been helping the community of Miramar, the first predator-free suburb in Aotearoa New Zealand, to plan for the next 30 years.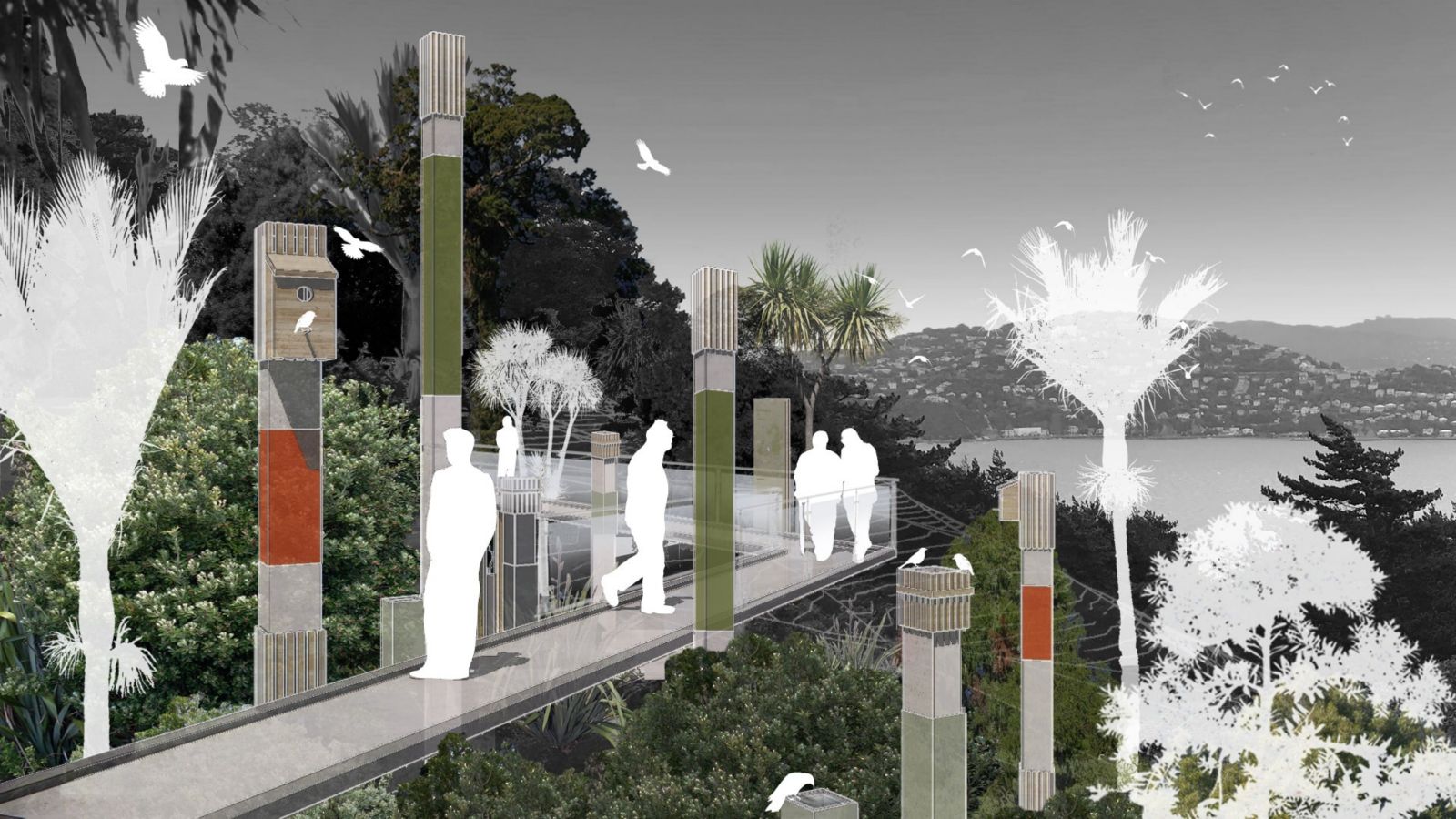 Shanika's research attempts to highlight the conservation efforts of community groups Predator Free Wellington, Predator Free Miramar, and Te Motu Kairangi Ecological Restoration Group by providing a design vision for Watts Peninsula in Miramar. "The incredible pest-eradication and planting work of the community has created the conditions for native species to thrive."
A key design objective was to increase human access and flow to the 76 hectare reserve while improving its resilience to predators at its boundaries. Miramar locals are doing tremendous work to introduce rare and endangered plant species back to their neighbourhood. A planting strategy set out how primary, secondary, and tertiary native species could be planted by locals to recolonise the large urban reserve over the next 30 years.
Many architecture students come into university not really understanding what landscape architecture is about, says Carles Martinez-Almoyna from the School of Architecture, who supervised Shanika for her research project. "There is still a lot of work to do in order to build understanding of the importance and the potential of landscape architecture. Landscape architecture is a relatively young discipline that deals with a wide range of projects and scales. It sits between environmental and social sciences.
"We study and design the outdoor space of urban, rural, or natural areas, focusing on the processes that occur between and within landscapes. We also consider how humans interact with those over time."
Shanika explains that with her project she wanted to pursue an educational focus, providing interesting and engaging experiences to get people excited about nature and urban conservation. So, as well as the planting design and the pedestrian access plan, she came up with several strategic interventions to showcase natural beauty alongside cultural significance.
"One of the structures I proposed is a relatively simple observation deck, but it sits at the top of a grass valley that is targeted in the first phase of community planting, so as the forest regenerates, the public can come and observe how locals have rehabilitated the landscape over time," she says.
Another structure she has designed is positioned at the northern tip of the peninsula, near Massey Memorial, a site with extensive views over Wellington harbour, and a pair of rare karearea nesting nearby. "I designed an elevated boardwalk with playful habitat poles, exploring the unique habitats within Watts Reserve. The intention with this design was to reflect how important these undeveloped environments are for urban biota, exploring how people can get involved in their guardianship.
The idea of conservation is shifting, says Carles. "The current worldwide biodiversity crisis requires the exploration of new approaches to habitat restoration and conservation. We are moving away from the idea that conservation is just related to the management of protected areas and pristine reserves".
He says that in order to achieve a real change in an increasingly urbanised world, conservation efforts must be extended into the urban realm and involve restoration of private and public spaces at neighbourhood scale. "Miramar peninsula and Watts reserve in particular are a great example of this new approach to conservation based on self-management practices."
Shanika adds that despite the ecological emphasis of her thesis, exploring social cohesion was an important part of her research. "It was interesting to find out how many people have forged friendships and experienced improved mental health as a result of engaging in restoration. Local conservation initiatives are bringing communities together and providing a platform for people to connect."
Carles highlights the importance of social and cultural components in landscape architecture. "I try to share social values. As part of my research interests, I aim for my students to experience civic engagement through my teaching by facilitating partnerships with community groups or local governments interested in developing participatory projects. I think that these social values are shown in Shanika's work".
Shanika now has a role as a graduate Landscape architect with the design studio Isthmus in Auckland, where she is involved in a range of projects from streetscapes to urban waterfront regenerations. "It's exciting working for a firm like Isthmus, where the work is so deeply rooted in people and place".
Shanika aims to continue supporting the Miramar groups in their work towards a pest-free, resilient peninsula environment.