Stay and deliver in Afghanistan
When the Taliban swept into Kabul, Afghanistan on 15 August 2021, Te Herenga Waka—Victoria University of Wellington alumnus Christopher Foulkes was asked to "stay and deliver".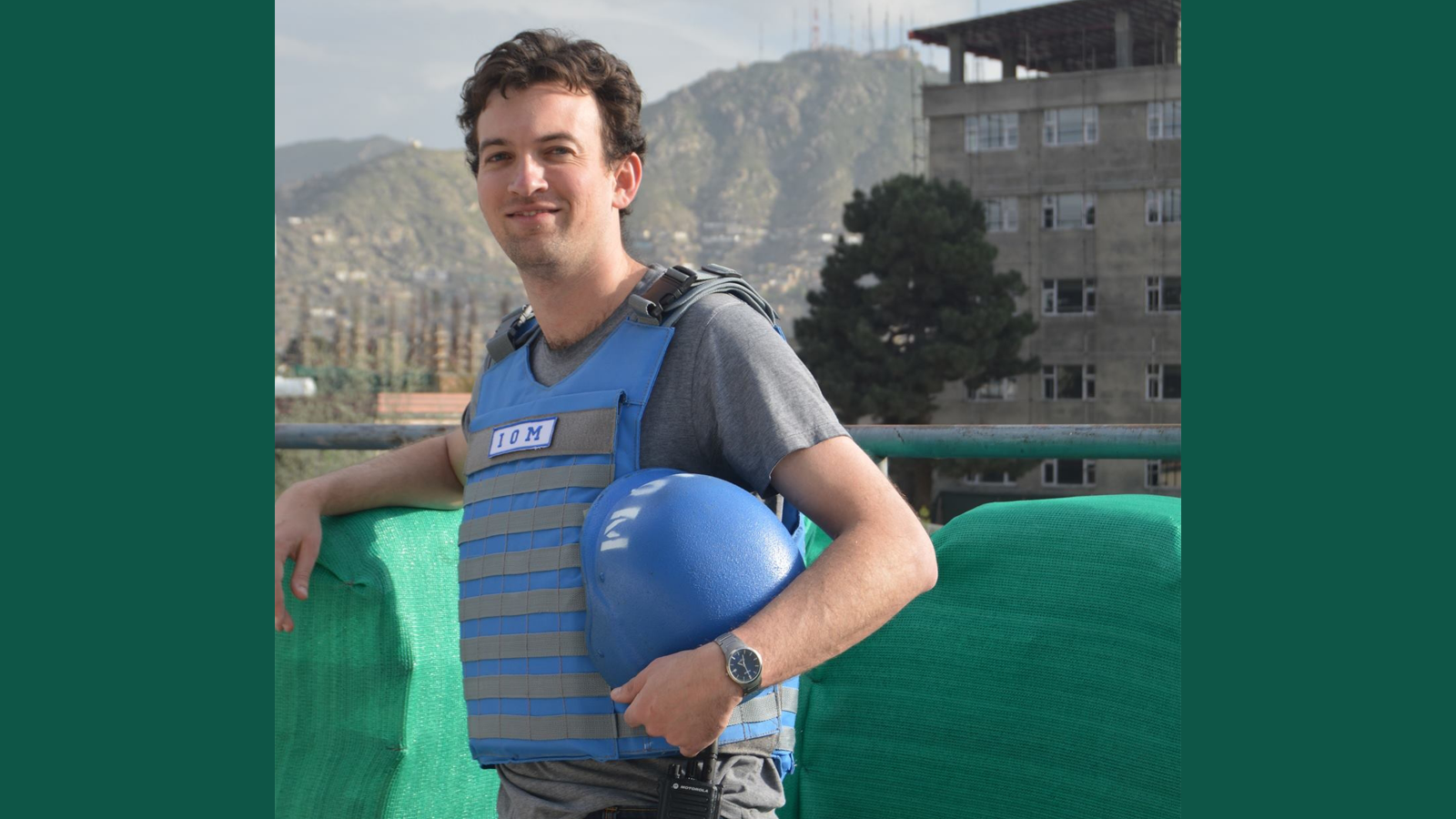 Chris is a programme support officer for the United Nations' International Organisation for Migration (IOM). His job is usually about drafting proposals, working with donors, and working on funding applications—but since the Taliban returned, he has been a jack of all trades as part of the temporary group of only five international staff of the IOM in the country.
We spoke to him two months after the return of the Taliban to Afghanistan as de-facto government.
"I was trying to ensure our 600 national staff didn't feel abandoned, that they were safe and well. Because we have migration in our agency name, a lot of people have been asking us to migrate them somewhere—but we aren't a government, and we need the government's consent to grant visas. We've been liaising with our donors to convince them not only to accept our staff, but also vulnerable beneficiaries, or employees of the former government who may now be in danger.
"We've also been working out how we can engage with the Taliban," says Chris.
Chris grew up in Brunei, where his Scottish mother and Kiwi father were both school teachers. He returned to Aotearoa for boarding school in Auckland in 2000, and began his degree at Te Herenga Waka in 2005, graduating six years later with a Bachelor of Laws and a Bachelor of Arts with Honours, majoring in political science and international relations.
"It just made sense to go to Wellington after I finished school. While I never imagined I'd end up in the job that I am in, I was always drawn to the public law and international relations areas. I thought I'd finish school and go to law school in Wellington, because it's the place to understand how government works," says Chris.
"It was interesting to see staff like Professor Petra Butler and Associate Professor Grant Morris go to select committees or present to Government— and the Government would listen to them, because they were the experts. I was learning from the experts."
He enjoyed law school particularly for the camaraderie. "Once you are in third and fourth year you can feel the lecturers want you to succeed—they have your back."
In the honours year of his political science degree, the University sent him to a conference in Korea through the Asia NZ Foundation. This saw him become a young leader with Asia NZ, which later facilitated his trip to Hawai'i for nine months to complete the East West Centre's Asia Pacific Leadership Programme.
This start in Hawai'i gave Chris the network connections to move to Washington, DC. He then got an internship with the Migration Policy Institute, and later, a job with IOM in Bangkok. It was from there in 2014 that he moved to Kabul for the first time.
"My boss, the regional director for IOM, just happened to be a Kiwi, and he came over to my desk and said 'Chris, we've got a 10-week position in Afghanistan, would you be interested?' I said yes, and it turned into a two-year position."
Chris did his Master's in Migration Studies at Oxford University in 2016, then moved to Gaziantep in Turkey with IOM, before returning to Kabul.
While the decision in August to stay in Kabul was difficult, he can see how decisions being made now link to what he learned in international public law.
"My team is currently and continually grappling with the tension between the humanitarian imperative and the human-rights-based approach. I am used to having this discussion academically, but now it is being had with real lives and real people.
"The humanitarian imperative says we need to save as many lives as we can, regardless of principles—because life is the most important thing in the world. The human-rights-based approach says 'we can't engage with this group unless they engage with, and respect, human rights'. For example, unless they allow women to be humanitarian workers, and allow us to serve women.
"These conversations happen between the UN humanitarian agencies— who tend towards the humanitarian imperative— and the international NGOs, who tend towards the human-rightsbased approach."
Chris falls on the humanitarian imperative side in this case, but explains that obviously there is slightly more nuance to the debate than choosing one or the other.
"I like that my job makes a difference. Moving forward, I am super interested in being part of the space many in this field call the 'missing middle'—where humanitarian response ends and development begins. I want to be involved in making sure humanitarian responders link in with development people, and design their programming in a way that allows them to pass it over more easily."
He credits his time at university in Wellington with giving him the skills to do his job. "Being able to analyse situations quickly and draft responses and coming up with a coherent response, whether right or not. These are skillsets you gain from being a student of law and the humanities.
"A lot of my career has been about saying yes as much as I could."
Access the full version of V.Alum 2021 here.