Choosing the law over the mountains
The newest appointee to Papua New Guinea's National and Supreme Court might have ended up in the PNG highlands discovering new animals and plants.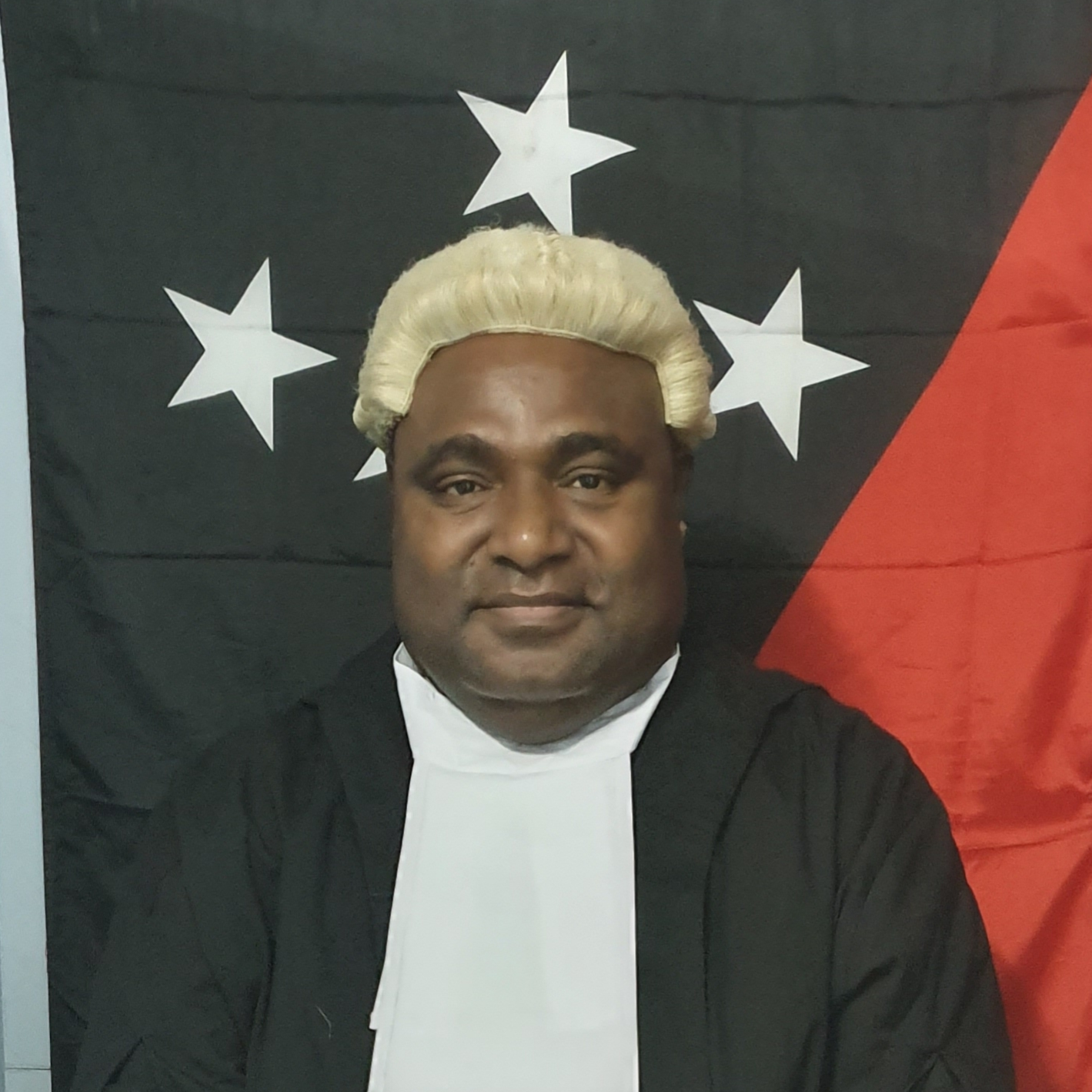 But several powerful influences steered Te Herenga Waka—Victoria University of Wellington Faculty of Law alumnus Dr Vergil Narokobi towards the bench rather than the mountains.
His father's professional law career, a legal studies course at high school, the University and Wellington all played their part in his success.
Born in Port Moresby, Dr Narokobi says he was fascinated by geology and biology while at high school in Australia.
"I collected rocks as a hobby and read books by [environmentalist] Tim Flannery. I did not have much interest in law, although my father Bernard was a lawyer and a former judge before going into politics.
"But in Year 11, I did a subject on legal studies as part of my optional subjects, I guess for the reason that I wanted to learn a little more about what my father did as a lawyer, as he was a public figure in Papua New Guinea.
"It opened my mind to the fascinating world of the law. I became fascinated with how the law is made, how it is interpreted and the contribution it can make to building a more just and fair society. I felt compelled to follow the path my father took as he was also my role model."
In 1994 he began studying Law at the University of Papua New Guinea.
He says the formative steps in his childhood and adolescence that put him on the path to being a judge were a "deep respect" for his parents and his Catholic faith.
"Also for as long as I can remember, I have as much as possible tried to tag along with my father to his public events and became inspired with his sense of commitment to public service."
Dr Narokobi came to Wellington in 2012 to study towards his PhD in Law.
"I chose New Zealand as I had developed the perception that it was a friendly, beautiful and hospitable country, which did its best to treat its indigenous people fairly and had highly regarded universities.
"Since my interest was in public law, I thought Victoria University of Wellington had an added advantage, owing to the fact it was in the capital city, and was in close proximity to Parliament. My father after serving in Parliament was the Papua New Guinea High Commissioner in Wellington and he also recommended the University."
Wife Grace and their four children—Maria, Bernard, Fatima and Xavier—also came to Wellington.
"My wife was given a work visa and worked at Wellington Hospital. So with my scholarship stipend and her income we worked hard to raise our family and I had to manage my time between my studies and looking after my family. It was very tight. But we had fun.
"There are a number of Papua New Guinea and Pacific students at the University and I enjoyed the opportunity to meet them and hear their different experiences. It was heartening to see the opportunities New Zealand provided for many of our island countries."
Dr Narokobi says his doctorate has given him a "deeper appreciation" of Papua New Guinea's constitution and how it can transform the country.
"The principles that underlie New Zealand's and Papua New Guinea's legal systems are similar, but Papua New Guinea has a written constitution—principles such as separation of powers, rule of law, respect for human rights and freedoms and parliamentary responsibility.
"What I notice about New Zealand, however, is the commitment of its leaders to upholding these principles, a responsive parliament and the openness of its public institutions to the people.
"Papua New Guinea may need to look at always being innovative to ensuring that these principles are consistently respected and maintained in a way that is not too complex and expensive on the courts and the government.
"All it takes is time and a few charismatic and inspirational leaders to come around to address these issues. I am optimistic because, despite the problems confronting humanity, there are always good people willing to sacrifice in order to improve our lot."
New Zealand needs to export its ideas and aspirations, he says.
"For example, how it deals with complex problems in a way that is fair, just, not costly and timely. I think New Zealand brings to the world a sense of humble genius that is unique and appealing. It is an empathetic nation."
Dr Narokobi has focused his expertise on how constitutional ideals can be implemented by various branches of government, especially for constitutions which clearly espouse fundamental principles.
"I am interested in how the law can implement great ideas in ways that are efficient and effective."
He is grateful for the mentoring and support offered by his two PhD supervisors, Professor Tony Angelo and Professor Joel Colón-Ríos.
"I am also immensely proud of our Assistant Vice-Chancellor (Pasifika) Associate Professor Luamanuvao Winnie Laban. She has been a unifying and inspirational icon of our Pacific people. Her work is raising the next generation of Pacific leaders.
"I would most certainly recommend the University to anyone intending to do a PhD and, since Victoria University of Wellington is consistently ranked highly for law and has renowned academics, I would also highly recommend studying law there.
"It also has impressive alumni to show for it."
An interest in matters legal certainly runs in the family. Dr Narokobi's eldest daughter Maria is now also studying law, at the University of Papua New Guinea.
"Her brother Bernard says there are too many lawyers in the family! Instead, he is doing his first year at the University of Papua New Guinea and hoping to major in economics."