Damian Skinner
Damian received his PhD in 2006, and has authored a number of art-related publications since.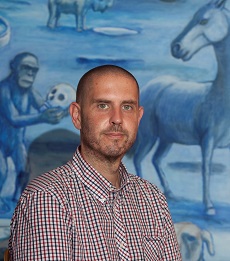 Dr Damian Skinner received his PhD in art history from Victoria University of Wellington in 2006, for a thesis exploring the dynamic relationship between customary and modern Māori art in the twentieth century. This was later published as The Carver and the Artist: Māori Art in the Twentieth Century (Auckland University Press, 2008). He has also published a number of other books about Māori art, the indigenous art of New Zealand, including Ihenga: The Evolution of Māori Art in the Twentieth Century (Reed Publishing, 2007), and The Passing World, The Passage of Life: John Hovell and the Art of Kōwhaiwhai (Rim Books, 2010). He was a contributing author for the book Art in Oceania: A New History, published by Thames and Hudson in 2012. He is now working on a project about art and decolonization, which explores the particular role that indigenous and settler artworks have played as part of anti-colonial struggles in Australia, Canada, and New Zealand.
In addition to his other interests, Skinner has also written about contemporary jewelry, in New Zealand and internationally. His books include Given: Jewellery by Warwick Freeman (Starform, 2004), Alan Preston: Between Tides (Godwit, 2008), and Kobi Bosshard: Goldsmith (David Bateman, 2012), surveys of senior New Zealand contemporary jewellers, as well as Pocket Guide to New Zealand Jewelry (Velvet da Vinci, 2010), a catalogue accompanying the American touring exhibition of the same name. Recent and upcoming books include Contemporary Jewelry in Perspective (Lark Books, 2013) and Place and Adornment: A History of Contemporary Jewellery in Australasia (David Bateman, September 2014), co-authored with Dr Kevin Murray. His book Cone Ten Down: Studio Pottery in New Zealand, 1945–1980 (Bateman, 2009, co-authored with Moyra Elliott), explored the impact of the theories of British potter Bernard Leach on New Zealand studio ceramics.
After several years working as an independent scholar, in 2013–13 Dr Skinner became a Newton International Fellow at the Museum of Archaeology and Anthropology, University of Cambridge in the United Kingdom. He was the JD Stout Research Fellow at Victoria University of Wellington in 2017.