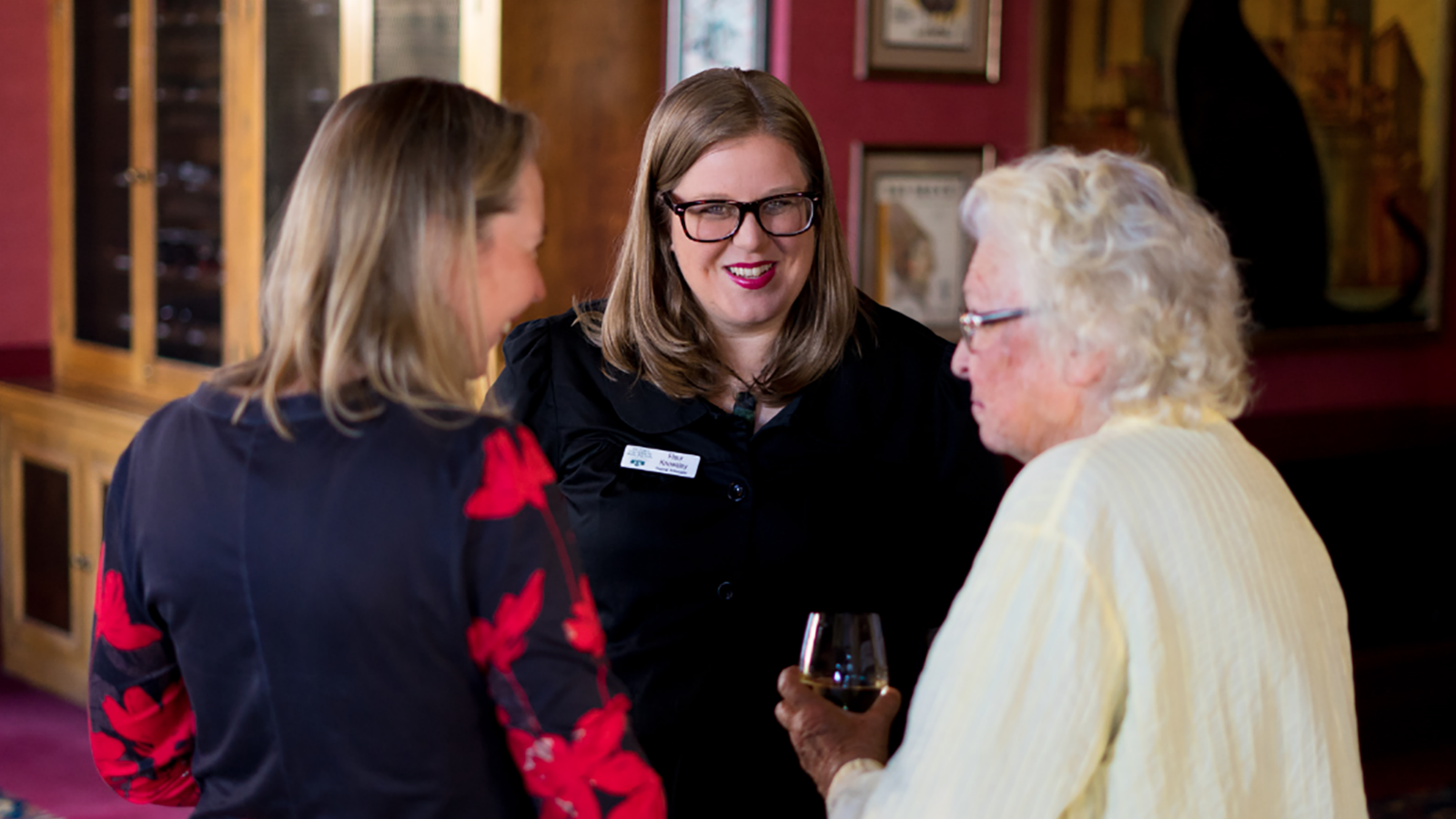 Fleur Knowsley (middle) at an aumni event in San Francisco. Photo: Glen Dandridge Jr. Creating Classics Photography
Increasing numbers of international students are coming to study in the capital city, and New Zealand-born graduates continue the great Kiwi tradition of the 'Big OE' after graduation.
To build our alumni communities internationally, the University has set up a network of regional ambassadors in key locations around the world, who coordinate activities for alumni based in these cities and surrounding areas and help maintain connections between alumni and their alma mater.
Established in 2016, the network now has ambassadors in seven cities across Southeast Asia, North America, Australia and Europe. The ambassadors are all Victoria University alumni and give their time voluntarily to help strengthen the University's international alumni connections.
Fleur Knowsley is the regional ambassador for the Bay Area in the United States, where she works as Legal Counsel for Google Fiber, Alphabet's high speed internet division.
"My focus for 2018 has been on building up our alumni network on the West Coast by creating more ways for alumni to connect. It might be as simple as a casual get together over drinks but it's exciting to see the personal and professional connections that get established and the conversations that take place at these events," Fleur says.
"The highlight was definitely a screening at Google Headquarters of Gaylene Preston's film My Year with Helen, followed by a discussion afterwards with Gaylene and Helen Clark herself. But the annual summer picnic at Presidio Park for alumni and their families is always really fun too."
Following a series of focus groups facilitated by Sydney regional ambassador Sarah Richardson in early 2017, alumni in Sydney have been catching up for regular speaker events, panel discussions and coffee catch-ups coordinated by Sarah and alumni committee members Paul Barton, Jason Rohloff and Mike Wilkinson.
"Gaining some early insights into what interests our diverse Sydney alumni and how they'd like to engage was key. Our alumni have an enormous amount of expertise in different fields, so our events are as much about professional development as they are about meeting new people," Sarah says.
"The research also indicated that ongoing communications and a sense of connection were relevant. And the focus groups identified the committee members, which has been a big contributor to our success."
Singapore regional ambassador David Tan has focused on strengthening connections between alumni and Singaporean students, supporting the revitalisation of the Wellington Singaporean Students' Association.
"We provide students with a pre-study briefing about life in Wellington, and then connect students to Singapore-based alumni to help get them started on their careers once they come home," David says.
"I've always been grateful to Victoria University for giving me a foundation for career success, and I want to help a new generation of students in turn."
As well as these networks, there has been a wide range of events organised in Melbourne, Brisbane, Hong Kong, Kuala Lumpur, London and New York.