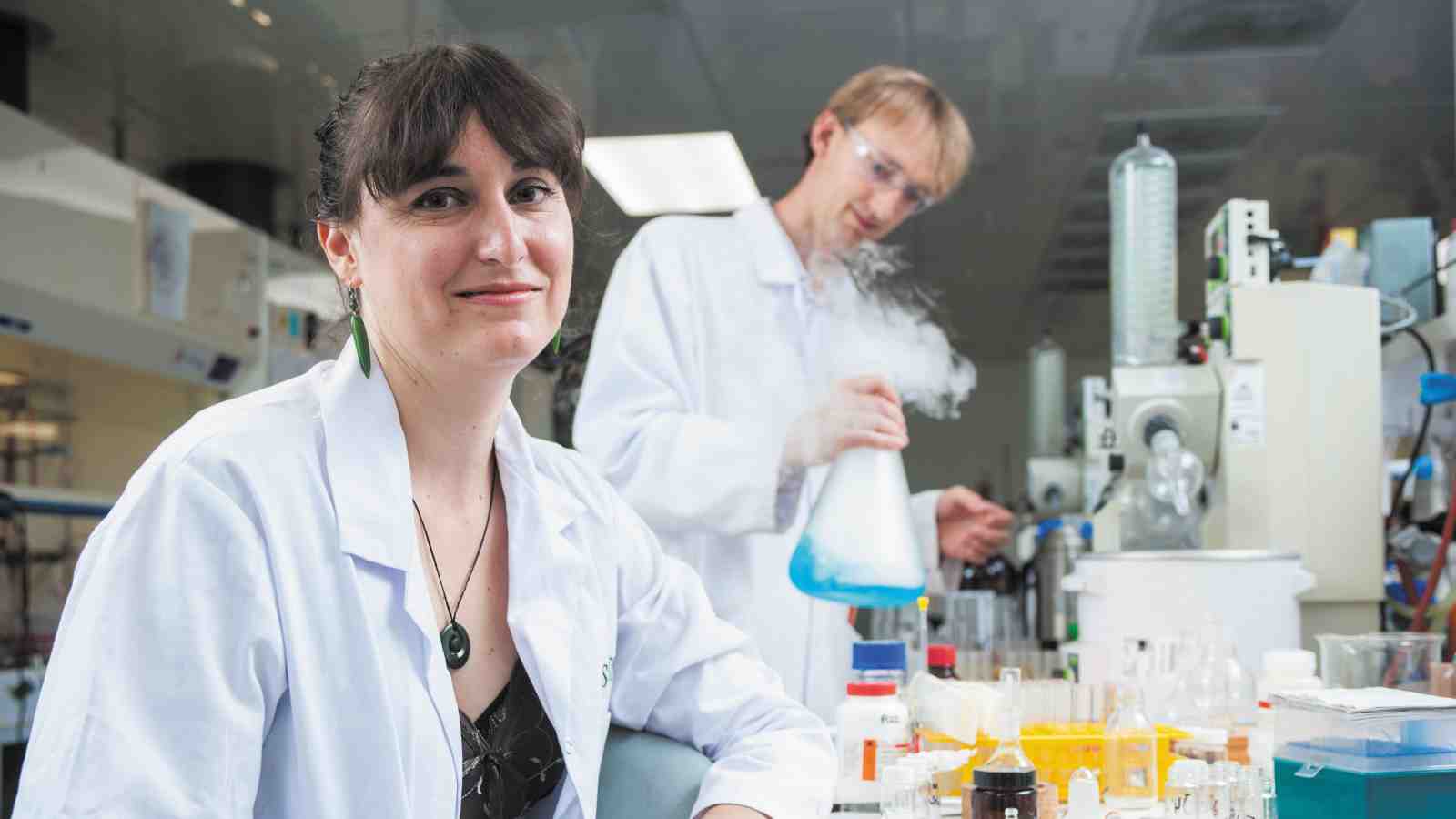 Dr Bridget Stocker and Dr Mattie Timmer in their laboratory at Victoria.
Little did she know she would soon be teaming up with them to tackle the task of developing more effective vaccines.
Bridget, a senior lecturer in Victoria's School of Chemical and Physical Sciences, will work with Professors Sho Yamasaki from Kyushu University in Japan and Katsumi Maenaka from Hokkaido University in Japan, as well as her partner and Victoria colleague Dr Mattie Timmer, on a Marsden-funded project worth $705,000.
The Japanese scientists changed the immunisation game in 2013 when they determined the structure of a groundbreaking new receptor. This receptor can detect cells that have been damaged by disease and alerts the immune system.
Collaborating with these revolutionary Japanese chemists occurred by chance, says Bridget.
"I noticed that they had cited some of our earlier studies in one of their papers, so I decided to send them an email about what we were doing and they were interested. They're exceptional scientists and to partner with them is exciting."
Together, the researchers will explore how the newly identified receptor can be used to guide the development of adjuvants—the part of a vaccine that enhances immunity.
Research with the receptor remains in its infancy, despite its tremendous potential to enhance vaccination against a variety of diseases.
"Once Mattie and I have developed promising adjuvants with Professors Yamasaki and Maenaka, we will then explore the potential of these adjuvants in a vaccine against malaria with our long-term collaborator, Dr Faustin Kamena, from the Max Planck Institute in Berlin," says Bridget.
"We are starting with malaria as this is an area of expertise of our collaborator. However, our approach has the potential to work in vaccines for a broad range of viruses, fungi, parasites and bacteria."