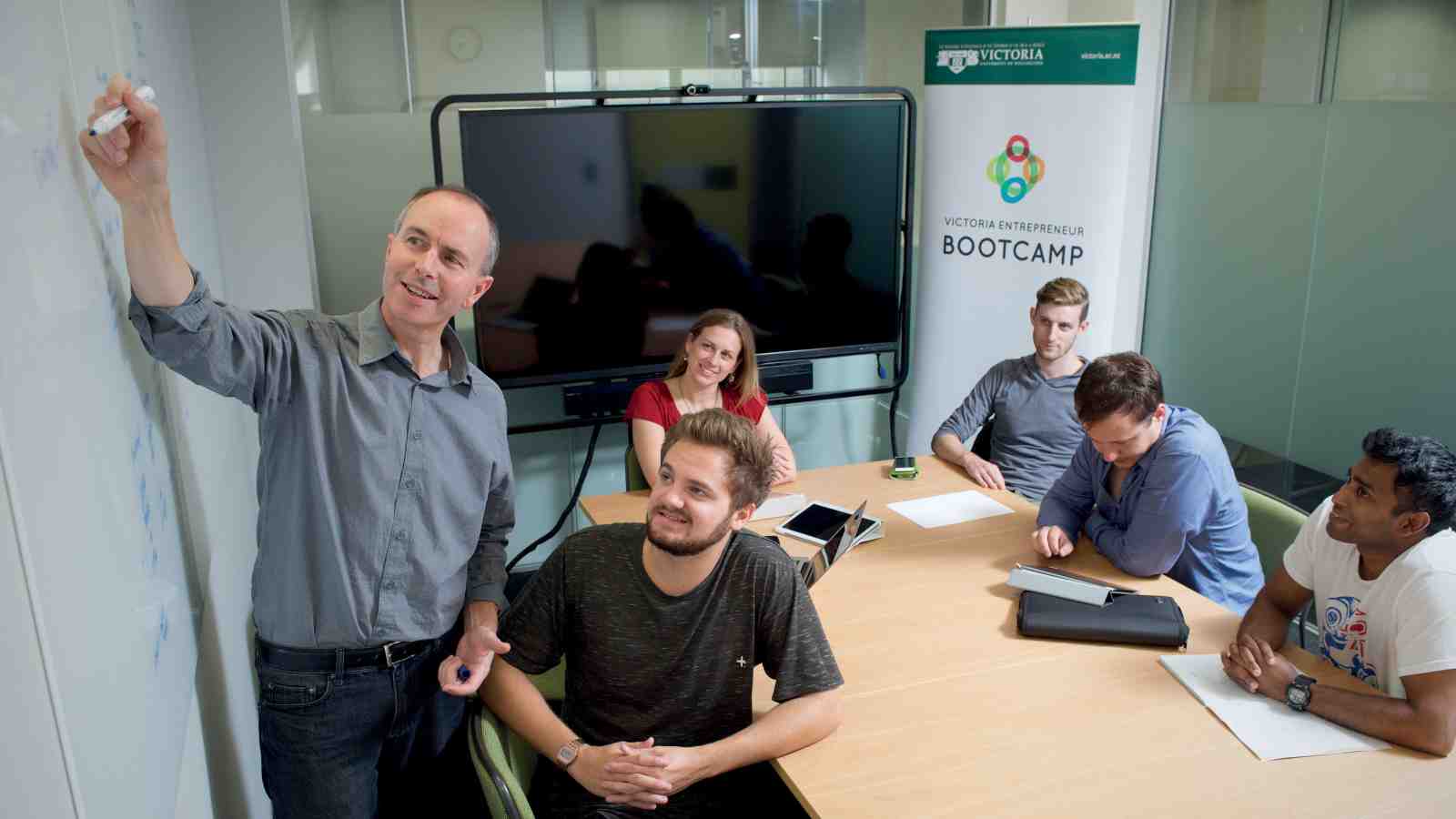 Mentoring session with student team Hatcher. From left: Michael Elwood-Smith (mentor), Tom Numan, Emily Sullivan (entrepreneurship manager), Joshua Brake, Connor Finlayson and Danesh Abeyratne. Missing: Sam Etheridge.
The annual Victoria Entrepreneur Bootcamp is run by Victoria University and Viclink, the University's commercialisation office, in partnership with co-working and innovation network The BizDojo. The core programme is delivered by Wellington business incubator Creative HQ. It includes interactive workshops and lectures, access to mentors and an opportunity to present to a range of people from Wellington's innovation community, including potential investors.
Successful applicants participate in the programme at no charge, with six teams taking part last summer.
Viclink's entrepreneurship manager, Emily Sullivan, says the programme aims to infect participants with the entrepreneurial bug. "The skills they learn will be useful to them over their entire working career. We want them to know what's possible and have the confidence to try new things without being afraid of failure."
Kah Chan, a senior lecturer from Victoria's School of Design, and Alan Hucks from Creative HQ, were the original brains behind the Bootcamp, which was piloted in 2011 and has grown and developed since then.
"This programme offers a fresh alternative to the traditional paths a graduate may take," Kah says.
Bootcamp participant Christina Leef says the programme taught her how to bring her business ideas to life. "Ultimately, all the information, mentors and networks that we were exposed to have been invaluable," she says.
Support is provided after Bootcamp for the teams that go on to develop their own businesses. One of the startups to come out of the programme is Swibo. Made up of design and engineering graduates, the team's core product is a lightweight balance board with a smartphone dock for playing games created by Swibo that put the fun back into doing at-home physiotherapy exercises.
"The exciting thing about Bootcamp is learning to build something from the ground up," says team member Ben Dunn, "and then to actually be able to live off the company we've built."