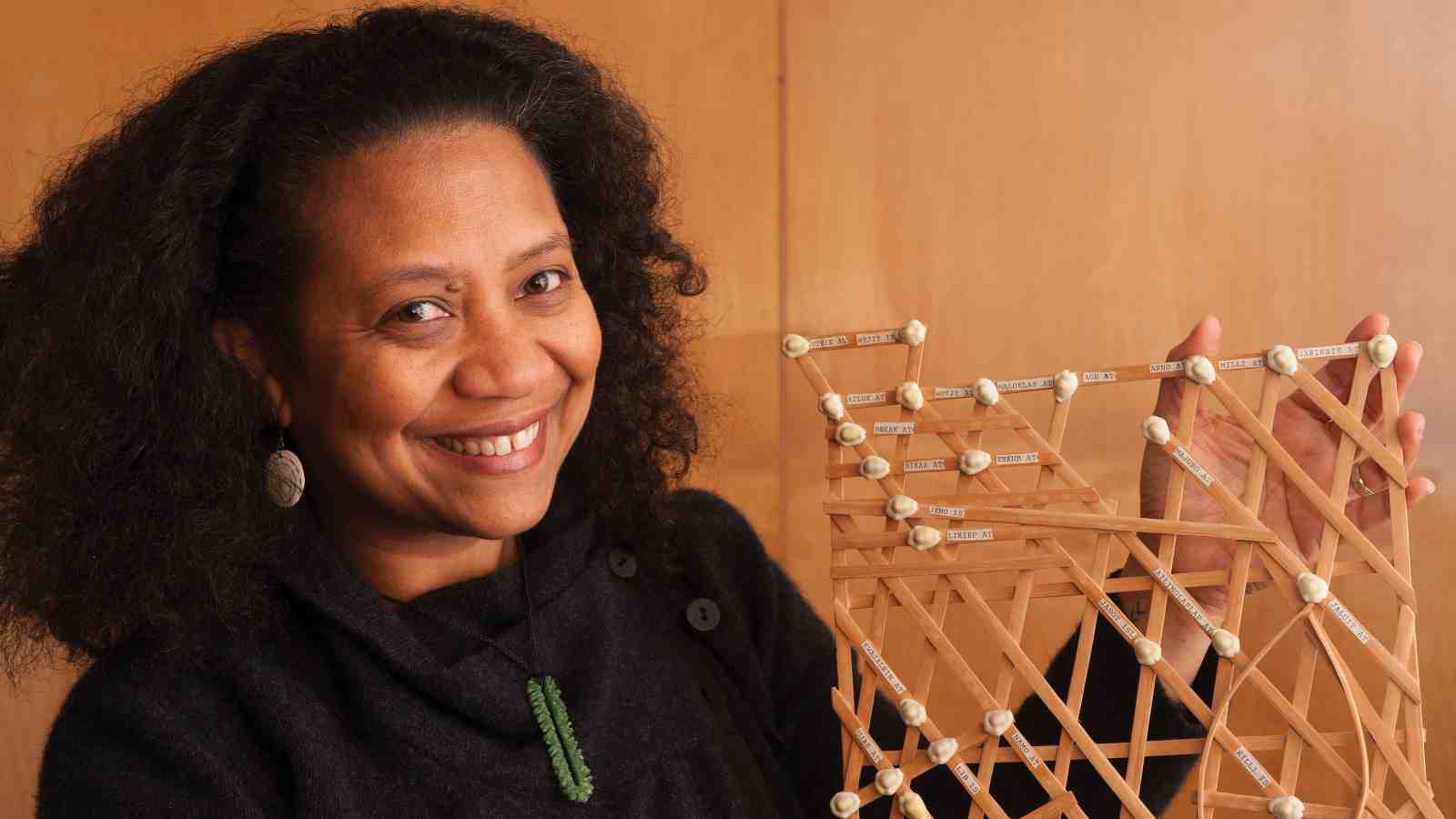 In 2000, Victoria was the first university in the world to establish an undergraduate major in Pacific Studies.
The very first lecturer to come on board was Dr Teresia Teaiwa.
Fourteen years later, Teresia, now a senior lecturer, is the first Pasifika woman to receive an Ako Aotearoa Tertiary Teaching Excellence award, worth $20,000, for sustained excellence.
"My commitment to nurturing an environment of excellence in teaching and learning comes from a sense of profound responsibility."
At the awards ceremony, Teresia was praised for her teaching approach that "challenges not only a European philosophy around learning and teaching,but also Pasifika peoples' confidence in their ways of knowing and achieving".
It hasn't always been plain sailing. Tasked with developing content and curriculum for a suite of courses when she took up her role at Victoria, Teresia says she felt like she was heading into uncharted waters. "With its over 1,200 indigenous languages—one-fifth of the world's linguistic diversity—the region commonly known as the Pacific Islands is so huge and diverse, the pedagogical tasks so complex, that the notion of a single all-knowing teacher delivering knowledge from the front of the classroom is ludicrous.
"My commitment to nurturing an environment of excellence in teaching and learning comes from a sense of profound responsibility."
Dr April Henderson, a colleague, says that Teresia constantly strives to find the best way to teach Pacific Studies. "Her integration of research, teaching and publication about teaching is one of the aspects that sets Teresia apart from many of her peers in our field. Her work has influenced the design of other Pacific Studies programmes and the training of their students."
The majority of students enrolled in Victoria's Pacific Studies programme are Pasifika, and Teresia has revised some of her teaching practices and assessments to facilitate their learning.
One of her unique approaches is 'Akamai' for 100-level students, in which students have the option of presenting a creative interpretation of what they have been reading. "Through Akamai, students start to understand art and performance not just as artefacts of cultural heritage,but as crucial elements of the intellectual heritage of the Pacific," she says.
Another initiative has been to make reading an assessable activity for all the programme's undergraduates.
"We have observed that Pasifika students are not as comfortable with reading as other students and, indeed, research has shown that many struggle with academic texts. Making reading part of the assessment process has got the students more engaged—and what was like mass dentistry in tutorials to extract responses from students about what they've read has led to more interactive classes.
"It's been encouraging to see how the culture of classrooms has changed. Students don't have to fail—how we design courses and what we assess will enhance learning."
Ultimately, Teresia hopes her students will embrace her view of learning about the Pacific.
"Rather than striving to be experts, I want my students in Pacific Studies to see themselves as experts-in-the-making—forever learning and valuing the journey as much as the destination of achieving their qualifications."