He rose through the academic ranks to become Professor of Human Resource Management and Industrial Relations, before venturing into management in 1996 and eventually taking on the roles of Dean and Pro Vice-Chancellor of Commerce and Pro Vice-Chancellor of Research. Pat was appointed Vice-Chancellor in 2005.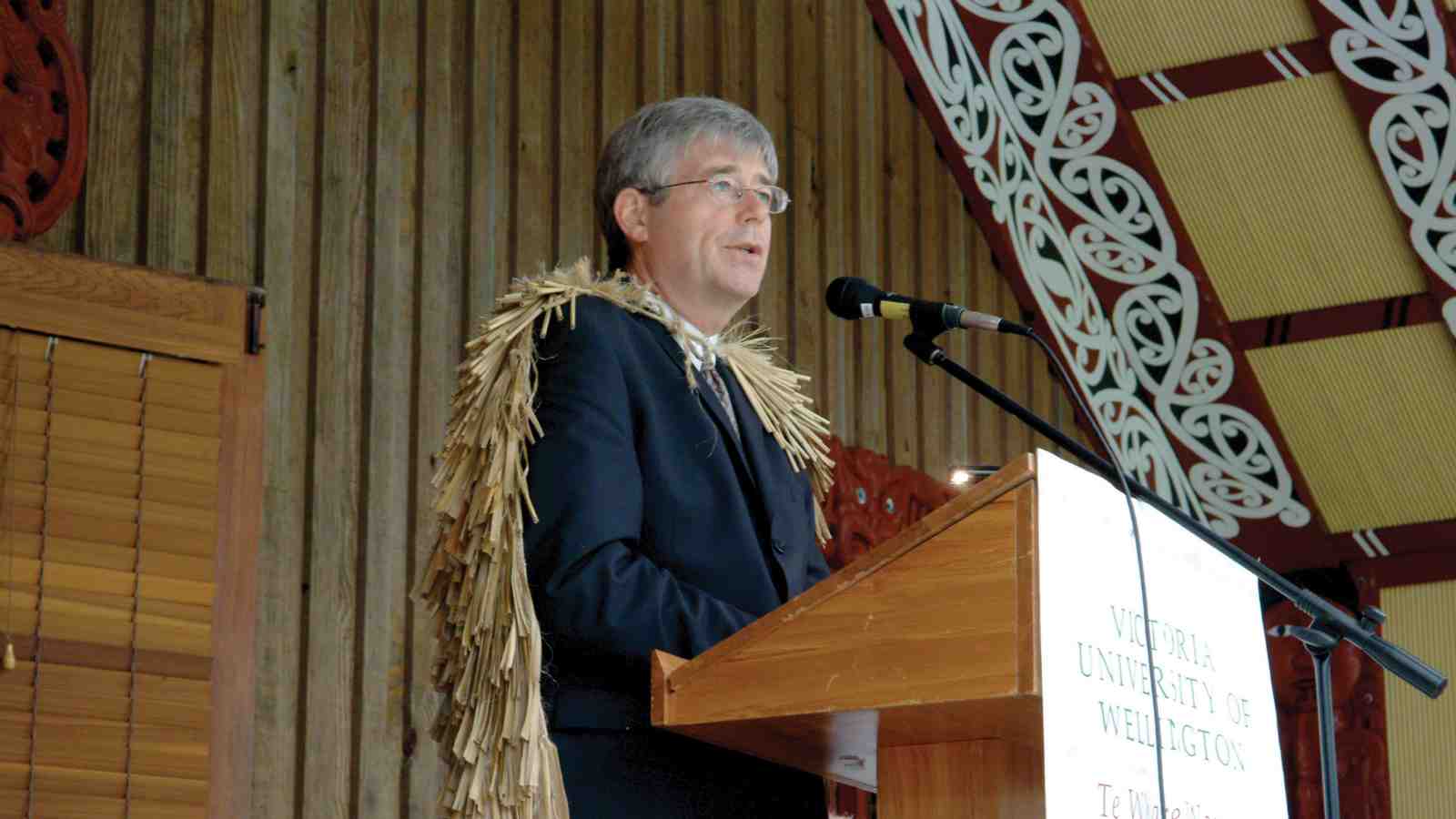 Professor Pat Walsh speaks at the pōwhiri held to welcome him to Victoria.
What have been the most significant changes during your time at Victoria?
It has been a period of extraordinary change. One significant change is simply the size and scale of the University but technology has had a significant impact too, and will continue to do so. Victoria today is also a far more internationalised institution.
One of the biggest changes is in the relationship with government, which provides a significantly lower proportion of our funding but has greatly sharpened its expectations of how universities will perform. That means universities have to be much more vigilant about preserving their autonomy, which is of course vital to the success of any university system.
What are your most memorable moments from your time at Victoria?
I had 24 enjoyable years in the Faculty of Commerce working with able colleagues and students. My sabbatical year at the University of Warwick was a wonderful experience, both academically and personally. It made me appreciate how research and study leave contribute to the strength of the University.
I remember many great Victoria events, including distinguished alumni events, graduations and awarding honorary doctorates—one that stands out is a ceremony in Melbourne to award John Clarke his honorary degree.
Other moments I remember vividly are receiving a phone call from the Tertiary Education Commission, saying it had reversed its decision not to fund engineering at Victoria and, more recently, reading the Performance-Based Research Fund (PBRF) results in April of this year, which ranked Victoria number one among New Zealand universities for research quality.
My wife Karen and I were on holiday in Crete, so I received the results in the middle of the night, sitting high in the Cretan hills. There was a certain surreal quality to that, along with the excitement.
But one of the biggest highlights was my welcome on to the marae just after I had been appointed as Vice-Chancellor. That was both a humbling and an inspiring experience. It was particularly important for me as all my family were there.
What are you most proud of?
I am proud of many things, but the point I would make about all of them is that they have been achieved by teams of people and through a collective contribution. Any university is only as good as the quality of its staff and students, and that has been a primary focus for me as Vice-Chancellor.
I am very proud of the senior management team at Victoria, their collegial approach and their pan-university perspective. I am also grateful for the support I have received from my two Chancellors, Tim Beaglehole and Ian McKinnon, and from the University Council.
When I became Vice-Chancellor I said that I wanted Victoria to be a university of its city, its country and the world, and I think we've made great progress on that front—Victoria is definitely a more outwardlooking university. A small, but important example of that is the success of our inaugural lecture programme. We now have 12 or so of these each year and they attract huge audiences.
I am proud of the way the University has moved, over a long period of time, towards a culture of achievement and acknowledging and celebrating success. We have also seen a dramatic improvement in the research culture and performance of the University and developed a much stronger focus on learning outcomes and the quality of the student experience.
I also want to mention the introduction of Engineering and the growing prominence of Victoria as one of New Zealand's leading science universities, something we have achieved without compromising the quality of our traditional strengths in humanities, law and commerce.
Additionally, I think we have managed constrained resources in ways that support our strategic objectives, and that's expressed in the quite extraordinary building programme we have had over the last 10 years.
What do you see as the biggest challenges ahead for Victoria?
One of the big challenges facing all universities will be how to preserve the essential values of the university system in a period of constrained funding and increasing government prescription. We have to balance appropriate accountability for public funding with the vital importance of preserving university autonomy. For Victoria, that includes preserving and enhancing the subject areas that are often seen, wrongly, as having no contribution to make to social and economic development. I believe that having strong humanities programmes is central to the character ofuniversities, and certainly of this university.
Another is the entirely justified challenge the Government has laid down for us to improve Māori and Pasifika participation and achievement.
Where do you see Victoria in 15 or 20 years?
I see Victoria as one of the leading universities in New Zealand and Australia—and by that I mean in the top five—and one that has responded effectively to the vagaries of international rankings and their criteria, and is ranked firmly in the top 200 internationally, if not higher. Above all, I see Victoria as a university that is widely regarded as an institution of the highest quality.
What do you plan to do next?
I'm looking for roles on boards, mainly with a focus on the public sector and the voluntary community sector. I'm also interested in using some of my experience in consulting and mentoring in those sectors and would like to undertake some purely voluntary work as well.
Karen and I think we'll do a bit more travel—well, I won't do more travel, I'll probably do less travel, but it will be travel I choose to do—and that starts with a Victoria University study tour of Turkey next year, led by Professor Chris Dearden, which we are really looking forward to.