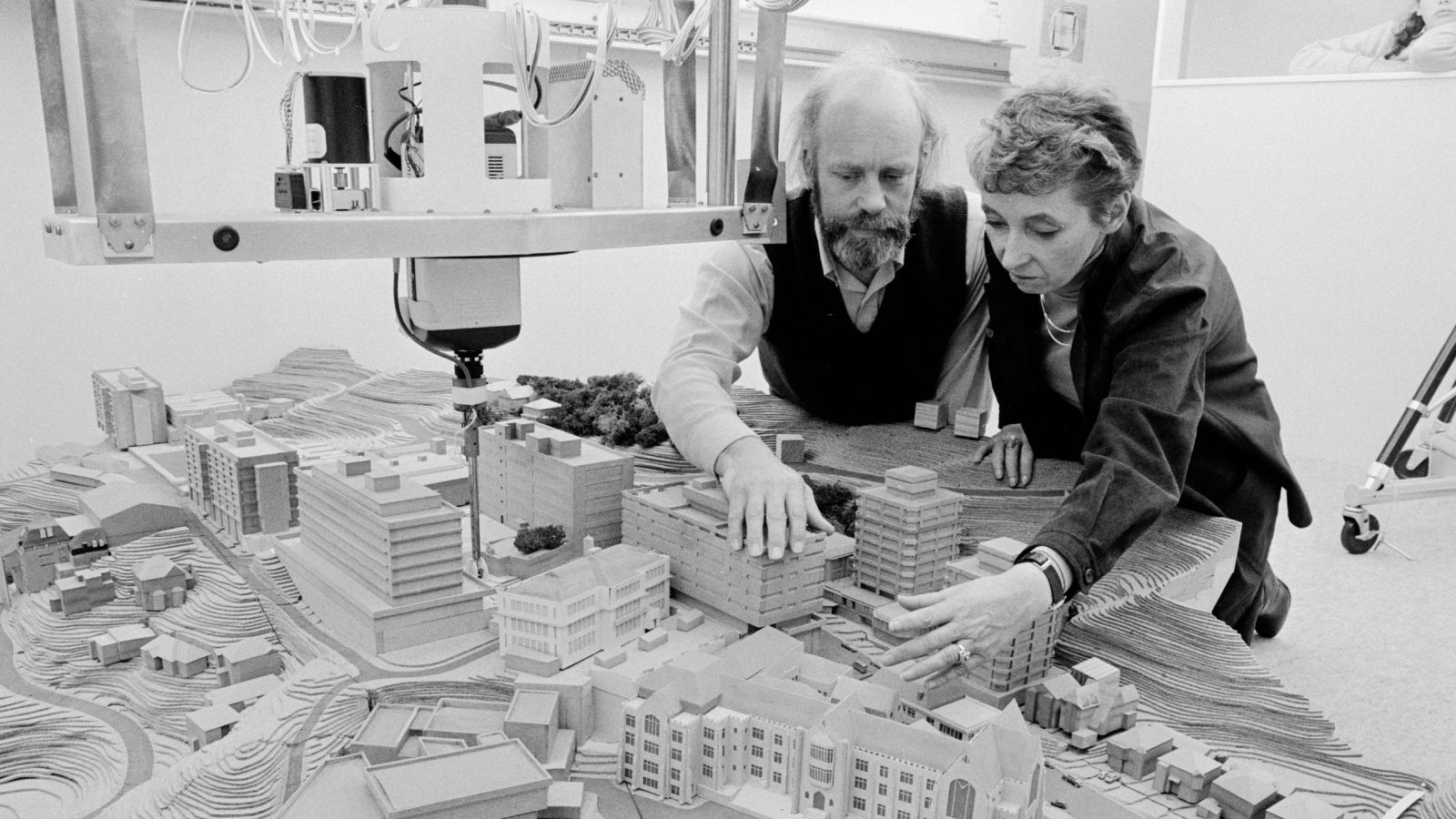 From left David Reed, senior lecturer in urban design and Professor Helen Tippett with a model of the Victoria University of Wellington campus in the University's urban simulation laboratory. Dominion Post image 1982, courtesy Alexander Turnbull Library, Wellington, New Zealand.
She was the first woman professor of architecture in Australasia, the first woman dean at Te Herenga Waka—Victoria University of Wellington, the first woman president of the New Zealand Institute of Architects, and the founding president of the New Zealand Institute of Building.
A hard worker with a 'no nonsense' approach, Helen made a lasting contribution to architecture in Aotearoa New Zealand through her commitment to architecture and building education and her expertise in project management and building controls.
A mover and a shaker in the world of architecture
Helen graduated with Honours from the School of Architecture at Melbourne University in 1955 and in the early 1960s worked for iconic Australian architect Robin Boyd. Although she was responsible for some notable architectural works in her early career, she discovered that she had an aptitude and passion for the business and management side of architecture.
On moving to the Northern Territory with her flying doctor husband, Helen opened a practice in Alice Springs designing sustainable houses and buildings for church and Aboriginal settlements. In 1965 she moved to Beirut with her young family where she worked as an architect and project manager in Kuwait, Abu Dhabi, Saudi Arabia, and Lebanon. This involved navigating the challenges of a non-English speaking workforce, imported technology, and a new cultural environment—including dressing as a man on site.
On her return to Australia, Helen began her academic career at Melbourne University where she added project management to the faculty's architecture curriculum after gaining an MBA. She claimed to have honed her management skills while managing a hotel in St Kilda for a family member.
In 1979 she moved to New Zealand when she was appointed to the second Chair of Architecture at Victoria University of Wellington and was dean of Architecture from 1980 to 1983. Professor Gerd Block, the inaugural dean of Architecture, had sought her out as a prominent teacher intent on drawing academic programmes closer to the professions. Her conviction that professionals in different areas needed to learn to work together contributed to the science-based interdisciplinary program of the new curriculum.
Shaping our world through well-managed building projects
This was not supposed to be a permanent move, but Helen found Wellington one of the most visually stimulating places in the world and stayed for the remainder of her life. She did however feel that our cities suffered from "imported mediocrity" because New Zealanders often adopted solutions from other parts of the world which didn't necessarily suit their lifestyles. Not wedded to any particular design school, she favoured architecture which was "appropriate" to the people who have to live and work in the buildings and was scathing of projects which she felt did not achieve this.
In her inaugural address in 1981, Helen coined the term 'realistic risk-taking' for her optimistic architectural philosophy, which focused on attending to crucial mistakes of the past to avoid producing further bad, costly buildings in the future.
Helen was a key voice in pushing for better communication in the building industry. She was the driving force behind an array of industry projects investigating building control systems, affordable housing, building access, building quality assessment, urban development, and building education. She was part of the Building Industry Commission, including four years as Commissioner, which resulted in the Building Act of 1991 and the first performance-based New Zealand building code.
A 'pocket Aussie battleship'
Helen's interdisciplinary approach and view that all architects and building scientists should apply management principles was not appreciated by all but she often prevailed. She was once described as a "pocket Aussie battleship". She was not a fan of the University campus in the 1980s with its buildings designed in the 1960s, and supported the preserving the 'old' houses on Kelburn Parade when their demolition was proposed. Nor was she initially keen on the relocation of the School of Architecture from the main Kelburn campus to the city, fearing that it would isolate architecture students from the general university community.
Helen was known for her prodigious work ethic—100-hour weeks were common as she combined her work responsibilities and research interests. "I do work fairly intensively," Helen admitted in something of an understatement.
Towards the end of her tenure, she divided her time between the School of Architecture, Wellington and Deakin University, Geelong where she was an adjunct professor. She was then recognised by Te Herenga Waka as a Professor Emerita and became associate dean of Science, supporting the Pasifika hub in its infancy.
An advocate for diversity and inclusion, Helen supported setting up the National Association of Women in Construction (NAWIC) in New Zealand to encourage women working in the construction industry through networking and education. She received the New Zealand Institute of Building medal, a leadership award from the Master Builders Federation, and in 1994 an OBE for her contribution to architecture and the building industry.
Making a difference through supporting others
In 1997 Helen was persuaded to return to practice by her colleague John Gray and she managed the finances of three urban developments including the conversion of the historic Hannah Warehouse into apartments and office space. There she established The Architects Collaborative to provide young graduates of architecture with a workspace while they developed their own practices. Helen's last affordable quality housing project was completed after her death in 2004.
Helen was a beloved teacher and mentor, believing that architecture was "a fabulous general education" to have as a knowledge base for any career. She was described by a former student as "a great inspiration with her energy, organisational skills, and the intellectual pitch of her interests and involvements, she was strong, yet versatile, and a sensitive person who took us beyond inspiring design excellence in our solutions, to plan and manage how they could be delivered on the ground."
Helen Tippett desired change in the building industry and the built environment and in many ways, she achieved it. Her place as an architect is not so much in the production of buildings or publications but the impact she had on the culture through discourse with thousands of people in all areas of architecture. She found satisfaction in turning other people's brilliant designs into finished buildings, reshaping the landscape through her influence on young architects who would change the face of the country and the industry.
John Gray describes Helen as "an architect of principle and integrity—far-sighted, gritty and uncompromising, and unwaveringly professional."
"Helen set out in life to teach, encourage, and mobilize the effort of other people to make a better world through architecture. Her legacy, her enduring contribution to architecture, is in the thousands of people whose professional lives she has touched and enriched, and whose work is made better, in part at least by having known Helen Tippett."
In cooperation with NAWIC, Helen's daughters Victoria and Esther have now established an endowed award in Helen's name. The Professor Helen Tippett Study Award for Women in Architecture, Building Science, or Business will provide $1,500 to women who work or intend to work in the construction industry or a related field to study at the University. We aim to raise further funds so that a $5000 scholarship could be awarded every year. If you would like to contribute you can donate here.