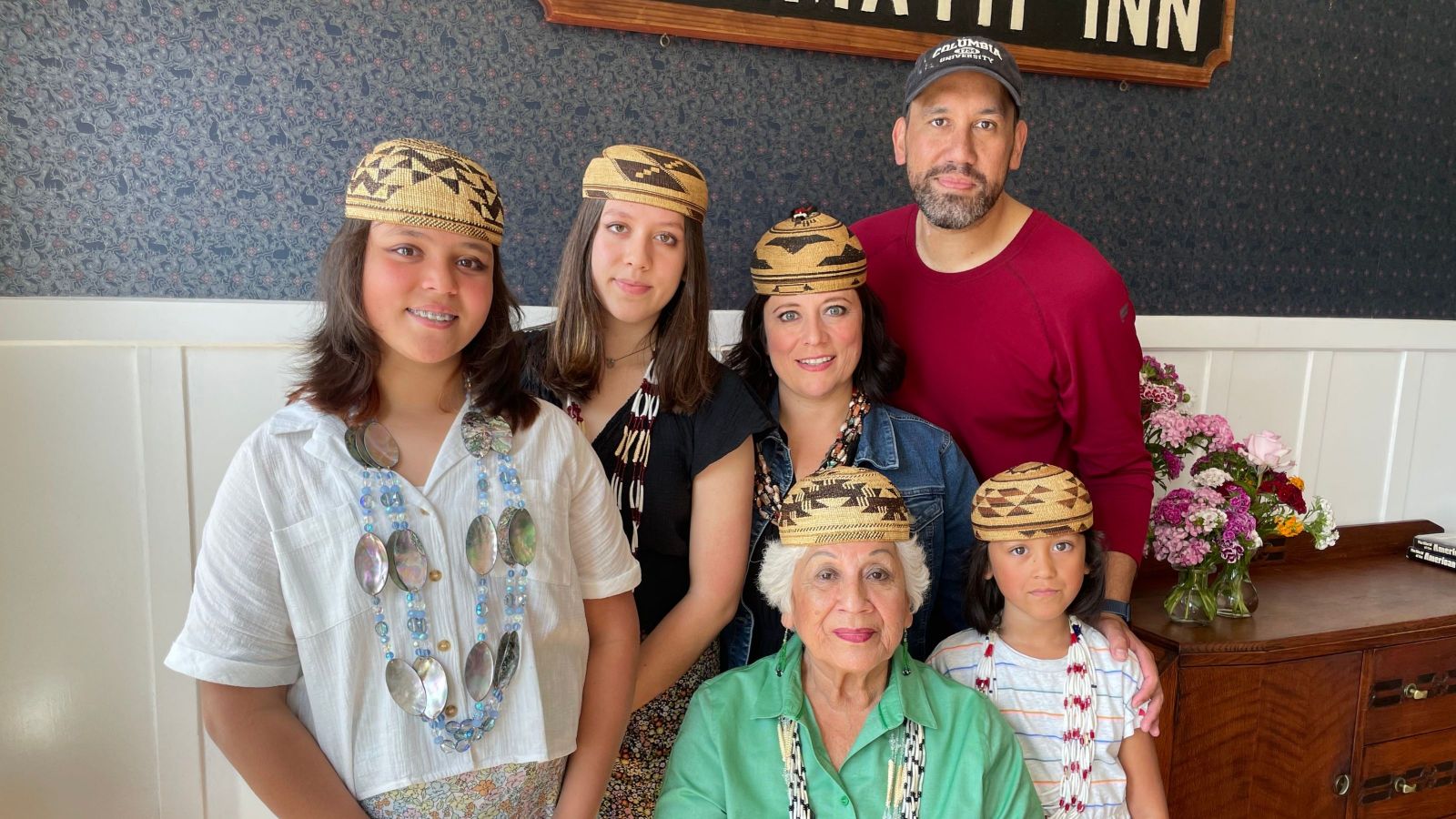 Reweti Wiki and his family, who are wearing traditional Yurok regalia
Reweti Wiki (Ngāti Porou, Te Aupouri) was raised in Haumoana, a coastal Hawkes Bay community, where his parents had moved in the early 70s. "Mum was a teacher and Dad was a freezing worker at Whakatu. I grew up with history books and white gumboots."
Originally intending to study food technology, "I woke up one morning and faced the reality I was useless at math and science and was actually interested in law and commerce. I really wanted to go to Vic and in hindsight I was lucky to have been accepted into the only university I applied to."
He says a strong Māori law students network enabled him to create professional connections quickly and during his second year he took up an internship at the Chief Executive's Office at the Department of Courts.
"Dr Jo Lake had developed a Māori internship program and really took a chance on me," he recalls. The internship introduced him to the varied challenges and opportunities a career in management consulting offered and from there his life after study took flight.
But it was taking a chance opportunity to connect with other young Māori professionals that set Reweti on a path to living and working in the United States.
When a friend mentioned an upcoming kapa haka noho, Reweti impulsively asked to go along. He ended up joining the kapa haka group, through which he was invited to participate on a pilot exchange program between Te Wānanga o Aotearoa and a US-based leadership development program for young Native American leaders.
Run by a non-profit organisation, Americans for Indian Opportunity, the Ambassadors programme is a two-year fellowship intended to expose up and coming Native American leaders to best practice community development ideas grounded in indigenous values.
"It's a fantastic leadership programme that has shaped decades of outstanding alumni but truthfully it was fantastic because I met my wife Geneva through it. She is a member of the Yurok Tribe—California's largest. I visited her for Thanksgiving in November 2004 and we were married by March 2005. You could say it was a whirlwind."
Reweti joined her on the Yurok Reservation, where she had taken a role as the Tribe's first Deputy Executive Director.
When Geneva moved onto a new role, Reweti succeeded her as Deputy Executive Director of the Tribe. "I was 27, newly married and with a newborn at this point and I found myself with 12 direct reports, an operating budget of between US$50–$70 million and literally in charge of creating a future for a sovereign nation."
"Management consulting helps you jump into situations where you know very little and get up to speed very quickly, which is a great skill set because I didn't know anything about federal Indian law or tribal governance". However, he says his strong grounding in te ao Māori and his understanding of the dynamics of indigenous communities helped him gain acceptance among the Yurok people.
"There were so many similarities with Indian country. Partly because the story of indigenous people is a shared story of colonisation and oppression. But even the history of California had a very similar timeline to New Zealand so there is a familiarity to it also."
His time with the Yurok Tribe saw him lead the reassertion of the rights of the indigenous tribe to manage the water, environmental, and fisheries policy and science for the salmon-spawning Klamath River.
"It was incredible. I was fortunate to be at the cutting edge of tribal sovereignty and the reassertion of the right of indigenous people to manage resources they had managed since the dawn of time."
For the next 15 years, Reweti worked in tribal government and management consulting focused on indigenous community development both in the United States and New Zealand. They had been home in New Zealand for two years, when his wife received a job offer from a large US Foundation. "It was too good to pass up, and eventually landed us in California's state capital of Sacramento and I changed professions in support of her career ambitions."
Currently Reweti is a Financial Advisor for Wells Fargo Bank, one of the largest banks in the world and third largest in the US, where he manages the investments and financial affairs for high net worth individuals. He also co-chairs the California Chapter of the Native Employee Resource Network, to support more BIPOC people working in finance.
"I'm working in a field where there are very few people of colour, let alone indigenous people, so I feel I have an obligation to stand out in the field so people of colour see this is a viable career opportunity. If you'd asked me if I was ever going to be in investment management back when I was a management consultant I would have said absolutely not! But life has a way of twisting and turning and this is a great career choice for where we are in life right now."
If there is one key thread that has been weaved throughout Reweti's career it is the importance of relationships. Even though he has lived away from New Zealand off and on for over 15 years, he still maintains his relationships and networks.
"It's so important because at some point in your career you don't apply for jobs anymore, you're invited into opportunities. But those only come along if you nurture your relationships."
Reweti didn't expect he'd ever see the world beyond Hastings, but he says, "my life's motto is always choose the adventure. If you are presented with an opportunity, take it! Because you never know where it will take you".