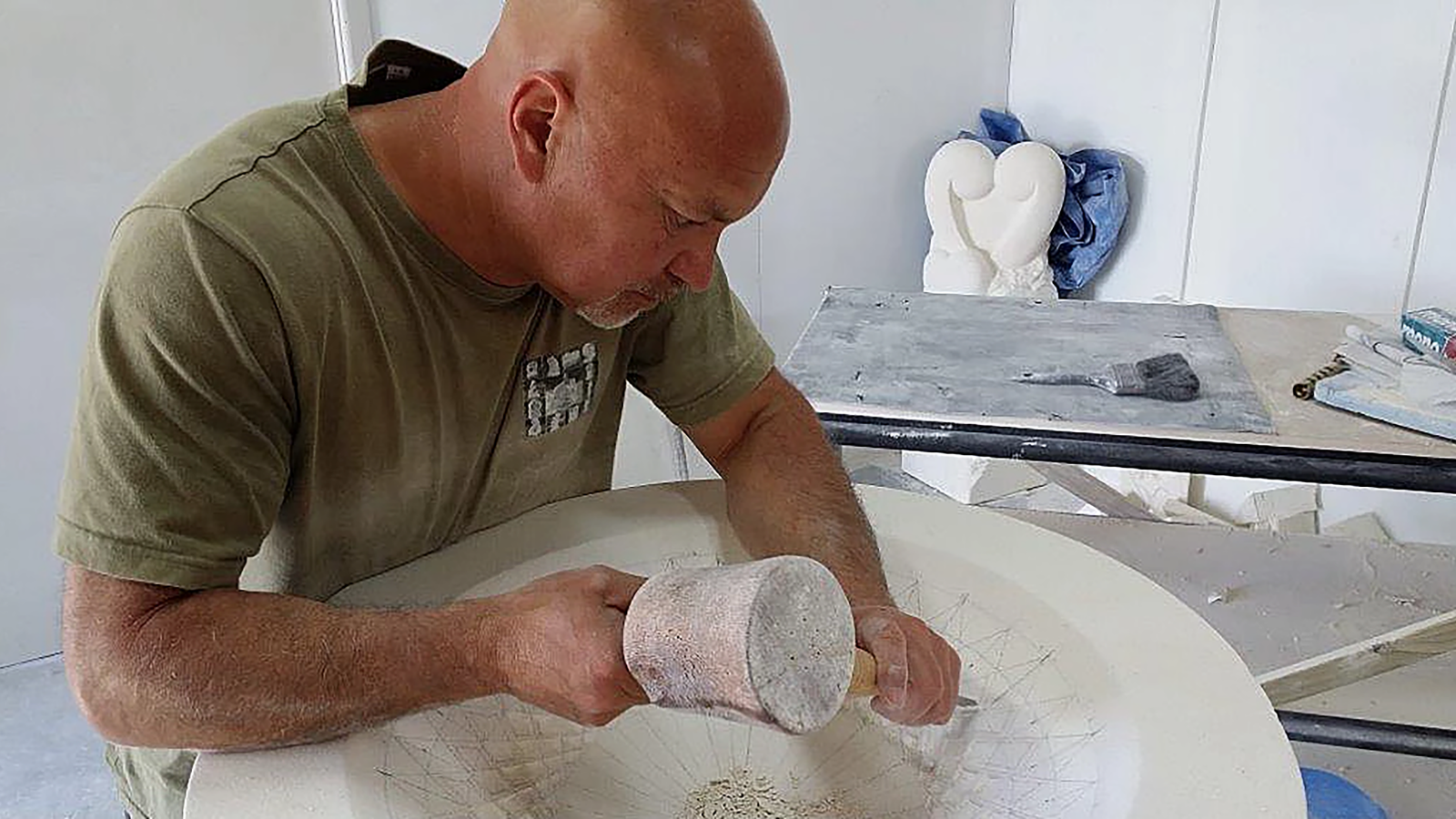 Brett Kano
After discovering his talent for art almost by accident, Brett began creating stone sculptures and, after a number of years juggling both careers, eventually he made the decision to devote his time exclusively to being a self-employed artist.
"I took the plunge about eight years ago to become a full-time stone sculptor. I was approaching my 50th birthday and felt that if I was going to give it a go, I should do it while I still had health, vitality and energy."
"I never actually spent a lot of time doing art as a youngster—I was encouraged to study something more mainstream, where there were plenty of jobs and good salaries."
Brett began his Commerce degree after finishing high school, majoring in accounting. During his second year of studies though, many of his friends changed subjects, and he missed the sense of community he'd enjoyed during his first year.
Looking for something to fill this gap, Brett enrolled in some Māori Studies courses, began spending more time at the University Marae, Te Herenga Waka, and really appreciated the new friendships and connections he made.
After three years of study, this blend of commerce and arts courses meant Brett hadn't completed a full degree, but he was able to secure a job in the finance sector where he worked for a number of years.
Brett eventually returned to the University to complete his degree, when the bank he was working for paid for him to complete his commerce studies, specialising in Māori Business.
It was his wife Christine who first noticed his creative bent—while drawing a picture of an aeroplane for his baby son.
"Then, without telling me, she enrolled me in a local ten-day stone carving symposium!" laughs Brett.
"I was a bit nervous about going along," he admits.
But he loved it, and has gone back every year since that first experience fifteen years ago.
Slowly, his new hobby began transforming into a source of employment, as customers heard about his work through word of mouth, and a website was created for him by a design student he met during his second year at the stone carving symposium.
"I went from creating six or seven sculptures a year to the stage where I didn't have enough time to fulfil requests."
Brett juggled his finance and sculpting careers for a number of years, but eventually reached a tipping point and decided to become a full-time artist in 2011.
"We worked out a plan to stay afloat financially, but how successful the venture would be was really unknown—we had to trust that opportunities would come along, and thankfully they have," says Brett.
Storytelling through stone
Brett works exclusively in Oamaru stone, a material he finds rewarding to carve because it's such a tactile material, and is relatively easy to shape—meaning he can rely exclusively on hand tools to create his works.
While he's consciously sought to develop his own style, Brett has found inspiration in other contemporary New Zealand artists, like Todd Couper and the late Manos Nathan, especially in terms of how they've transformed traditional Māori design into modern artworks.
"Often this is done using colour. For me, working with Oamaru stone, that's not really an option. I need to rely more on the use of shadow, sharp lines, curve and depth to achieve the same effect."
When Brett creates a new work, he first spends time listening to the story behind his clients' wishes, then begins creating shapes on paper, creating a few different designs—although often, he says, the first design is the right one. Once a design has been agreed, he orders the stone and begins carving.
"It's always my hope that, in the process in going from the two-dimensional to the three-dimensional shape, something magical will happen. And something usually does, to really bring it to life."
In recent years, he's also started creating memorial headstones for families.
"These projects understandably require more emotional attachment than other sculptures. You need more story for the design, more tenderness and sensitivity—more everything really—to get it right."
"I'll admit I was tentative about doing them at first, but the process is often an incredible experience, and now they're a significant part of the business."
As well as commissions, Brett also gives small regular workshops, which he says are a great way to meet people because the carving environment can be lonely.
Reconnecting with his alma mater
This year, the University invited Brett to create individual hand-carved awards for each of the 2019 Distinguished Alumni Award winners.
Brett hand-carved beautiful Oamaru stone Huia feathers and the Oamaru stone used for the awards had a special provenance—coming from the University's historic Hunter Building, which is currently undergoing restoration work.
Brett says carving the awards required a lot of thought and patience.
"I wanted to offer something that was different, although when you're working with a small object, you are constricted by the size.
"Small designs can be really difficult. I held the initial design in my hands a lot—it needs to be small, but it's also fragile. So, I needed to ensure it would be robust enough, despite the size."
Brett was drawn to the symbolic nature of the Huia feather, because he felt it had the best connection with the alumni awards, in terms of representing the mana of the winners.
Another question that arose was how to show the white tip of the feather, without using colour.
"I've used natural dyes like tea before, but I didn't want to obscure the carving so significantly, because then you lose sight of the stone."
Instead, Brett used the demarcation of the tip and cut marks of the feathers to delineate the top of the feather.
"I also felt the feather needed a curved shape—it felt more natural."
"I really enjoyed working with the Oamaru stone from the Hunter Building. It worked quite easily and was very different to the stone I get from the quarry now—it has a much sandier feel, and was more compact."
"One piece of stone still had an engraving number on it, and I decided to leave it there as it speaks to the stone's story."
To see more examples of Brett's work, visit his website: https://www.kenosculpture.co.nz/