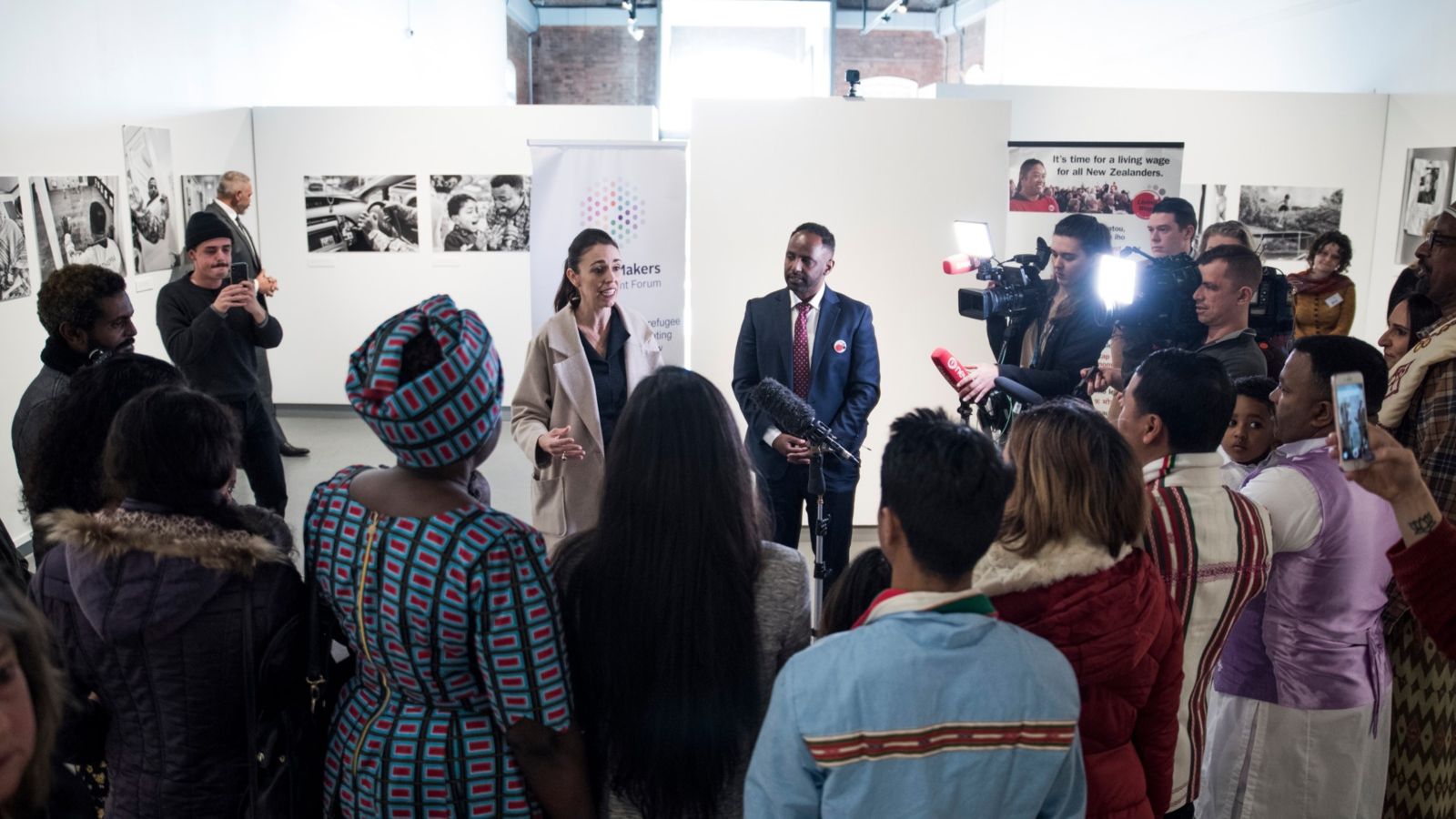 Ibrahim Omer (right) with Prime Minister Jacinda Ardern at the My Life...To Live art exhibition
Ibrahim, who graduated with a Bachelor of Arts in Political Science in 2016, has recently received an Absolutely Positively Wellingtonian of the Year Award from the Wellington City Council for his work with the Changemakers Resettlement Forum.
His first experience with the University was as a staff member, working as a cleaner after moving to New Zealand in 2008 as a refugee from Eritrea.
"When I first arrived in New Zealand, my English teacher at the resettlement centre in Auckland told me great stories about Victoria University of Wellington, so I was determined to live and study in Wellington," Ibrahim says.
"I started at the University as a cleaner, and every time I was cleaning late at night on campus I would see students studying and think 'that is what I really want to be doing', which drove me to become a student."
"I also came from a country where the politicians were all part of a violent, corrupt regime, and it was eye-opening to come to a country where an open and accessible democracy actually existed."
Ibrahim started his degree in 2013 and says the memory of his first day at the University has really stuck with him.
"I was transitioning from being a cleaner to being a student," Ibrahim says. "I had been up until 4am cleaning the University, and then at 10am I found myself in the same lecture theatre I had just cleaned listening to Jon Johansson talking about New Zealand politics. For the first twenty minutes I sat there in disbelief that this was really happening, and I was actually a student now."
Ibrahim says his degree help shape him as a person and set him up for what he does today.
"I left the University as a different person from the day I walked in," Ibrahim says. "This was down to my degree and everything I learned from lecturers, tutors, and my fellow students. The opportunities I had as a student to get involved in politics and campaigning also had a huge influence on where I am today, because it showed me that by organising campaigns and advocating you can change people's lives and society for the better."
Ibrahim now works as a union organiser for Etu Union, as well as volunteering as the Chair of the Changemakers Resettlement Forum, a refugee advocacy and support organisation in Wellington representing a huge community of refugees from seventeen different countries. He received the award for his work with the forum.
"The highlight of my career so far has been advocating for some of the most vulnerable people in society," Ibrahim says. "These people are in the same position as I was in a few years ago. For me this is the best thing to be able to do.
"I feel very humbled to have received this award," Ibrahim says. "I am blessed to be able to do this work, and to receive an award for doing something you love is an added bonus and a huge privilege. Thank you so much to the Wellington City Council for this award."
Ibrahim says he loves living in Wellington, working as an organiser, and being involved in communities. He says his long-term goal is to work for the United Nations in a humanitarian capacity, and he also hopes to return to university and do his Masters.
For others coming to study at University, Ibrahim has some advice:
"There are lots of challenges to be a student and everyone has their own story. I would say to students now—draw on the people and resources at the University, as well as everything you have learned from your personal experiences, to get you through. Asking for help is not a weakness, and university is not something you can do alone. Remember, everyone wants to see you succeed."