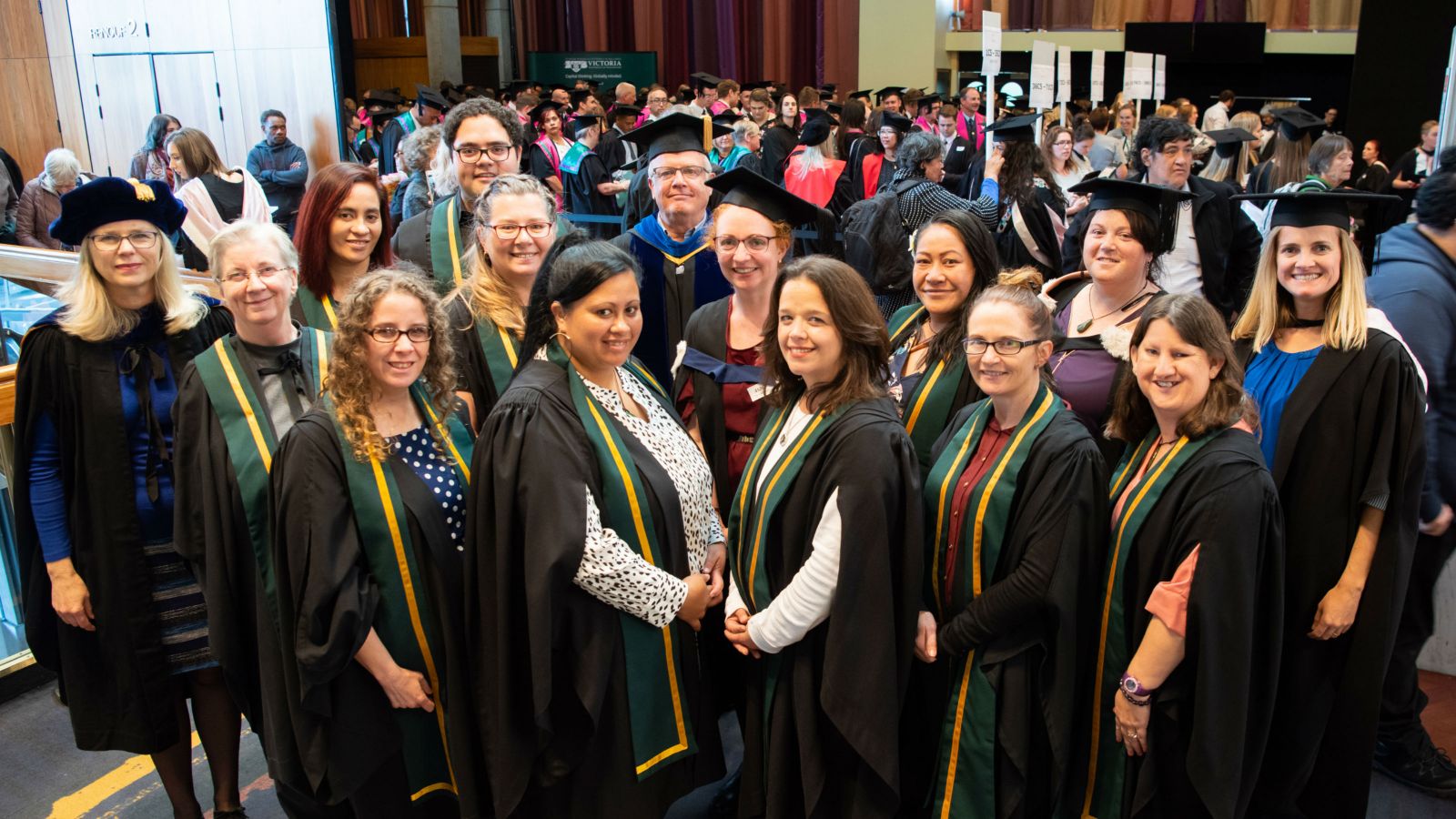 Certificate in Deaf Studies: Teaching NZSL graduating cohort 2019. Emma, back row third from left (red hair); Tina, front row centre (left)
Amongst the graduands were Emma Bensley and Tina Brightwell—sisters who were recipients of NZSL Board-funded scholarships for Māori Deaf students. Emma, from Waimarama, and Tina, from Christchurch, undertook the Certificate in Deaf Studies: Teaching NZSL while also parenting pre-schoolers and working part-time.
Two of Tina's three children are also Deaf. "I want a better future for them—one where they can communicate with both Deaf and hearing people, and feel equal," she says.
"It was tough for me to get through the course. I had a lot to juggle working as a day care centre reliever and studying Level 4 Early Childhood Education," says Tina. "I was also really anxious about leaving my young children during the block courses at the University, especially as one of my children is diabetic and another has asthma, so they need a lot of attention. There were times when I was so stressed I felt like giving up. But I did make it through, despite everything."
"Being on the course really helped to understand my own Deaf identity. Before, I thought it was just a matter of communicating in NZSL, but I've discovered there is a lot more depth to understanding the community and the culture," she says.
Tina is currently teaching NZSL for EIT Polytechnic in Hawkes Bay, and has recently been asked to teach NZSL for a Deaf business enterprise. "I've been teaching NZSL to adults, but my hope for the future is to teach NZSL at NCEA level."
Emma was motivated to take the Certificate in Deaf Studies: Teaching NZSL because she wanted to know more about Deaf culture, and learn how to teach NZSL the 'right way'. "So many of my hearing friends and family asked me to teach them NZSL, but I really felt I needed to study my own language in depth to prepare me to teach it well," she says.
"Now that I've completed the course I'm especially keen to teach NZSL to parents of Deaf children. I went through mainstream schooling and struggled with my own identity. I want to help parents support their children to develop a positive Deaf identity so they can have an easier path", says Emma. "I'm also teaching adult education night classes later this year and I'm really looking forward to that."
Associate Professor Rachel McKee in the School of Linguistics and Applied Language Studies says Tina and Emma are typical of the Deaf students in the programme, many of whom have faced barriers to educational success in school. "It has been a big step for them to join and complete the course, and it will open up new opportunities for them," she says.
This graduation also saw the programme's first Pasifika graduate, Rosie Solou'ota.