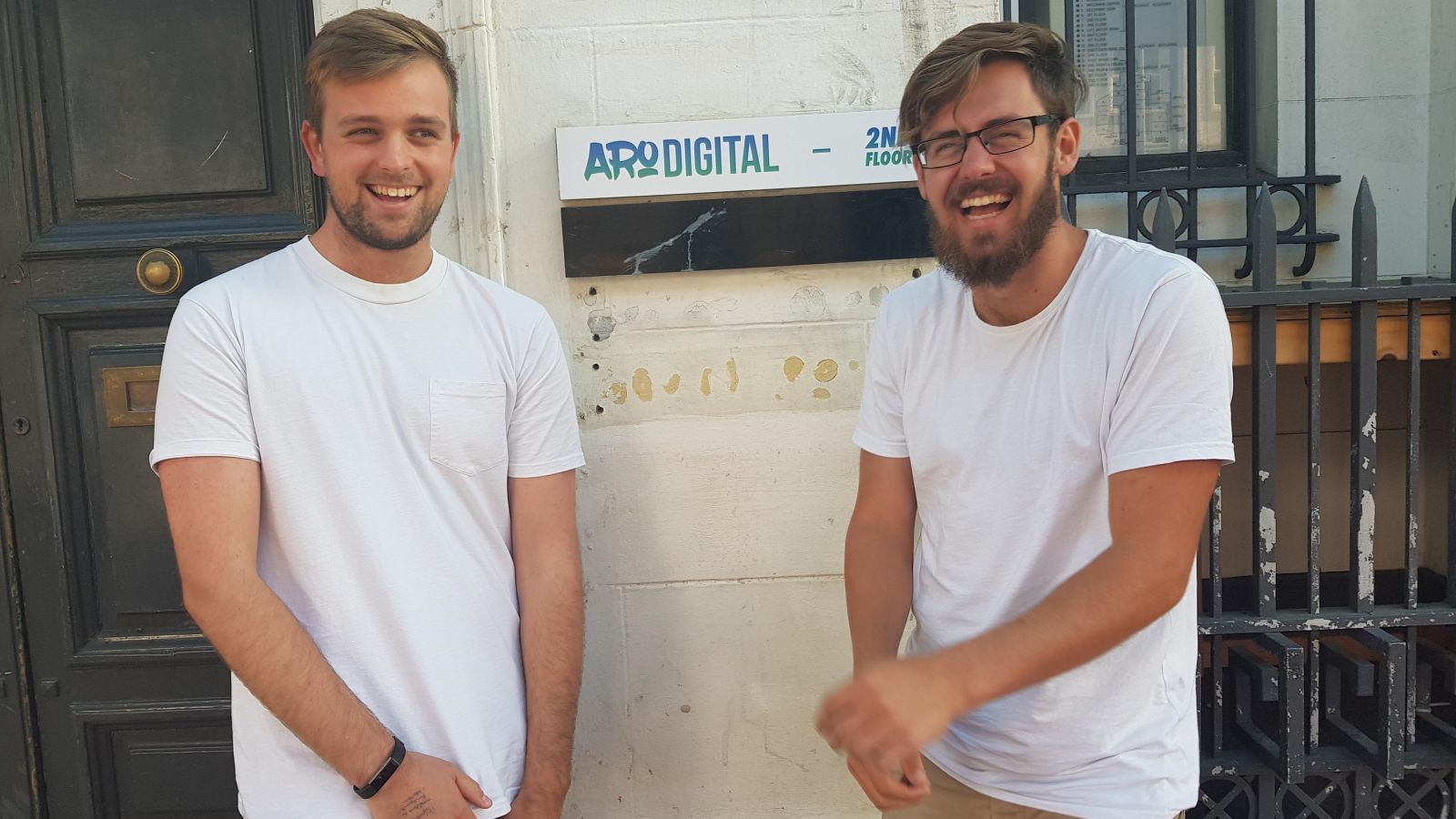 Jonty Hodge and Tim Dorrian from Aro Digital
Tim grew up in Auckland but moved to Wellington to study because he was attracted by the capital city's openness and ease of getting around, as well as its parkour scene, which Tim does in his spare time. "I kind of fell in love with Wellington—the people, culture and nature are just awesome," he says.
After completing a Bachelor of Commerce in Marketing and International Business and a Bachelor of Arts in Sociology, Tim worked at a range of digital marketing start-ups around Wellington, when he saw an opportunity.
"I recognised a need for better digital marketing solutions in Wellington. After freelancing for a couple of different companies I started up Aro Digital as an agency in June 2017."
After launching Aro Digital he met fellow alumnus Jonty Hodge at a Victoria University mentoring event. Both Tim and Jonty were volunteering through the University's Alumni as Mentors programme, where alumni offer their time and expertise to help mentor current students.
"We met at an Alumni as Mentors evening a year ago and from there we met up for a coffee. I got Jonty to do some work for me and then we decided it would be a good idea to partner up," says Tim.
Jonty is now Aro Digital's Performance Media Director and is also a shareholder in the company.
Tim says his involvement in the Alumni as Mentors programme has been a really positive experience. "I got partnered with someone who was running their own start-up and was looking to learn more about digital marketing, so I could be quite helpful to him.
"My mentee eventually got a role at Davanti Consulting—so it worked out pretty well for him getting a job in the space he wanted to work in."
Tim has also strengthened his connection to the University by hiring several other alumni—Aro Digital currently has three alumni on its staff alongside himself and Jonty.
Tim says the company has allowed him to grow as a leader, which has been a fulfilling journey. "Transitioning from being good at just digital marketing into a leadership role has been a really exciting process. I've found a lot of enjoyment in watching the team grow within the company and achieve their goals. It's been really rewarding."
Looking to the future, Tim says the company is on a mission to help others improve their digital marketing strategies.
"We're really keen on improving the quality of digital marketing in New Zealand, so we're focused on giving back to small businesses and social enterprises through digital marketing education. We've got an initiative where essentially every month each team member gets an hour to spend with a charity or social enterprise of their choice, and that's to help educate them with whatever challenges they're having with digital marketing."
Aro Digital is currently expanding, having just hired its ninth staff member and moved to a new office overlooking Oriental Bay. Despite the company's growth, Tim says it remains true to the ethos Aro Digital was founded on.
"I feel like the name 'Aro' represents what I want the company to stand for—which is quite down to earth, a little bit kooky and creative."