World-first partnership gives law students cutting-edge technology
Victoria University of Wellington and LexisNexis have announced a new five-year Innovation Partnership providing law students at the University with cutting-edge technology to support their studies and their transition to the workforce
23 August 2018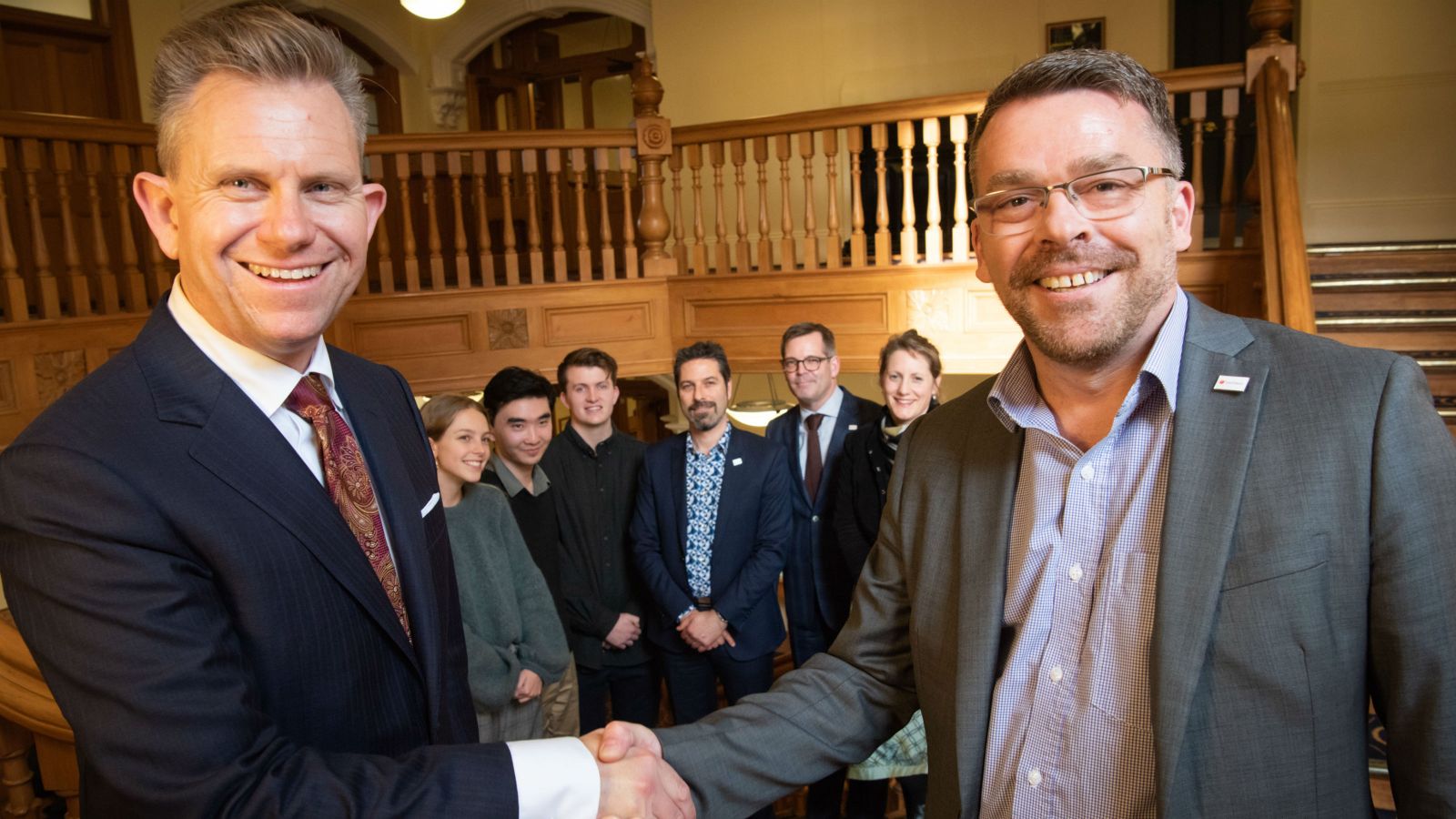 Front (L-R): Professor Mark Hickford, Pro Vice-Chancellor and Dean of Law, Andy Boss, General Manager – New Zealand, LexisNexis Pacific. Back (L-R): Victoria University Law students Marina Chevalier, Ruiteng Liu, Felix Hewitson, Simon Laracy, Strategic Relationship Manager – Academic, LexisNexis NZ, Chris Murray, Head of Content Management, LexisNexis NZ, Anna Burtt, Development Manager - Law, Victoria University of Wellington.
Through this Innovation Partnership, law students and academics will have access to two of LexisNexis' leading software solutions, Lexis® Draft Academic and Lexis Red®.
This will allow them to access a comprehensive range of legal proofreading, editorial review, research and analytical tools for accurate, consistent and efficient drafting.
Alongside the software, LexisNexis will also provide 35 scholarships over five years to support the next generation of outstanding legal talent from throughout New Zealand as well as annual workshops for students, faculty members and alumni on industry trends, insights and challenges.
The University's Faculty of Law is among the top 40 law schools in the world, according to the 2018 QS World University Rankings by Subject, and the number one ranked law school in the country for research quality in the most recent PBRF (Performance Based Research Fund) evaluation.
Pro Vice-Chancellor and Dean of Law Professor Mark Hickford says the law school attracts the country's finest young minds.
"We're focused on providing an environment that stimulates intellectual curiosity and a culture of research, while providing robust training that will support our students in their careers, and as future leaders. This partnership uses innovative technology in support of these goals. We're very pleased to work with LexisNexis to provide world-leading opportunities for those who study law at Victoria University."
LexisNexis General Manager Andy Boss says the partnership aims to advance legal scholarship in New Zealand.
"We are delighted to be helping the next generation of legal minds to pursue their passion for the law by providing both scholarships and access to our trusted legal research and software.
"These technologies provide a range of new opportunities. From improved legal research and referencing, to collaboration tools and productivity applications, LexisNexis solutions are shaping the future of legal research.
"LexisNexis has been committed to advancing the rule of law in New Zealand for over 100 years and this partnership with Victoria University of Wellington will enable us to continue to pursue that purpose."