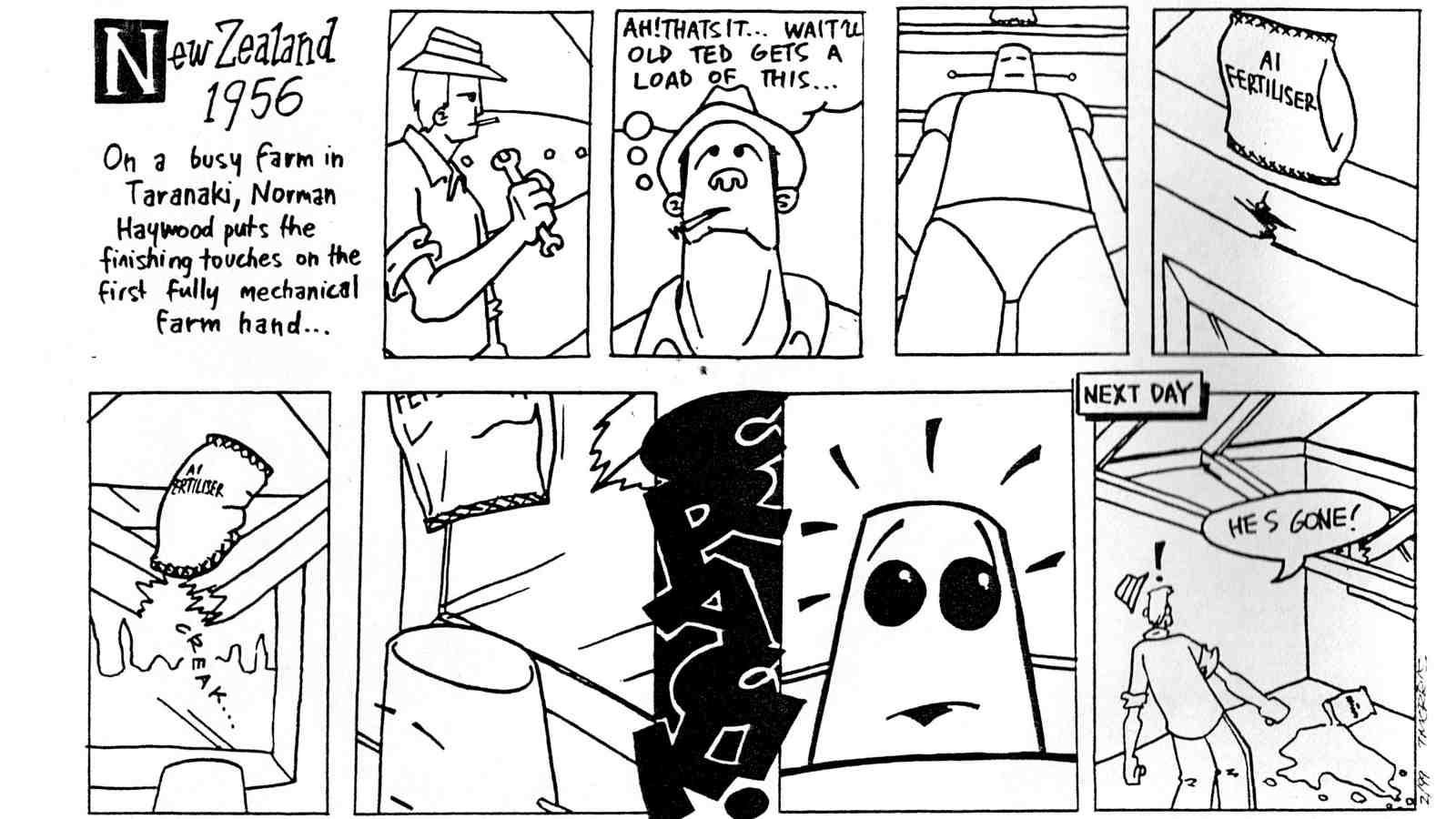 Episode one of Toby's first Salient cartoon, "The Droid Your Looking For", in 1999.
This is where he made life-long friends, spent long hours in the office and where he gained an alternative education that has formed the basis of his 12 years as a professional illustrator, comic artist, art director and designer.
Always a keen drawer, Toby volunteered as Salient's resident cartoonist as a first-year Bachelor of Arts student in 1999. He loved it so much he returned as a graduate to be the student magazine's full-time designer.
His career has taken various turns since then, but he says the design and illustration sector has always been a natural fit for his creative talents.Since leaving Salient in 2002, Toby worked as a designer and art director in Amsterdam, released two books of illustrations, been an art director and freelance illustrator in Auckland and spent four years in Melbourne pursuing a career with his rock band.
He's currently the writer and illustrator of the monthly online comic series 'Pencilsword' for Radio New Zealand's youth-focussed The Wireless website. He also creates the animate gifs for Radio New Zealand's weekly political cartoon series 'That is The Question'.
"My 'Pencilsword' comics are basically opinion pieces on things like social media behaviours and discussion around the national flag. 'That is the Question' is a topical series that looks at an issue that's been in the news that week and explains the situation in a slightly satirical, but factual way.
"I studied English literature and political science at Vic, and then went straight into design. But these two series are about whatever people are talking about and it gets quite political. It's like I've come full circle."
Toby's says the nonlinear path of his career reflects his philosophy that "when someone asks if you know how to do something, say yes and start learning"."It's about keeping an open mind to what you're capable of, and backing yourself that you can learn fast."
Wherever he's working during the day – an ad agency, a magazine or online media – the self-confessed workaholic always has a few other projects on the go after hours.
"I think it's really healthy to keep trying new things, and have projects that are self-directed and managed. It's also kept me motivated and mentally healthy. It's cool to come home from work and get stuck into something that is just your baby."
Toby says he was "an average student" but is grateful for both his formal education at Victoria and his on-the-learning in the Salient office.
"I look back and found I had a really broad education and although the effects [of my BA] weren't as immediately obvious, it helped me understand critical thinking and how to express ideas in the long-term."