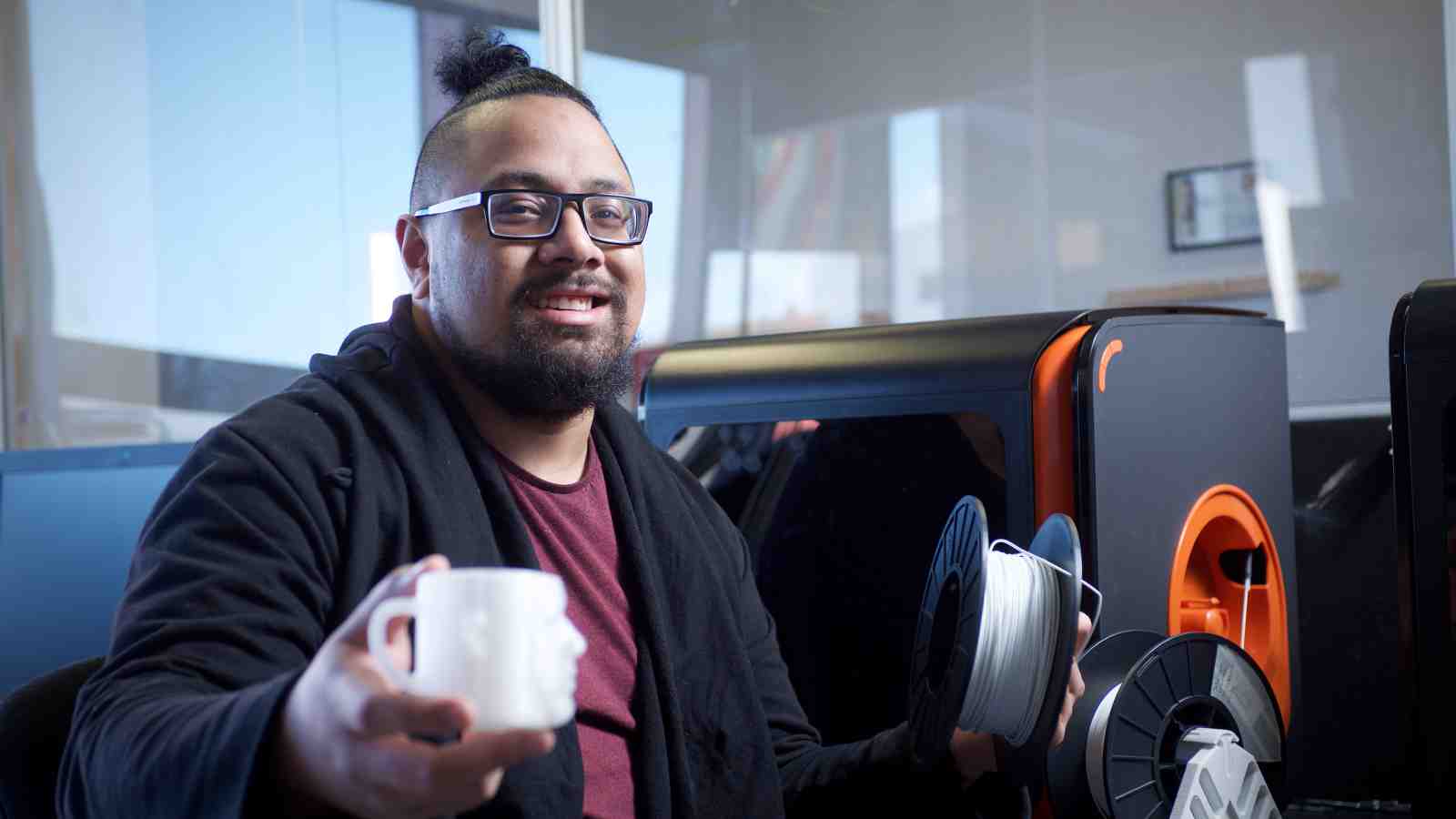 Lionel Taito-Matamua's Design Innovation thesis project, Renewing Materials: 3D Printing and Distributed Recycling Disrupting Samoa's Plastic Waste Stream, investigates how 3D printing technology can create tools out of recycled plastic, which could then be used to address the growing amount of plastic waste filling up landfills and waterways in Samoa.
Lionel's project is the only Wellington entry of the 10 finalists in the 'Innovation in Sustainability and Cleantech' category of the New Zealand Innovators Awards. The 23-year-old is also a finalist for the 'Young New Zealand Innovator' award.
Lionel was surprised but also "pretty excited" to be named a finalist in two categories. "Being named alongside larger companies, groups and successful individuals makes the whole year of thesis research worth it," he says.
Lionel's project will already be having an impact in the community when the award winners are announced in Auckland on Wednesday 21 October.
Next month he will launch the pilot project at Lower Hutt's Taita College by teaching Year 9 and 10 students how to use 3D modelling software. The project will expose the students to the technology, and from there he will encourage them to investigate ways it can be applied to recycle plastic.
Lionel plans to introduce the project in Samoa where he hopes locals will use the technology to curb the increasing problem of plastic waste.
"We don't have any systems in Samoa to recycle plastic. It all ends up in landfills, the oceans or it's burnt. Throughout my thesis, my idea was to use 3D printing in a way that could benefit the local community or other isolated areas that don't have recycling systems in place. Not necessarily coming up with whole solutions, but to help reduce the problem."
Lionel says creative solutions included making souvenirs out of tourists' discarded water bottles, and making models of marine mammals that could be used as classroom resources to educate students about the effects of marine pollution.
Both Lionel and his project are also in the running for the People's Choice Award. The public can vote for their favourite finalist on the New Zealand Innovators Awards website. The first round of voting closes 18 September.
Lionel's project has been supported by his thesis supervisors Professor Simon Fraser and Jeongbin Ok, Victoria's support network Te Rōpū Āwhina and commercialisation office Viclink.
Lionel will be discussing his research in a free, public talk at National Library of New Zealand on Wednesday 16 September.