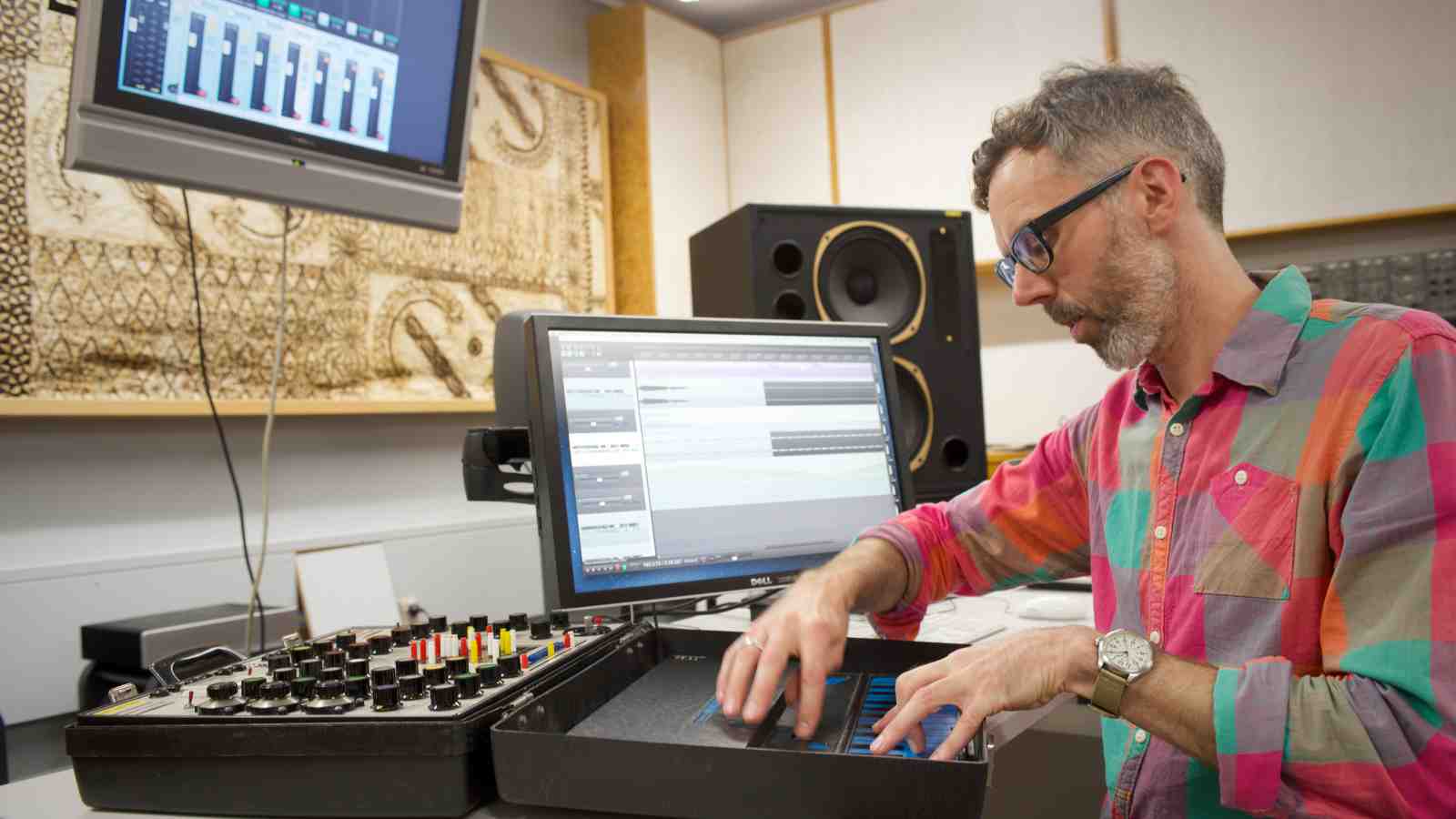 Dr Dugal McKinnon in the revamped Lilburn Studios at Te Kōkī New Zealand School of Music.
The concert performers will be Jian Liu, Roger Wilson, Gillian Bibby and the New Zealand String Quartet.
The readings will be from Memories of Early Years and other Writings—Douglas Lilburn, a book by Robert Hoskins, an Associate Professor at NZSM.
NZSM director Euan Murdoch says Lilburn is a huge figure in New Zealand music with an international reputation.
"He was also a lecturer at Victoria University from 1947 until his retirement in 1980 and we keep his legacy very much alive."
The school's electroacoustic studios have been refurbished and renamed in honour of Lilburn.
"Lilburn was an absolute pioneer in electronic music in the 1960s and worked for almost 20 years of his life on it.
"He regarded his last electronic work composed in 1979—Soundscape with Lake and River—as the apotheosis of everything he created. Following his lead, many of his students went on to make significant contributions to the field in New Zealand and internationally. We want to celebrate electronic music as part of the unique heritage of the School."
The main studio in the Lilburn Studios has the ability to create a sound field where listeners can experience virtual or recorded sound environments as if they were live. This effect is created using a ring of eight speakers augmented with other enhancements to the studio including 'acoustic cloud' sound treatment in the ceiling.
The Lilburn Studios will be used by undergraduate and postgraduate students, and also composers at the NZSM.
Director of the Lilburn Studios Dr Dugal McKinnon, says the capabilities available in the studios are on a par to the rich, creative resources of an orchestra.
"The studios are available for staff and student collaborations with musicians and artists outside of Victoria University as well."
Students are currently designing hardware for electronic music performance in leading-edge ways, including robotic instruments.
One collaboration is with Victoria's School of Engineering and Computer Science working on a new development of a Tesla coil—an electrical resonant transformer circuit—which has unparalleled capabilities as a musical instrument.
Another student project is developing an iOS app for live sonic-spatial performance.
Dr McKinnon says there is no other facility in Wellington like the Lilburn Studios.
"And they are the core of our sonic arts programme—for students to learn everything from recording and production to film sound design and the most experimental approaches to electronic music."