Perry Martin Hill Wallpaper Collection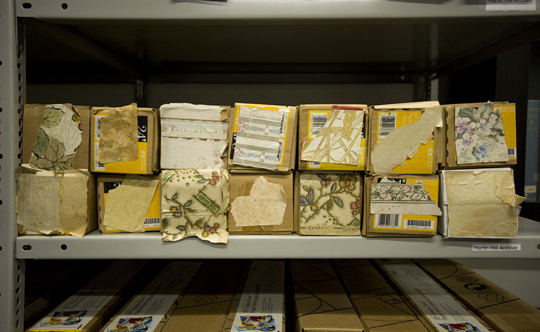 The P. Martin Hill Building Wallpaper Archive contains approximately 500 samples of wallpaper collected from houses throughout central New Zealand, 700 rolls of wallpaper recovered from the belongings of two Wairarapa painters and decorators of the 1920s, and several books containing 100 samples of wallpaper from the 1900s.
The wallpaper collective is currently in the process of being housed, re-shelved, re-boxed, catalogued and photographed. It is intended to have an online database of the wallpapers available for consultation in the near future.
Perry Martin Hill Wallpaper Collection—Mason Handprints
The P. Martin Hill Wallpaper Collection includes twelve different William Mason Handprints by one of the most well known New Zealand wallpaper designers William James Mason.
Wallpaper samples from our collection