Terence O'Brien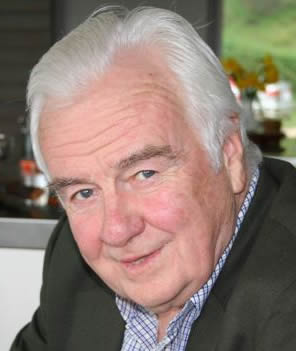 Terence O'Brien is a former New Zealand Diplomat. Served as Ambassador to the UN (including on the Security Council), to the European Union (EU), and as Ambassador to WTO-GATT and European Office of UN.
Earlier assignments were in Southeast Asia, South Pacific and Europe and as Assistant Secretary for Political-Security affairs as well as Head of the Economic Directorate of the Foreign Ministry.
Founding Director of the Centre for Strategic Studies: New Zealand (CSS:NZ).
He has written and lectured widely on international and regional relations, security affairs and New Zealand foreign policy.
Contact
obrien.family@paradise.net.nz
Phone: (04) 905-3582
Papers and publications
An Alternative & Progressive Trade Strategy: Geopolitics & NZ Relationships, University of Auckland, October 2018.
NZ International Relations in the Age of Trump, Wanaka, 6 July 2018.
Ardern Government's Foreign Policy. Presented to NZ Fabian Society, Connolly Hall, 7 March 2018
A New Zealand View of the Current Geopolitical Landscape, Presented at the Kanga NZ Debt Capital Markets Summit, Auckland, 2 August 2017
North Korea Standoff: More than a War of Words, Presented at NZIIA Ambassadorial Panel, Wellington, 29 August 2017
Challenges for NZ within the Pacific: Looking to the Future, Presented to University of the Third Age, Auckland, 3 July 2016
So, what comes next for the Trans-Pacific Partnership Agreement? Dominion Post, 3 February 2016
Navigating Between the Giant Panda and the Bald Eagle, Presentation to NZ-China Friendship Society, 19 November 2014
Getting Around the Security Council Table, Pesented at CSS Roundtable Discussion, 10 November 2014
PM at the front of NZ Security, Dominion Post, 21 November 2014
Connelly Hall, TPP:The Wider Context, 28 February 2014
The International System & New Zealand, Presentation to NZIIA Hawkes Bay, 8 October 2013
Looking Forward; NZ Aid Beyond 2015, 4 September 2013
Five Eyes an Anachronistic Step, Dominion Post, 5 July 2013
NZ Needs to Adjust to Waning Atlantic Sway, Dominion Post, 3 May 2013
Submission to the Foreign Affairs, Defence and Trade select committee, 11 April 2013
Some Ingredients of New Zealand Foreign Policy, Presentation to Paremata Probus, 19 March 2013
Interests and Values in International Relations, Presentation to the Victoria University International Leadership Programme, 4 April 2013
Foreign Policy Implications for New Zealand, Presentation to VUW Centre for International Economic Law Symposium on the Trans-Pacific Partnership (TPP), 28 November 2012
The Complexity of International Affairs and how New Zealand responds, Presentation to VUW Leadership Programme, 24 April 2012
Expediency of New Zealand foreign policy with Asia, Presentation to the Asia Forum, 18 September 2012
NZ must hold its nerve on foreign policy The Dominion Post, Comment, 13 September 2012.
Regional economic cooperation and architecture, Presentation to JIIA-NZIIA Track II, Tokyo, 1 August 2012
MFAT changes, TVNZ, 28 March 2012
'Where in the world are we heading?' New Zealand International Review, Vol.36, No.3, May/June 2011, pp25-27.