Brian Lynch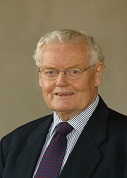 Brian Lynch has more than forty years of governance and policy experience in the New Zealand public and private sectors. His diplomatic career (1964–1981) included postings in New York (United Nations), Singapore and London, and terms as director of the Asia and Pacific divisions at the head office of the foreign ministry.
Following a period as deputy secretary of the ministry of transport he entered the private sector and for thirteen years (1992–2003) was chief executive of the association of New Zealand meat export companies.
From 2004–2009 he was Alternate New Zealand representative and senior advisor on the APEC Business Council. He was a government appointed member of the New Zealand Meat Board (2004–2010) and Chair of the New Zealand Horticulture Export Authority (2004–2013).
From 2003 to 2012 he was Director of the New Zealand Institute of International Affairs and in that capacity a frequent participant in track two dialogues with a particular focus on the Asia-Pacific region. He has double masters degrees from the University of Canterbury,New Zealand.
He was made an Officer of the New Zealand Order of Merit (OMNZ) for public service, in 2004.
Brian is currently working in the Centre for Strategic Studies office on a number of business liaison projects.
Contact
brianlynch344@gmail.com
Phone: +64 027 4452 958