Professor Karin Lasthuizen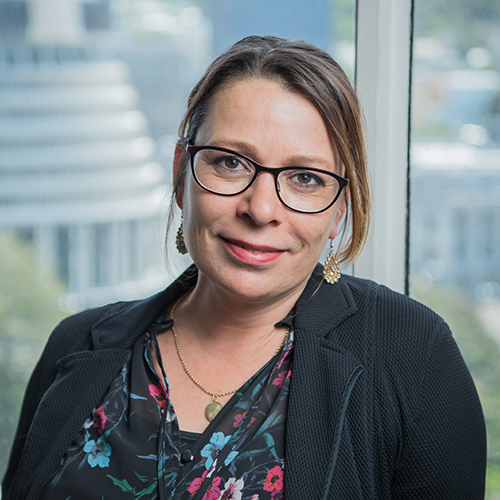 Chair in Ethical Leadership
School of Management

RH 1003, Rutherford House, 23 Lambton Quay
Teaching in 2020
as Coordinator and Lecturer
Research interests
Ethical Leadership, Ethics Management, (Anti-)Corruption, Organisational Integrity, Prevalence and Nature of Corruption, Integrity Violations, Organizational Misbehaviour (OMB).
Introduction
Karin Lasthuizen is a Professor at the School of Management and holder of the Brian Picot Chair in Ethical Leadership; one of the Professorial Chairs at the Wellington School of Business and Government who lead research on important contemporary issues.
Karin's research and consultancy work focus on ethical leadership and ethics management in public and private sector organisations and she specialises in methodology for research into organisational unethical behaviours (OUB) such as corruption and fraud. She has over 60 publications on leadership, ethics management, corruption and policing in national and international journals and books.
Karin is co-founder of the international academic research network on public and political leadership (PUPOL) and she is Chair of the Ethics Committee of Transparency International New Zealand. Karin is representative for the School of Management in the Pipitea Human Ethics Committee (HEC), whose chief function is to review, approve and monitor research proposals involving human participants - from staff and students.
Karin studied Political Science at the Radboud University of Nijmegen (the Netherlands). In 2001 she joined the VU University of Amsterdam in the Netherlands, where she obtained her PhD in Social Sciences in 2008 with the dissertation Leading to Integrity on leadership and integrity violations within the police. In 2011 Karin was awarded the VU/FSW Jenny Gierveld Fellowship for talented female scholars.
Before she moved to Wellington, Karin also worked part time as a City Councillor for the Dutch Labour party (PvdA) in her home city Arnhem.
Areas of potential PhD supervision
The meaning and practice of ethical leadership in business and trade from different cultural perspectives.
Synopsis:
Traditionally, much research has assumed that there is a one-size-fits-all style of ethical leadership that works across all types of organizations. Latest insights suggest that ethical leadership is more dependent on the context; for instance, type of organisation, public vs. private sector, or cultural background. Different ideas among business people and customers about what it means to be an ethical leader may well lead to varying expectations about doing good, ethical, business – and vice versa; which in turn influence the actual practices - and have a major impact on the reputation of and stakeholder confidence in New Zealand's businesses.
This kind of research is still in its infancy and I am interested in PhD students who would like to study this topic from a specific cultural perspective or in international business; or who want to conduct (quantitative) comparative research in this domain.
Qualifications
MSc (Political Science) Radboud University Nijmegen; PhD in Social Sciences at VU University Amsterdam (The Netherlands).
Selected (key) publications
Brian Picot Chair in Ethical Leadership (2018). Ethical Leadership: Opportunities and Challenges for Aotearoa New Zealand. New Zealand: Victoria University of Wellington. pp.49. This publication can be downloaded at www.victoria.ac.nz/ethical-new-zealand.
Van Eeden Jones, I. & K. Lasthuizen (2018). Building Public Sector Integrity in Developing Countries: An Indonesian Empirical Case Study on Ethical Leadership. Asia Pacific Journal of Public Administration (AJPA), 40 (3): 175-185. Winner of APJPA Best Article Prize 2018.
Heres, L., L.W.J.C. Huberts & K.Lasthuizen. (2017) Ethical leadership: a complex and messy phenomenon. In: Giacolone, R.A. & C.L. Jurkiewicz (Eds.), Radical Thoughts on Ethical Leadership. Chapter 7, pp. 135-150. Charlotte, NC: Information Age Publishing.
Huberts , L.W.J.C. & K. Lasthuizen (forthcoming 2017). Corruption in Context: What Goes Wrong in Governance. In M. Powell, D. Wafa & T.A. Mau (Eds.) Corruption in a Global Context: Restoring public trust, integrity, and accountability among public leaders and governing institutions. Belgium: Bruylant Publishers.
Lasthuizen, K. & H.L. Paanakker (2016). Combatting workplace aggression in detainee transport: A Dutch case study. Special issue 'Workplace aggression and leadership in the public sector' of the International Journal of Public Sector Management 29(1): 11-29.
Van Steden, R., Z. van der Wal & K. Lasthuizen (2015). Overlapping Values, Mutual Prejudices. Empirical Research into the Ethos of Police Officers and Private Security Guards. Administration & Society 47 (3): 220-243.
Huberts, L.W.J.C., M. Kaptein & K. Lasthuizen. (2014). A study of the impact of three leadership styles on integrity violations committed by police officers. L. Holmes (Eds.). Police Corruption: Essential Readings. Cheltenham: Edward Elgar. Chapter 5. Reprint (2011). ISBN: 978 1 78347 556 8.
Lawton, A., J. Rayner & K. Lasthuizen (2013). Ethics and Management in the Public Sector. Textbook. Routledge. 196 pp. ISBN Hb: 978-0-415-57759-5 / ISBN Pb: 978-0-415-57760-1.
Heres, L. & K. Lasthuizen (2012). What's the difference? Ethical leadership in public, hybrid, and private organizations. Special issue of Journal of Change Management. 12(4): 441-466.
Lasthuizen, K., L.W.J.C. Huberts & L. Heres (2011). How to measure integrity violations, towards a validated typology. Public Management Review 13 (3): 383-408. ISSN Print: 1471-9037, ISSN Online: 1471-9045.
Van den Akker, L., L. Heres, K. Lasthuizen & F.E. Six (2009). Ethical leadership and trust: it's all about meeting expectations. International Journal of Leadership Studies, special issue on leader integrity, 5 (2): 102-122. ISSN 1554-3145.
Teaching in 2020
as Coordinator and Lecturer