International Translation Day celebrated with Kiwi poems translated into Persian
PhD candidates Fahim Afarinsadi, Nastaran Arjomandi, and Mohsen Kafi presented some of their work which forms a bilingual edition of Best New Zealand Poems 2017, in a collaboration between the School of Languages and Cultures and Wai-te-ata Press.
On International Translation Day 2020, amidst the vintage printing presses and drawers of typeset of Te Herenga Waka's Wai-te-ata Press, three young Iranian translators introduced Ōrongohau, a selection of New Zealand poems translated into Persian. Fahim Afarinsadi, Nastaran Arjomandi, and Mohsen Kafi, all PhD candidates in Literary Translation Studies, were joined by their friends and colleagues from the School of Languages and Cultures community as well as an audience comprising lovers of New Zealand poetry, members of the Iranian diaspora in Wellington, and figures from the translation industry.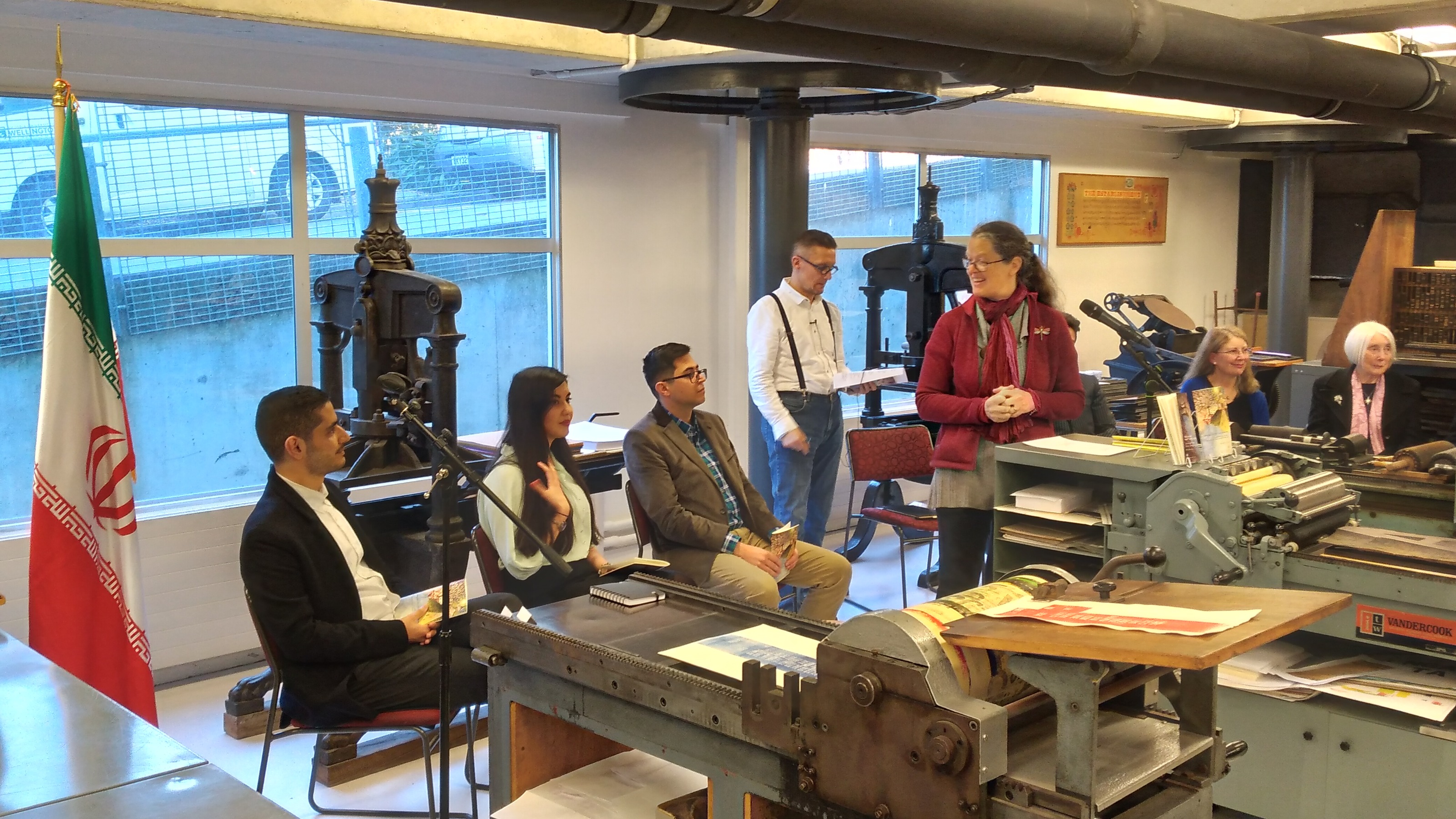 Speaking to the audience, Dr Marco Sonzogni, the School of Languages and Culture's Reader in Translation Studies, and Co-Director of the New Zealand Centre for Literary Translation, congratulated the talented Iranian trio on their creativity and scholarship. In a salute to their work he analogised that "translators are magicians… they find a way to give us the impression that a text exists in and belongs to a language and a culture, and a time and a place that are not its real or 'original' ones." Associate Professor Sydney Shep of Wai-te-ata Press commended the three and how their work "highlighted the visual and aural beauty of the Persian language".
Of the process which led to Ōrongohau, Fahim Afarinsadi said "translating contemporary New Zealand poetry made me experience the process of translation in all its complexity. In order to overcome the challenges posed by these poems, and recreate their textual and contextual features in Persian, adaption seemed to me to be the most effective and rewarding strategy". Fahim's PhD focusses on helping translation scholars and website localizers improve multi-modal, cross-cultural translation and is doing this through a case study on localising football club websites. Fahim also works part time at the Embassy of the Islamic Republic of Iran in Wellington.
One of the poets with a work featured in the original English anthology, Chris Tse, attended and read his poem 'like a queen' alongside Nastaran Arjomandi, who impressed the audience by reciting her Persian translation by heart after each line. Nastaran has a background in drama/theatre translation studies and is now furthering her knowledge in semiotics and multimodality by engaging with paratext, and the book cover as form of intersemiotic translation, as part of her PhD.
Mohsen Kafi responded to the Aotearoa New Zealand setting in his translations. Regarding translating Karlo Mila's poem 'Mana', which itself unravels the intricate nuances of this Māori word in English, he wrestled with "defining so powerful and so personal a concept as 'mana.' Rather than attempting an equivalence, he rendered it in transliteration." Mohsen is conducting a sociological investigation into the selection, promotion, and reception of translated fiction in New Zealand through his PhD.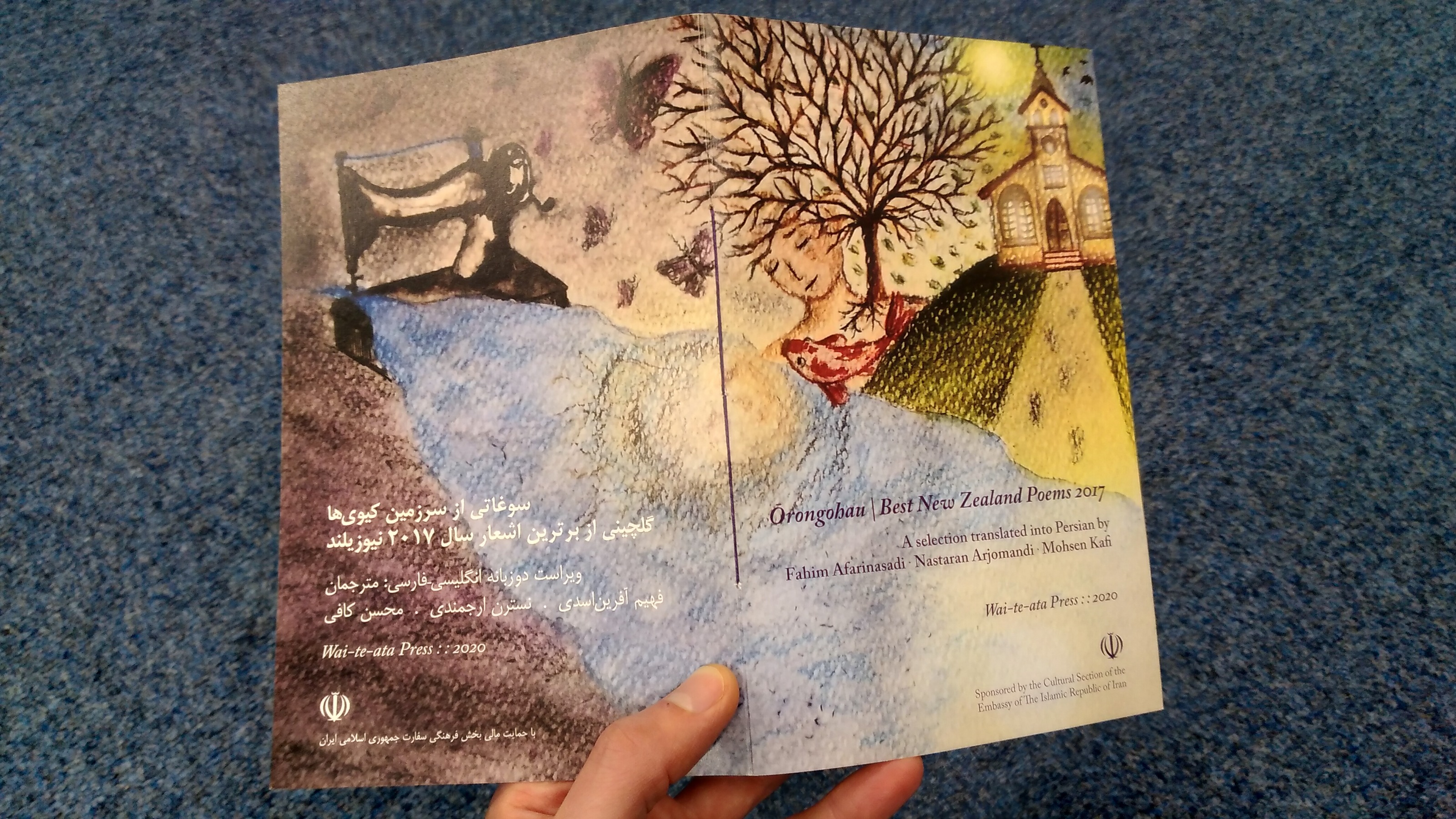 Illustrator Niloofar Arjomandi, Nastaran's sister living in Kerman, Iran, greeted the audience and described her inspiration for the front and back covers via a pre-recorded video message. She described how she conceived the artwork and how she created it using watercolour and coloured pencils. Ya-Wen Ho managed the typesetting process of the 'dos-à-dos' book, each one of which was hand-bound also at Wai-te-ata Press.
The project was sponsored by the Cultural Section of the Embassy of the Islamic Republic of Iran in Wellington, which was warmly represented by its Second Secretary, Mr Shamsollah Azimi.
To order your copy, download and complete the order form, then email it to: wtapress@vuw.ac.nz
Article: Benjamin Swale