Business process modelling methods
An experiment that compares two representations of a business process to see which conveys the most information.
Project description
The aim of this project is to compare the amount of knowledge conveyed by two different process modelling methods: process story-telling and BPMN process modelling notation. We are looking for people to participate in an experiment to compare the amount of knowledge you are able to derive from two different representations of the same process. The product is intended for use in improving business process modelling methods in research and practice.
Who we are looking for
We are looking for people who have some knowledge of Business Process Management (BPM) models. You will be given information including a BPM model. You will familiarise yourself with the information provided and then you will be asked a series of questions. You may refer to the materials. There are no right or wrong answers. The research will take about 45 minutes. You can stop the experiment at any time.
To express interest, please email Associate Professor Mary Tate.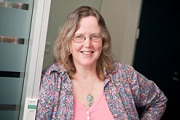 Associate Professor
School of Information Management

RH 504, Rutherford House, 23 Lambton Quay