SCIE 303 Special Topic: Advanced Human Geography (Geographies of Migration)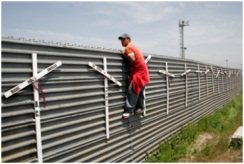 Migration, along with birth and death, has always defined human populations, and today it is one of the most powerful currents shaping global society. Who moves and why? And what impacts does migration have on migrants, and on communities of origin and destination?
This 12-week course will introduce students to these and other key issues in contemporary migration studies - a massively expanding field of academic and policy research around the world.
The course extends students; understanding of basic demographic issues introduced in GEOG 216 (Urban and Population Geography), and issues of development introduced in GEOG 212 (Worlds of Development).
The themes of the course connect closely with the social, cultural, political and economic issues covered in GEOG 312 (Race, Gender and Development) and GEOG 316 (Geographies of Globalization).
If you would like to enrol in this course please contact
Johan Barnard
.