Courtney Addison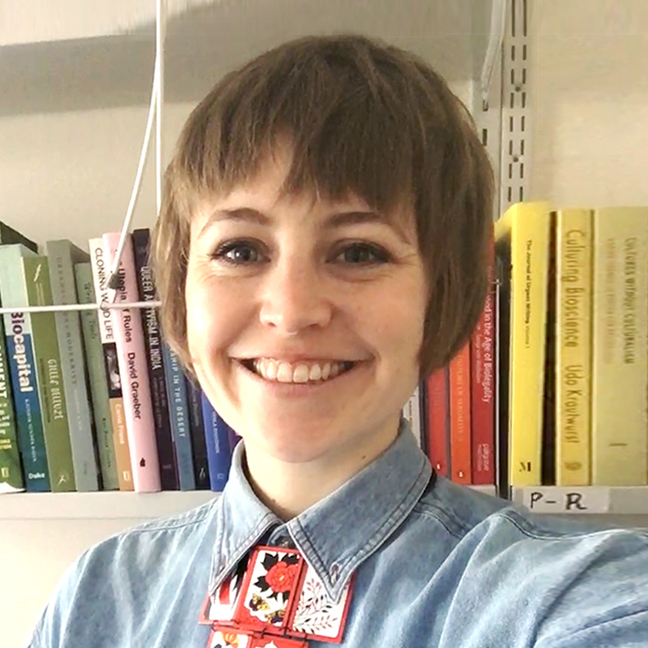 Lecturer
Centre for Science in Society

KP4244, Room 201, 42 & 44 Kelburn Parade
Teaching in 2020
as Coordinator and Lecturer

as Lecturer

as Lecturer

as Lecturer
Profile
I am an Anthropologist of science and medicine. My research explores the place of genetics in medical and environmental contexts. I am currently writing about the international gene therapy field and developing a project on conservation genomics and technological innovation for Aotearoa, New Zealand's native birds.
I completed my PhD at the University of Copenhagen, where, as part of the interdisciplinary Consortium for Designer Organisms, I carried out ethnographic research on the social and ethical dimensions of gene therapy. Prior to this I received degrees in Anthropology (Masters, BA (Hons), BA) and Writing Studies (BA) from the University of Auckland.
Research
My research sits between Anthropology and Science and Technology Studies. I am interested broadly in the social fabric of science and medicine: how people realise their social commitments, become imbricated in power relations, and create meaning. Theoretically, I am interested in the ethics of experimental science, and approach this from an Anthropological position that centres the social and cultural dimensions of ethical life, as well as the problems of knowledge construction. My research is based on ethnographic and other qualitative methods.
Topically, my research focusses on the place of genetics and genomics in society. By happy accident, I have developed a side interest in the convergence of the internet and genomics.
Current research projects include
The ethics of experiment: An ethnography of human gene therapy
My doctoral research was an ethnographic study of gene therapy clinical trials in Europe. This work explored how the practice of gene therapy took shape in a context overdetermined by ethical concerns and used the anthropology of ethics to critique research ethics systems.
Creating and conserving Aotearoa New Zealand
This project explores conservation science for Aotearoa's native birds. The initial stage of this research was funded the Kate Edger Trust and entailed interviews with conversation geneticists around Aotearoa. The second stage of this project is currently under development.
Supervision
I am interested in supervising students who wish to work on topics related to health and medicine, the environment and conversation, multispecies, and the internet/digital technologies, as well as those working with qualitative (especially observational) methods.
Current supervisions include:
Hamish Howard – 'New Zealand's Marine Values Landscape', MSc (Science in Society), 2019.
Selected Publications
Addison, C. (forthcoming) "CRISPR cowboys? Genetic self-experimentation and the limits of the person". In S. van Wichelen & M. de Leeuw (Eds.), Brave New Law: Legal Persons in the Age of Biology. Routledge.
Gardner, J., Warren, N., Addison, C., & Samuels, G. (2019). Persuasive bodies: Testimonies of deep brain stimulation and Parkinson's on Youtube. Social Science and Medicine, 222, 44-51.
Addison, C. & Malone, N. (2018). An experimental ethics, but an ethical experiment? Anthropological perspectives on using unproven vaccines on endangered primates. American Journal of Bioethics, 18, 53-55.
Williamson, R., Anderson, W., Duckett, S. J., Frazer, I. H., Hillyard, C., Kowal, E., Mattick, J. S., McLean, C. A., North, K. N., Turner, A., & Addison, C. (2018). The Future of Precision Medicine in Australia. Australian Council of Learned Academies Horizon Scanning report.
Addison, C. (2018). Gene therapy: A evolving story. In L. Marks (Ed.), Engineering Health: How Biotechnology Changed Medicine. London: Royal Society of Chemistry.
Addison, C. (2017). Bench, bedside, boardroom: Negotiating translational gene therapy. New Genetics and Society, 36, 22-42.
Taylor-Alexander, S. & Addison, C. (2017). Bioconstitutional artefacts: Infrastructure in a gene therapy clinical trial. Engaging Science, Technology and Society, 3, 332-350.
Addison, C. & Lassen, J. (2017). "My whole life is ethics!": Ordinary ethics and gene therapy. Medical Anthropology, 36, 672-684.
Addison, C. (2016). Spliced: Boundary work and the establishment of human gene therapy. Biosocieties, 12, 257-281.
For a full publication list please see my Google Scholar profile.
Engagement
Teaching in 2020
as Coordinator and Lecturer

as Lecturer

as Lecturer

as Lecturer