2016
Research for Life grants for Centre for Biodiscovery researchers
7 November 2016
Five Victoria University medical researchers have received grants in the second funding round of the year from Research for Life, formerly known as the Wellington Medical Research Foundation.
Research for Life funds innovative quality research undertaken by researchers in the early stages of their careers who, through their work, will advance the quality of healthcare in the Wellington region and beyond.
Research Grants received are awarded to undertake innovative medical research. The successful applicants from Victoria for Research Grants include:
PhD student Carl Beyers received a $10,000 grant to assess the impact of MIS416 therapy in altering the immune system of people with progressive multiple sclerosis (MS). There is an urgent need for therapies which are effective at treating progressive MS. MIS416 has been shown to be safe to use in progressive MS, and a large stage two clinical trial offering MIS416 as treatment is progressing. This grant is in aid of work to define how MIS416 alters inflammation at a cellular level. Access to samples from the trial, a valuable resource, offers an excellent opportunity to further medical research into MS treatments.
Dr Darren Day, a senior lecturer in Victoria's School of Biological Sciences, received a $20,250 grant to undertake research into developing a new type of anti-microbial drug for treating bacterial infections that are resistant to current antibiotics. Dr Day's research uses DNA molecules coated with tiny particles of silver to specifically bind to bacteria and sensitize them to conventional antibiotic therapy.
PhD student Kathryn Hally received a $25,833 grant to investigate platelet activation in acute coronary syndromes (ACS), the leading global cause of death. Anti-platelet medication is the standard-of-care for ACS patients but a proportion of patients will continue to experience recurrent cardiovascular events despite treatment. Ms Hally's research focuses on how platelets may be alternatively activated in responses to infection and how this may relate to patient outcome.
Professor John Miller from Victoria's School of Biological Sciences received an $18,000 grant to undertake research into the development of new anti-cancer chemotherapeutics. Current drugs for solid tumours have unwanted side effects, and cancer cells can acquire resistance to these drugs. New drugs that are better tolerated and can improve patient outcomes are needed to either replace or be used in combination with those now in use.
Research for Life Travel Grants assist local researchers meet the cost of presenting their research findings at international conferences. A Travel Grant was awarded to:
Jennifer Soundy, a third year PhD student at Victoria University, received a $2,000 travel grant to present her research findings at the International Society of Aptamers conference in Oxford in April next year. Ms Soundy is undertaking a study on the development of novel antimicrobials for fighting antibiotic-resistant bacterial infections.
Research for Life president Professor John Nacey says, "Research for Life congratulates the successful applicants of this round of funding. The research they are undertaking is innovative, well-conceived and vital to achieving continuing improvements in health outcomes in the community."
A man on a drug discovery mission
27 September 2016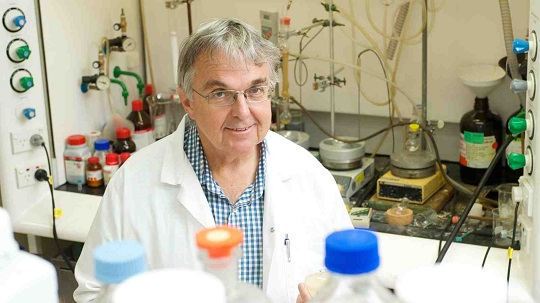 Professor Peter Tyler from Victoria's Ferrier Research Institute's career in chemistry spans 35 years—and 32 patents for potential drug candidates.
"Drug discovery is absolutely feasible in New Zealand, and we are doing world class research," says Professor Tyler. "I really relish working on something that I know will ultimately be useful, and provide much needed treatments."
As he will explain in his upcoming inaugural lecture, when chemistry is partnered with biology, real progress can be made.
"I've worked on a number of research projects that have resulted in promising drug candidates. This includes Forodesine, which has been through several clinical trials for T-cell cancers, and Ulodesine, which has successfully completed a phase two clinical trial for gout.
"One of our compounds has also been shown to have efficacy against malaria. Others have demonstrated activity against the disease visceral leishmaniasis—which is a particular problem in Brazil. Another compound is in preclinical development against solid tumours, and has also shown broad activity against several types of cancer.
"We are looking to develop new compounds that target trypanosome parasites—parasites which are the cause of Chagas disease in central and South America, and African sleeping sickness."
Professor Tyler will also talk about his research into a potential treatment for Alzheimer's disease, which recently received more than $850,000 in funding for its development. "Our drug candidates for Alzheimer's disease are significantly different from others—no one else in the world is using this approach."
The chemistry created during this research is now being extended into a three-year research study targeting cellular communications, supported by the Marsden Fund.
A Victoria graduate for his Bachelor's degree and PhD, Professor Tyler joined the University in 2014 when the Ferrier Research Institute was formed. Prior to that, he worked as a scientist at Callaghan Innovation, and the former Industrial Research Limited and Department of Scientific and Industrial Research.
Million-dollar funding to fight antibiotic resistant superbugs
15 June 2016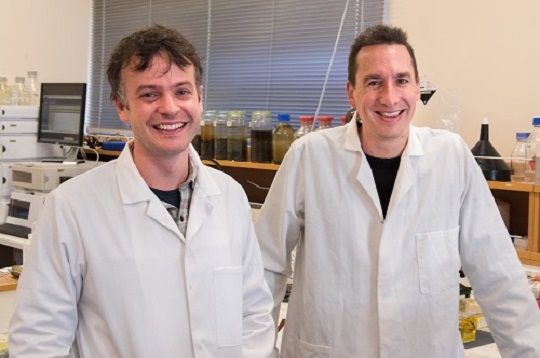 Victoria University of Wellington researchers have been awarded nearly $1.2 million in funding to find new and improved antibiotics from previously untapped sources.
The Health Research Council of New Zealand has granted $1,195,267 to Dr Jeremy Owen and Associate Professor David Ackerley from Victoria's School of Biological Sciences for their three-year project.
"The project will use DNA sequencing and synthetic biology to discover new drugs. These techniques allow us to extract new molecules from bacteria that can't be grown in the laboratory," says Dr Owen.
"Just because we can't grow a bacterial species in the lab doesn't mean we can't access an antibiotic it makes. The instructions for how to build that antibiotic will be somewhere in its DNA—if we can find these instructions, we can make the antibiotic.
"Currently, scientists can culture less than one percent of bacteria that exist on Earth and this one percent has provided most of the antibiotics we currently use in medicine. But resistance to these antibiotics is spreading, so we need to turn to the unculturable bacteria to find new drug candidates."
Associate Professor Ackerley says antibiotic resistance is a significant threat, with the World Health Organization recently describing humanity as being in a race against time to develop antibiotics against multi-drug resistant superbugs.
"We're in danger of going back to the time when people would routinely die of the most mundane things, like infected scratches from rose thorns while gardening.
"Our work aims to discover new molecules that have antibiotic activity and it is our hope that these will be developed into new medicines. We desperately need new antibiotics to fight drug resistant bacteria but we also need to use these antibiotics more responsibly to prevent the development of resistance."
Once the new molecules are tested for antibacterial, anti-fungal or anti-cancer properties, the team plans to take promising molecules forward as new drug candidates.
"So many promising drug candidates never make it to the clinic because there is not enough supply," says Associate Professor Ackerley.
"Our synthetic biology approach ensures we will be able to make lots of whatever we find. Plus, the classes of molecule we are looking for do generally have strong antibiotic potential, so we think we have a good chance of finding something useful."
Dr Owen and Associate Professor Ackerley will work with Dr Rob Keyzers and Associate Professor Peter Northcote in Victoria's School of Chemical and Physical Sciences.
Professor Mike Berridge from the Malaghan Institute of Medical Research (based at Victoria's Kelburn campus) was also awarded just over $1 million of funding. Professor Berridge will work with Dr Melanie McConnell from Victoria University and Professor Mark Hampton from the University of Otago, Christchurch to investigate the transfer of mitochondria between brain cells.
Multiple sclerosis trial begins at Wellington Hospital
13 June 2016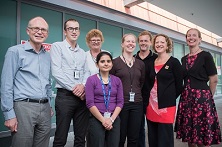 A Victoria University of Wellington researcher is leading a clinical trial that may offer new hope to multiple sclerosis (MS) sufferers.
The trial will test two commonly used antipsychotic medications in secondary progressive MS. This form of the disease, for which there is currently no effective treatment, affects over one-third of all MS sufferers and causes significant life-long disability.
The trial, based at Wellington Regional Hospital, is actively recruiting for participants.
Victoria University immunologist Professor Anne La Flamme says repurposing medications is common for treating MS.
"The majority of agents used to treat the most common form of MS—relapsing remitting MS—were originally used for something else, like viral infections and leukaemia.
"We're looking at two medications, clozapine and risperidone, which were designed to treat a variety of health disorders such as schizophrenia, bipolar disorder and autism.
"Clozapine and risperidone have always been targeted to mental illness but our studies show they are able to tone down the immune system in the brain, which is what causes MS, and this anti-inflammatory action is promising."
Professor La Flamme is working with neurologist Dr David Abernethy from Capital & Coast District Health Board, and Associate Professor Bronwen Connor from the University of Auckland.
"The trial will be randomised, blinded and placebo-controlled, to closely monitor any potential adverse effects from the drugs as well as measure any changes to MS disease," says Professor La Flamme.
The study has been funded by the Ministry of Business, Innovation and Employment and supported by the Neurological Foundation of New Zealand and the Great New Zealand Trek Charitable Trust. Professor La Flamme has also received additional funding from a Research for Life grant to investigate how these medicines affect the immune system during secondary progressive MS.
For more information about enrolling in the trial contact Liz Goode, trial nurse, on liz.goode@ccdhb.org.nz.
PhD student's revolutionary cell research to fight brain diseases
27 April 2016
A Victoria University of Wellington PhD student hopes his Neurological Foundation of New Zealand scholarship will lead to new treatments for brain diseases.
Matt Rowe received a 2015 Neurological Foundation W and B Miller Postgraduate Scholarship worth just over $100,000 to carry out research on mitochondria—the tiny structures that generate the energy to power a cell.
The research is likely to have implications for treatment strategies for degenerative brain disease like Alzheimer's as well as brain cancer.
While it has been known for several years that mitochondria can transfer between cells, the reasons why a cell might give or receive mitochondria are largely unknown.
Matt's research, carried out under the supervision of Dr Melanie McConnell from Victoria's School of Biological Sciences and Professor Mike Berridge from the Malaghan Institute of Medical Research, will help to determine the drivers of this phenomenon.
"We'll examine the mechanisms of mitochondria transfer in diseased cells in response to injury. We're interested in the survival mechanisms of brain cells, what they do when injured, and how this relates to the movement of mitochondria," says Matt.
A team including Dr McConnell and Professor Berridge have found that cancer cells will acquire mitochondria from the normal surrounding tissue in order to prosper.
"It's not yet clear why this happens, it could be to resist treatment. We will be examining mitochondrial transfer in two related diseases—neurodegeneration and neurological cancer. Each disease involves the same neural tissues, however the outcomes for cells in each are vastly different," says Matt.
Over the past few months Matt has been developing a set of tools to study the mitochondria's movements.
"Mitochondria are normally labelled with fluorescent dyes, but this method is tricky to control and is not accurate," says Matt.
"I've used a genetic approach to develop a new system that will enable us to measure these transfer events with high levels of precision. Sometimes there are thousands of mitochondria and a few have transferred between cells.
"We're using unique genetic signatures to give us strong, quantifiable results. This system will allow us to see whether injury drives mitochondrial transfer in diseased cells."
For more information contact Matt Rowe on matt.rowe@vuw.ac.nz.
Health Research Council funding for Victoria University researchers
22 April 2016
Dr Bronwyn Kivell from Victoria's School of Biological Sciences and Centre fro Biodiscovery is a recipient of an Explorer Grant in the HRC's 2016 funding round, worth $150,000 over two years.
Explorer Grants are awarded for research that advances ideas considered to be transformative, innovative, exploratory or unconventional, and have potential for major impact.
Dr Kivell, a researcher in physiology and neurobiology, will use her grant to develop new, improved painkillers that don't cause addiction or become less effective over time.
"Chronic pain affects one in six New Zealanders, robbing them of their quality of life. It is poorly treated with current medications, which become ineffective with long-term use and have high abuse potential," says Dr Kivell.
"Our project is focused on a novel chemical called Salvinorin A. With considerable therapeutic benefits over traditional morphine-like compounds, Salvinorin A painkillers promise to transform the treatment of chronic pain, while the potential social and economic benefits of developing such a therapy are enormous."
Dr Kivell is working with medicinal chemist Professor Thomas Prisinzano from the University of Kansas.
"Our research seeks to develop design parameters for a series of walking paths that measure and track the progress and regress of the physically disabled. We hope to create safe, functional, therapeutic outdoor spaces for people with disability, which they could use in local parks for free."
"The Explorer Grants are a critical way of allowing researchers to develop new avenues of research that have the potential to change people's lives.
"Victoria researchers are committed to ensuring their work will deliver impact to enhancing patient health and wellbeing".
Nine Explorer Grants were awarded in 2016, worth a combined total of $1.35 million.
For more information contact Bronwyn Kivell at bronwyn.kivell@vuw.ac.nz.
Biotechnology researcher awarded grant to engineer enzymes
19 February 2016
Associate Professor David Ackerley from the School of Biological Sciences has been awarded a grant worth US$1.5 million to develop enzymes that will enable the study of degenerative diseases in zebrafish.
The National Institutes of Health, a biomedical research facility in the United States, awarded the grant to Associate Professor Ackerley and his research partner Jeffrey Mumm, Associate Professor of Ophthalmology at the Johns Hopkins Wilmer Eye Institute and McKusick-Nathans Institute of Genetic Medicine at the Johns Hopkins University School of Medicine.
"Firstly, my team at Victoria will engineer some enzymes so that they become extremely efficient at activating certain drugs from a non-toxic to a highly toxic form," says Associate Professor Ackerley. "If these enzymes are present in a living cell, that cell will become highly sensitive to the drugs and die when it encounters them. Importantly, ordinary cells—even those right next to the sensitive cells— will be unaffected."
The biotechnology researcher will then provide Associate Professor Mumm with a piece of DNA that acts as a blueprint for the engineered enzymes, enabling them to be targeted to any cell type that is desired.
"The original concept for this system was invented by Dr Mumm. It worked fairly well, however our improved enzymes will enable him to far more effectively target certain types of cells in zebrafish, to make those cells sensitive to the drugs," says Associate Professor Ackerley. "For example, if the enzymes are made only in photoreceptor cells in the retina, application of the drugs will then mimic the effects of degenerative blindness in the zebrafish."
The processes underlying regeneration or repair of the photoreceptor cells can then be studied, says Associate Professor Ackerley.
"We can screen for new drug candidates that enhance these repair processes. Moreover, the same enzyme tools could be used in a very similar manner in other organs to model other degenerative diseases and to investigate potential cures."
Tiny enzymes play big role in anti-cancer research
11 January 2016
A $15,000 scholarship awarded to Victoria University of Wellington student Abigail Sharrock will support her quest to develop a new form of cancer treatment.
Abigail, a PhD student in Victoria's School of Biological Sciences, is one of four students around New Zealand awarded a 2015 Earle Scholarship in Technology.
Administered by Universities New Zealand, the scholarships support postgraduate research into aspects of innovation and product development or bioprocess technology.
Abigail's research will focus on understanding how specific enzymes—bacterial nitroreductase enzymes—can be used to develop new cancer therapies.
"These enzymes are proving an important tool in the development of new cancer therapies, as they can convert a non-toxic 'prodrug'—a medication that is inactive until metabolised by the body—to a toxic drug that causes cell death," says Abigail.
"We want to use this property to develop a cancer gene therapy, in which tumour-specific bacteria will deliver genes that instruct an enzyme to specifically kill cancerous cells.
"The research focuses on developing a treatment with minimal damage to healthy tissues. We will be able to confidently see if the enzymes are confined to the tumour—an important safety feature."
Abigail says nitroreductase enzymes also contribute to understanding how different tissues and cells regenerate.
"Cell ablation therapy can be used to knock out certain cell types that will in turn mimic a diseased tissue state. This means we can look into how this disease state can be reversed or treated by testing compounds that promote cell regeneration."
Abigail's research is co-supervised by Associate Professor David Ackerley at Victoria and Professor Vic Arcus at the University of Waikato, and carried out in collaboration with researchers at John Hopkins University in the United States and the universities of Waikato and Auckland.
Conducting research that has a real-world, medical application has always been her goal, says Abigail.
"Biotechnology is an exciting and rapidly advancing field, and I'm excited to be working on this collaborative project that ultimately aims to improve the health and wellbeing of patients worldwide."