2012
Lecture series 2012
Urban Sustainability Announcement pdf310KB
Partnership blossoms for Wellington's flora and fauna
23 July 2012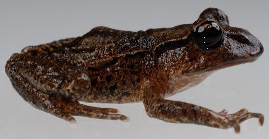 From the acoustics of little spotted kiwi calling at night to bird song in the forest by day, Victoria's University's research links with ZEALANDIA: The Kaori Sanctuary Experience are uncovering new information about Wellington's zoological residents.
Associate Professor Ben Bell and his colleagues in the Centre for Biodiversity ad Restoration Ecology are running a number of research projects on the animals that call the sanctuary home.
A small penned population of the threatened Maud Island frog (Leiopelma pakeka) is well-established in the Sanctuary, after being introduced in 2006.
Research into this population, in addition to Dr Bell's 35 years of research into the threatened native frogs around other parts of New Zealand, is revealing more about their breeding habits and conservation needs.
"We've found that they bred in the Sanctuary over at least four successive summers. We've learnt that, as with some other species of frog, reproduction involves paternal care. A Maud Island frog will sit with froglets (baby frogs) on his back for several weeks under a log or rock."
The Sanctuary's proximity to Victoria allows Dr Bell to relocate the small froglets so they can successfully complete their development in the protected environment of a laboratory incubator, before being returned to the sanctuary.
"Ideally we want to have a population living and breeding in ZEALANDIA naturally. But predators like mice may be a problem, and we don't know how safe they'll be from little spotted kiwi. That's a research avenue that Tanya Karst, an MSc student in our group, plans to explore in the future."
Another project has compared bird song from species such as the song thrush to their counterparts in the Northern Hemisphere. PhD student Joseph Azar recorded and analysed bird calls to ascertain differences in vocal ability.
"Joseph found that song thrushes in ZEALANDIA have more varied calls. There are measurable differences between the scale of songs between birds in the Northern and Southern hemispheres."
Dr Bell says that while many song birds have national and even local dialects, they were surprised by the findings.
"We did expect results to point the other way. It might be because we hear bird song from native species for more of the year than for introduced species, so in ZEALANDIA song thrushes are exposed to a wide range of species for a longer time than in Europe."
Victoria University's connection with ZEALANDIA was first formally recognised when the Centre for Biodiversity and Restoration Ecology was founded in 2006, and was further strengthened in 2011 when Victoria signed a Memorandum of Understanding with the Kaori Sanctuary Trust.
Reproduced from Dominion Post
Kiwi high flier in tech sector
3 May 2012
Geraldine McBride is a member of the Advisory Board for the Centre of Biodiscovery and Restoration Ecology. The following article on her appeared in the Dominion Post, 3 May 2012:
WELLINGTON-born super-saleswoman Geraldine McBride has chipped the glass ceiling in the business software industry by being appointed president of SAP's 12,500-strong North American business. SAP has annual sales of more than [Euro]14 billion (NZ$22.72b) and is the closest rival to Oracle, the world's largest business software company. McBride studied zoology at Victoria University and rose through the ranks during a 15-year stint at SAP, heading its New Zealand operation before taking on a series of international roles and joining computer- maker Dell as a vice-president. A female contemporary from her four-year stint as general manager of SAP New Zealand said country managers at multinational information technology firms tended to "come and go", but McBride stood out for her "tall and stunning" model good looks. Another recalled her "green searchlight eyes". Victoria University associate professor Ben Bell, who taught McBride in her undergraduate days, said she had stood out. He remembered her useful research into native frogs in the Coromandel. "She is persuasive and had all the characteristics you would expect of a corporate leader. She is determined and thinks on her feet, but has a very pleasant personality as well." Two years ago McBride "returned to the fold" at Victoria University, agreeing to serve on the advisory board of the biology school's applied research centre. Auckland public relations executive Tony Noble, who helped McBride launch the New Zealand subsidiary of SAP in 1996, described her as a "formidable combination of charm and steely determination". "She was one of the first women to really drive an IT company in the New Zealand market, paving the way for others. She was first of all a consummate salesperson, rather than an administrator or even a marketeer. "Her ability to sell at the decision-maker level of target companies was awesome to behold." Parents Centre chief executive Viv Gurrey, who worked with McBride early in her career at IBM and succeeded her at SAP New Zealand when she left for a bigger role in Australia in 2000, said she had shown what a female Kiwi could do in the tech sector and "more than that in the wider business sector". "Geraldine's career has been an inspiration to many. We shared a lot of similarities, both being vegetarians and having kids in the Steiner school and as women in the tech sector." McBride will report to SAP global sales head Robert Enslin, one of seven men who comprise the company's newly established "global management board". "Geraldine knows our customers, understands the importance of our partners and has the experience needed to lead SAP's next chapter of growth in North America, " said Enslin. "We're excited to have her back within the SAP family and look forward to her leadership and expertise in this key region."
International Year of Biodiversity
February 2010
Proclaimed by the United Nations General Assembly, the International Year of Biodiversity (IYB) will take place in 2010. This year coincides with the 2010 biodiversity target adopted by the Parties to the Convention on Biological Diversity (CBD) and by Heads of State and Government at the World Summit for Sustainable Development in Johannesburg in 2002.
The celebrations will seek to raise public and political awareness of the importance of biological diversity to human well-being. Within this context the IYB will seek to encourage a global discussion on the extent to which the goals of the Convention and relevant Millennium Development Goals have been met, including a celebration of successes in achieving the 2010 target.
The objective is to have these discussions culminate in a commitment, by the global community, to reinforce these goals beyond 2010.
The International Year of Biodiversity is an important contribution to implementation of the programme of work on communication, education and public awareness (CEPA) of the CBD and the mandate under its Article 13.
IYB is an opportunity for Parties to the CBD to communicate the national implementation of the CBD, and to take steps to mainstream biodiversity considerations into education, and the work of important economic sectors.
The International Day for Biological Diversity is 22 May and in 2010 the theme will be 'Biodiversity for Development'.
Information provided by the Convention on Biological Diversity.