Talei Peckham
I was born in Auckland, spent my childhood in Fiji then moved back to New Zealand when I was 10 years old. Read more about Talei.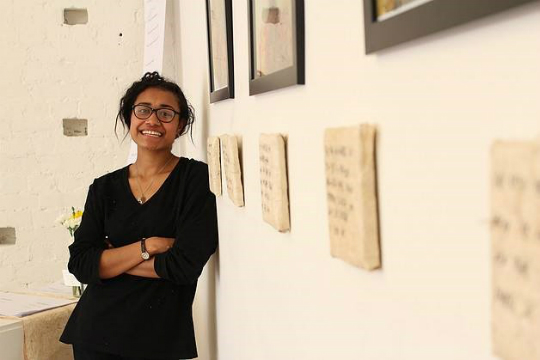 Current study: Bachelor of Arts majoring in Theatre and Media Studies
Pasifika heritage: Fiji
I was born in Auckland, spent my childhood in Fiji then moved back to New Zealand when I was 10 years old. I have five siblings, which meant there was always someone around to sleep in my bed and make a lot of noise. Moving down to Wellington meant I had to get used to the quiet and loneliness of being away from home. It also took me a while to adjust from cooking for an army to just one or two.
I was a really shy kid growing up and I learned to find my voice in places like poetry, spoken word and of course, theatre. I went to drama school when I was in Year Six and I found I really liked being in someone else's shoes. Studying theatre meant that at times, I had to discuss topics that were taboo in my family or culture. It was sometimes difficult to speak through characters who'd say things I normally wouldn't.
I was brought up with different boundaries and definitions of respect and they held strong for me. I'm always trying to find the middle ground between family, cultural and university expectations. Every year has required a different level of negotiating and sacrificing. I've appreciated the staff here at university who empathise with the process of daily cultural negotiation and encourage me to succeed not only academically, but in my bigger plans after university.
I've also learned that acting is just one part of theatre and I actually grew to love the construction side. I showcased this through an exhibition that my friends and I ran called By Grace. I used the technical creative skills I learnt from theatre and combined it with poetry. This exhibition provided art and space for people from different walks of life to raise uncomfortable questions and begin important discussions. I even met some artists with similar beliefs and goals of giving back to our communities.
Some advice I'd give to niu students would be to network as much as you can. Smile and be nice to people. Wellington is a small place so find people who are interested in the same things as you are and you'll find inspiration and people to work with in the future.