Guitar ensemble
Join the New Zealand School of Music's guitar ensemble, made up of undergraduate, postgraduate and recently-graduated students.
The NZSM Guitar Ensemble comprises the classical guitar students of the New Zealand School of Music, and is coached by Dr Jane Curry. Most of the players are either recent graduates, or are studying at undergraduate or postgraduate levels at the NZSM.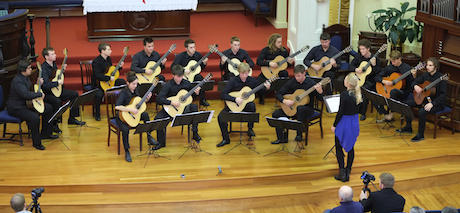 While not a new idea, the guitar ensemble is a rarity, given the challenge of finding enough guitarists in one place to first establish, and then maintain, such a group. The ensemble was initiated by Assoc Prof Matthew Marshall, and celebrated its 10th anniversary in 2005.
The members of the ensemble play standard classical guitars, as well as the contra-bass classical guitar and the small requinto guitar, The classical guitar programme at the NZSM has grown over the years to become one of the largest in Australasia. The Guitar Ensemble was established with the aim of giving classical guitar students the experience of playing in an ensemble with a conductor - an experience usually limited to orchestral instrumentalists. The skills thus developed help guitarists to develop as musicians and establish successful careers. The Guitar Ensemble has performed school concerts and public recitals and has undertaken several tours in New Zealand.
The Guitar Ensemble performs music from the Renaissance to the present day, including popular theme tunes arranged especially for the group, as well as original scores by New Zealand composers. The ensemble's first recording, A Thousand Strings, released in 2004, was met with critical acclaim in New Zealand and overseas.
NZSM Guitar Quartet: Carmen Suite on the NZSM Vimeo Channel.
See more videos and recordings from the NZSM Guitar Programme [NZSM Vimeo Channel]
See images from the NZSM Classical Guitar programme on the NZSM Flickr channel.