A red carpet recording session
New Zealand School of Music students have had a taste of the film industry this week, as they composed, performed and recorded with the internationally-renowned post production facility Park Road Post Production.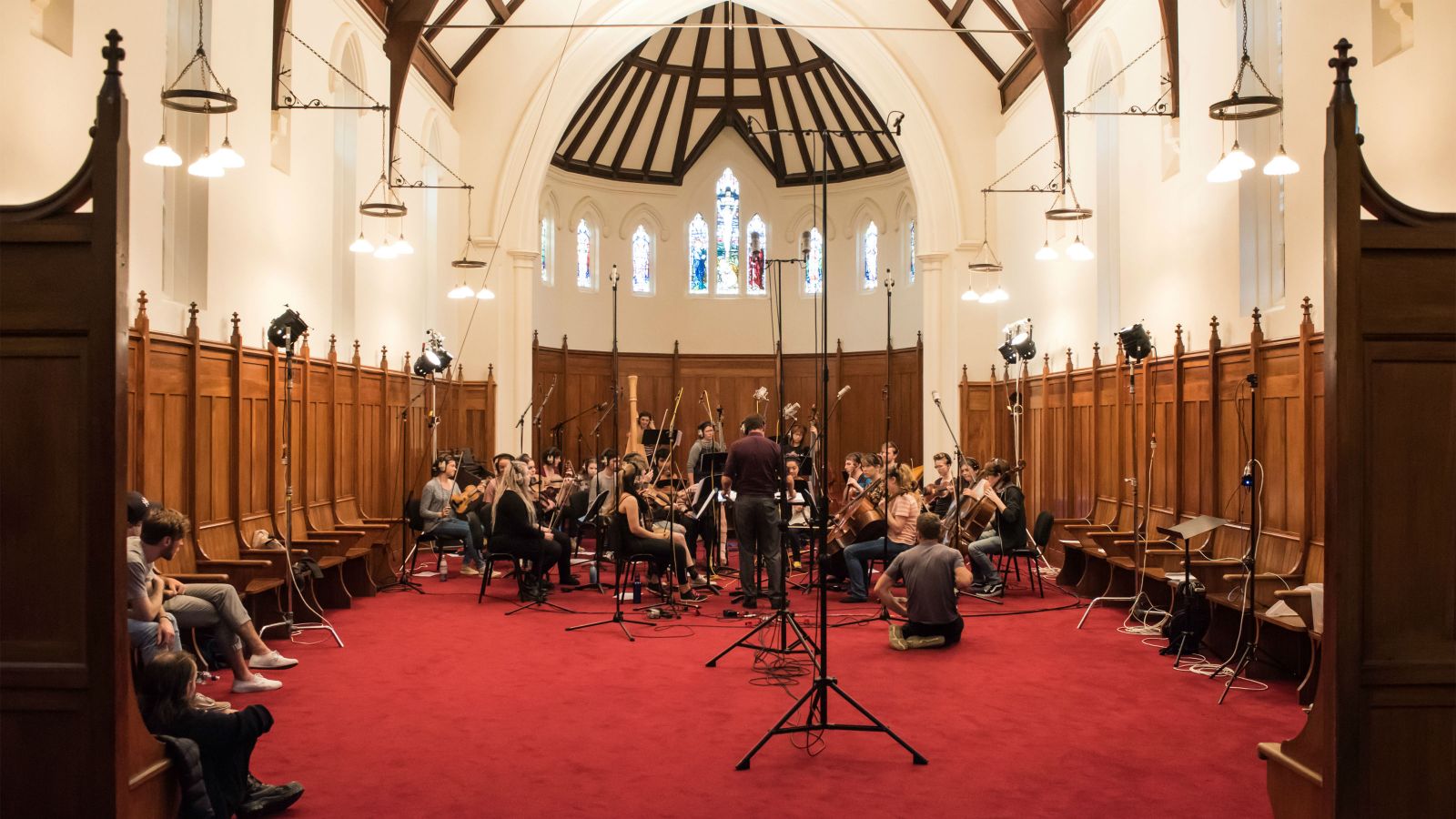 New Zealand School of Music Orchestra performing in the Stella Maris Chapel.
The New Zealand School of Music Orchestra performed film score compositions by Master of Fine Arts (Creative Practice) students in the Stella Maris Chapel in Seatoun. Students from the NZSM's recording and music technology programme were also involved, assisting with setup and recording. Park Road used its state-of-the-art equipment to record the audio, and will provide the post-production editing and sound mixing.
NZSM Composition Programme Director Michael Norris says it is a massive development for collaboration between students and industry.
"The NZSM Orchestra has never before performed so many student compositions in such a high-standard recording environment. It's an incredible experience for both the orchestral players and the composition students, resulting in full orchestral film soundtracks recorded in phenomenal sonic quality," says Mr Norris.
"We're integrating a wide range of musical disciplines and bringing a high percentage of NZSM students into the project. This interdisciplinary character is what we really love about film scoring," says NZSM Professor of Instrumental and Vocal Composition, John Psathas.
The recording session is part of a larger collaboration announced last year between Victoria and a number of Miramar-based creative companies, including Park Road, Weta Workshop, Weta Digital and Miramar Creative Ltd. The Victoria University of Wellington – Miramar Creative Centre, due to be fully launched later this year, is intended to provide students undertaking the Master of Fine Arts (Creative Practice) and the Master of Design Technology with access to state-of-the-art film, audio and music technology.
"This is one of the first public projects that's resulted from the creative centre and it represents the increasing diversity and breadth of what is offered at NZSM and the clear career paths that we provide our students," says Mr Norris.
This is not the first time, however, that the students have interacted with staff from Park Road.
"A number of Master of Fine Arts (Creative Practice) classes are being delivered by Park Road personnel. Sitting in on those sessions with the students makes me aware of the tremendous leap forward we've all taken with this collaboration," says Professor Psathas.
"It's going to have a palpable impact on the landscape of sound and music graduates going into the future film industry in New Zealand."
The students have composed scores to films created in a NZSM-Toi Whakaari collaboration last year, and Professor Psathas says this recording session was the first of many.
"Students are now creating original films with Toi Whakaari, as well as the New Zealand Film and Television School. This ongoing collaboration with other institutions is all part of training industry-ready graduates, and this recording session was one of several new big steps we've taken this year."