NZSM Sonic Arts presence at NIME conference
The twentieth annual New Interfaces for Musical Expression conference wound up on 25 July after an intensive week with participants from all over the world, including students and staff from Victoria University of Wellington and the New Zealand School of Music—Te Kōkī.
Initially to be hosted by General Co-Chair Lamberto Coccioli and his team at Birmingham City University's newly opened Royal Conservatoire, the conference was revamped from March to be offered online. As General Co-Chair, Sally Jane Norman, Director of New Zealand School of Music—Te Kōkī (NZSM), helped drive this transformation. The online edition drew 348 participants including many who - irrespective of the pandemic - would have been unable or unwilling to take on the financial and environmental costs of travel. Minimal registration fees were waived for independent artists. NIME2020's accessibility and inclusivity theme (designed pre-Covid!) was powerfully borne out in the organisation of this event, using a range of complementary, readily accessible online tools.
As in previous NIME editions, Victoria University of Wellington colleagues featured well amongst selected presenters: PhD student Paul Dunham's sober delivery of his excellent Click::RAND. A Minimalist Sound Sculpture paper was lauded for its "Jonathan Ive-like delivery" - a nod to Ive's legendary Apple Mac designer status.
PhD student Juan Pablo Yepez Placencia, co-author with supervisors Jim Murphy (NZSM) and Dale Carnegie (School of Engineering and Computer Science - ECS) presented their intriguing Expressive Pitch Shifting Mechanism for Mechatronic Chordophones.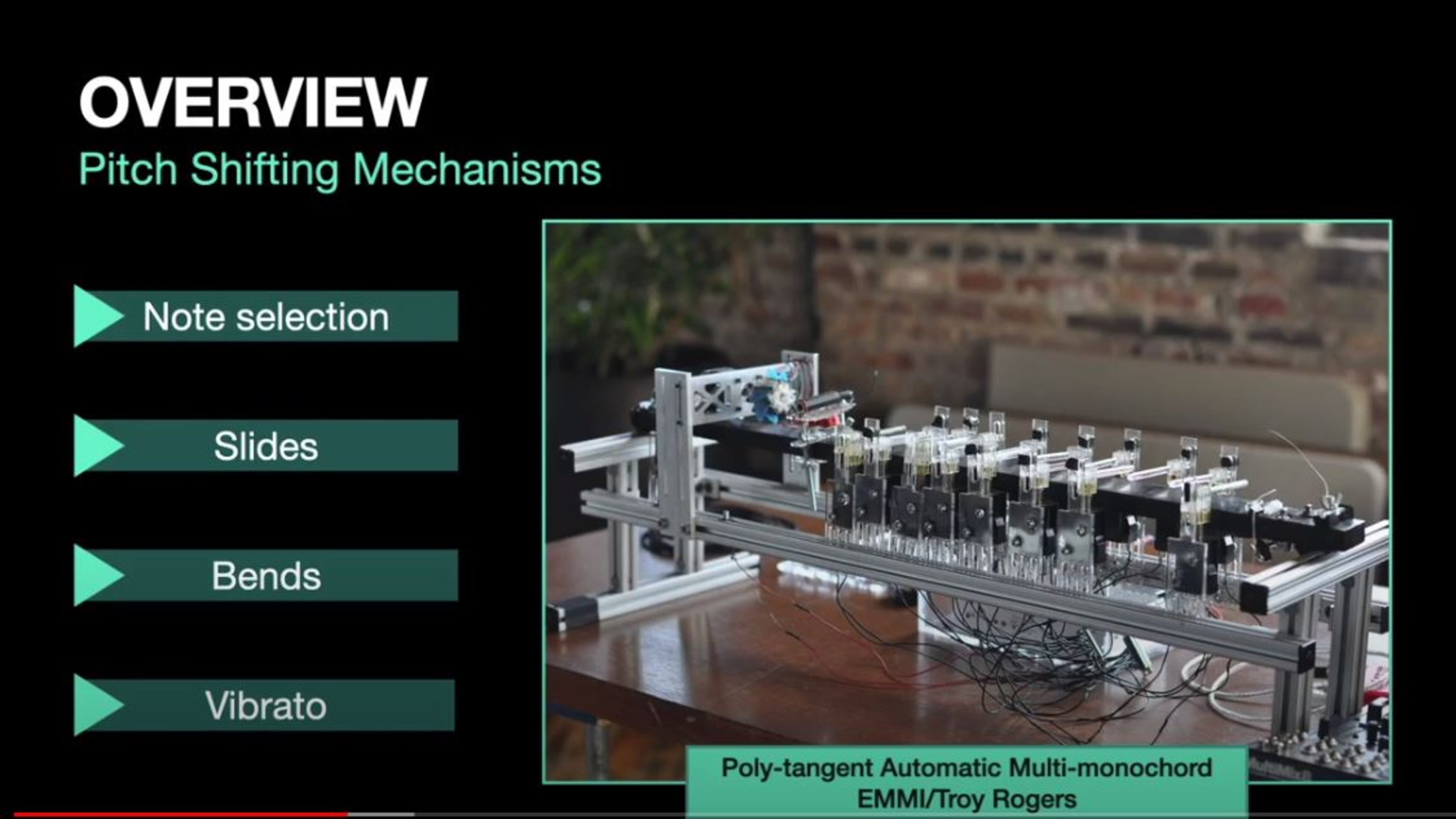 For her poster on Sound Based Sensors for NIMEs, PhD student Sasha Leitman compellingly affirmed the need to "put the world back into technology", instead of aligning with those seeking to "put technology into the world".
Sasha, Diana Siwiak (holder of a Sonic Arts and Engineering PhD, and ECS Graduate and Equity Coordinator), and Jim Murphy chaired NIME paper sessions and ensured determinant preparatory captioning work for the conference.
NIME2020 offered an academically robust, artistically stimulating platform for exchange on musical expression and its emerging resources, and set a precedent for the hybrid forms of international gatherings likely to prove increasingly necessary. NZSM remains strongly engaged in NIME and related Sonic Arts communities, to creatively explore these new perspectives.