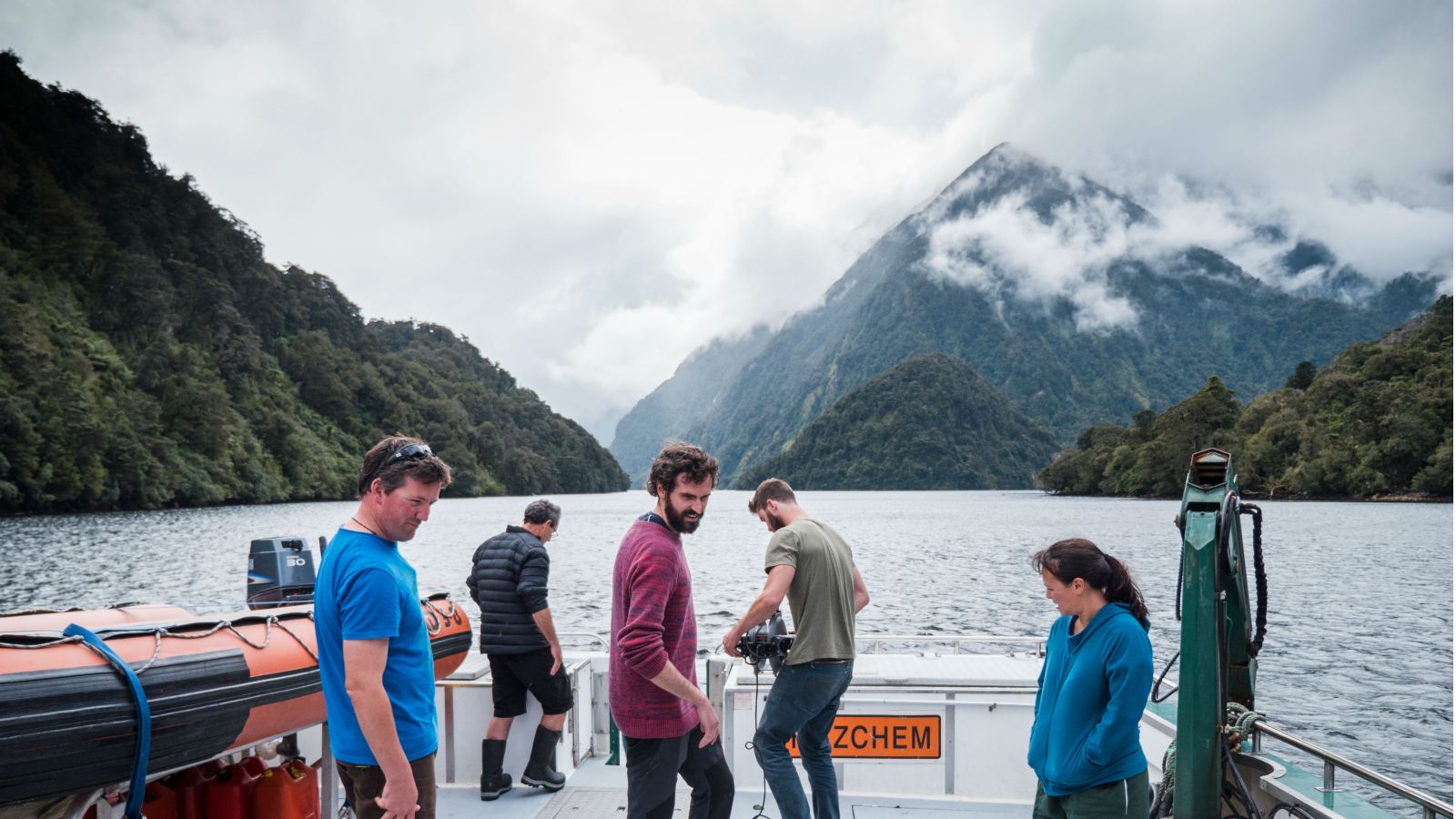 Photo: Dr Joe Marlow
Earlier this year, James and a group of researchers spent 10 days aboard the Department of Conservation (DOC) vessel Southern Winds, exploring the waters of the Fiordland (Te Moana o Atawhenua) Marine Area, including the Dusky, Doubtful, and Breaksea Sounds. Using state-of-the-art underwater equipment, the group was able to focus on marine life living 40 to 150 metres deep.
"There's very little information on marine life at these depths, considering how many animals live there," says James, who is with the School of Biological Sciences. "Most studies focus on above 40 metres, because you can scuba dive to see what's there. It was great to get a look at the amazing creatures that live at these depths using specialised equipment."
James and his sponge ecology research group received funding for the expedition from DOC, which wanted to measure the abundance of organisms in the area and set a baseline so it can measure any changes caused by humans. It's a piece of work that has been in the long-term monitoring plan of DOC and local conservation group the Fiordland Marine Guardians for a number of years.
"Previous studies have looked at what types of creatures live down there, but we're the first group to measure the abundance of them, which will make it a lot easier to measure future changes," James says.
A group of PhD students and one recent PhD graduate accompanied James on the research trip.
"This kind of trip is an opportunity very few people get," says James. "It gave the students a chance to see how research works in the field, including solving problems when things don't work out as planned—like having a soldering iron flown in by helicopter to fix some of our equipment!"
The students also had the opportunity to set up, test and deploy brand new, custom-built underwater research equipment.
"Fieldwork gives students the opportunity to observe and see science in action, as well as hands-on experience of what it's like to collect real data that's going to be used to help manage the area."
This trip was the first time DOC has funded a Victoria University-led team to conduct fieldwork in Fiordland.
"This was a fantastic opportunity to develop our relationship with DOC and the Fiordland Marine Guardians," says James. "We hope to do more work in the area, especially looking at how environmental and climate change might affect it.
"This is a perfect example of how the research we do has real-life impact in New Zealand."