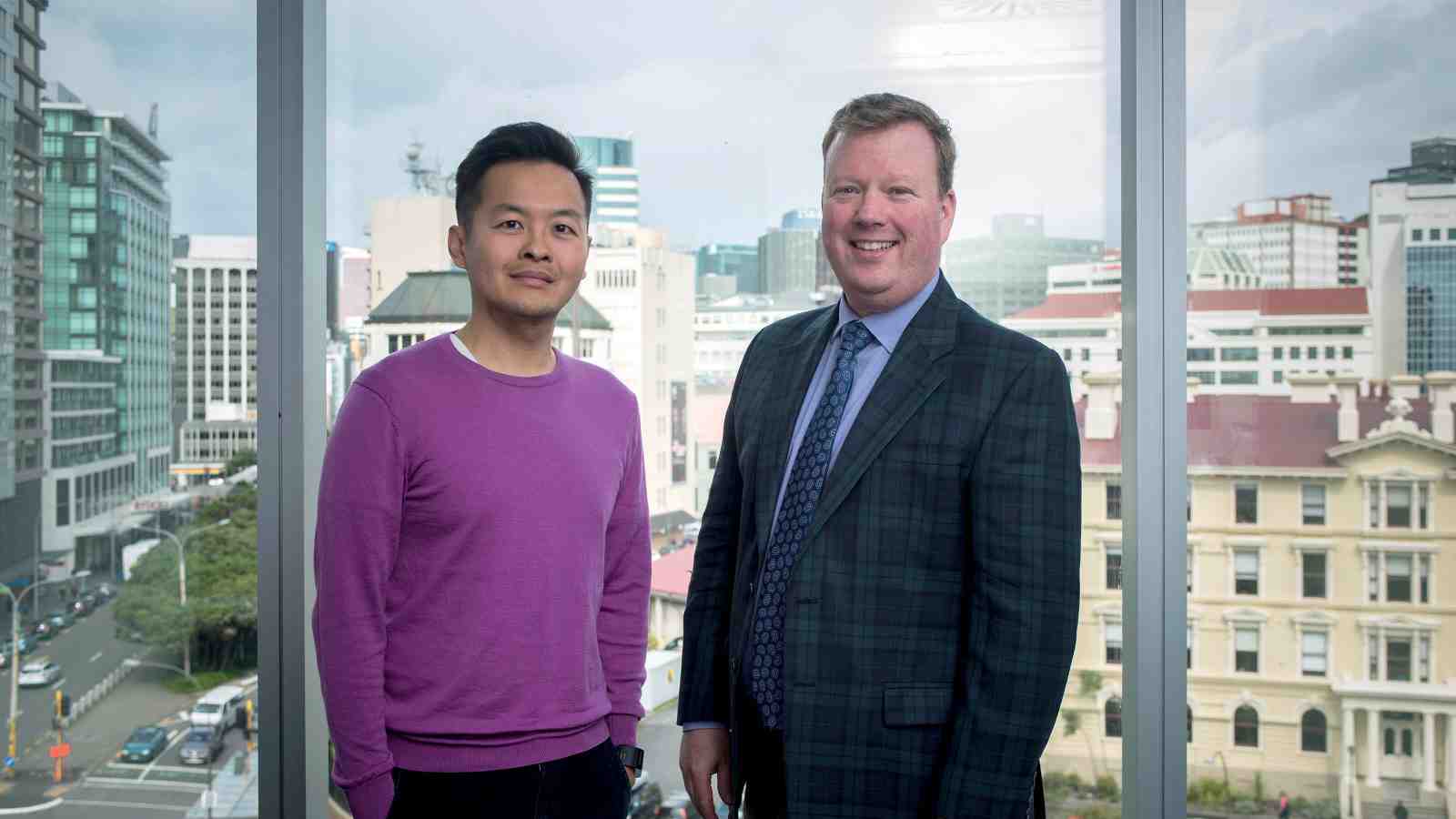 Dr Yi-Te Chiu, left, and Professor Benoit Aubert
Professor Benoit Aubert says the postearthquake response gave a glimpse of how organisations operate in a digital space and the challenges ahead as our world is increasingly digitised.
Benoit and a team of researchers are investigating the impacts of digital technologies on organisations and their employees.
"One focus area is how digital technologies are changing the traditional boundaries of an organisation," he says.
"Work can span countries and time zones, and employees work on projects involving multiple organisations."
These changes have huge repercussions, not only on processes and systems but also on employee interactions.
"For example, expanding boundaries allow for rapid expansion and diversification of the knowledge required by organisations. But they're also making it harder to retain knowledge as team members may never meet in person, or may work for the organisation for a limited time."
Benoit's team members are interviewing Wellington businesses about their post-earthquake organisational processes at a time when they were forced to operate without traditional premises.
Another group of researchers is honing in on organisations' increased fluidity of collaboration, which is occurring in response to the highly competitive digital environment.
"High team fluidity isn't a new concept, but the meaning of team fluidity is evolving," says team leader Dr Yi-Te Chiu from the School of Information Management.
"Already organisations are creating virtual teams and have employees working across departments, distances and creating temporary, project-specific teams. Some organisations, like Spotify and Weta Digital, are already managing high fluid teams because they want to meet customer demands on the fly."
Yi-Te says high fluid teams bring together different perspectives and knowledge that can encourage better, more creative outcomes. But, he warns, we need to manage potential drawbacks.
"With high fluid teams comes a blurring of employees' roles and responsibilities. They're characterised by short membership and unstable team structures, which can hinder coordination by limiting opportunities for employees to develop trust and a shared understanding."
Working with fellow researchers Dr Catherine Caudwell from the School of Design and Dr Mohammad Saud Khan from the School of Management, Yi-Te hopes the research will lead to creating guidelines on how organisations can use information and communication technology to improve team performance.