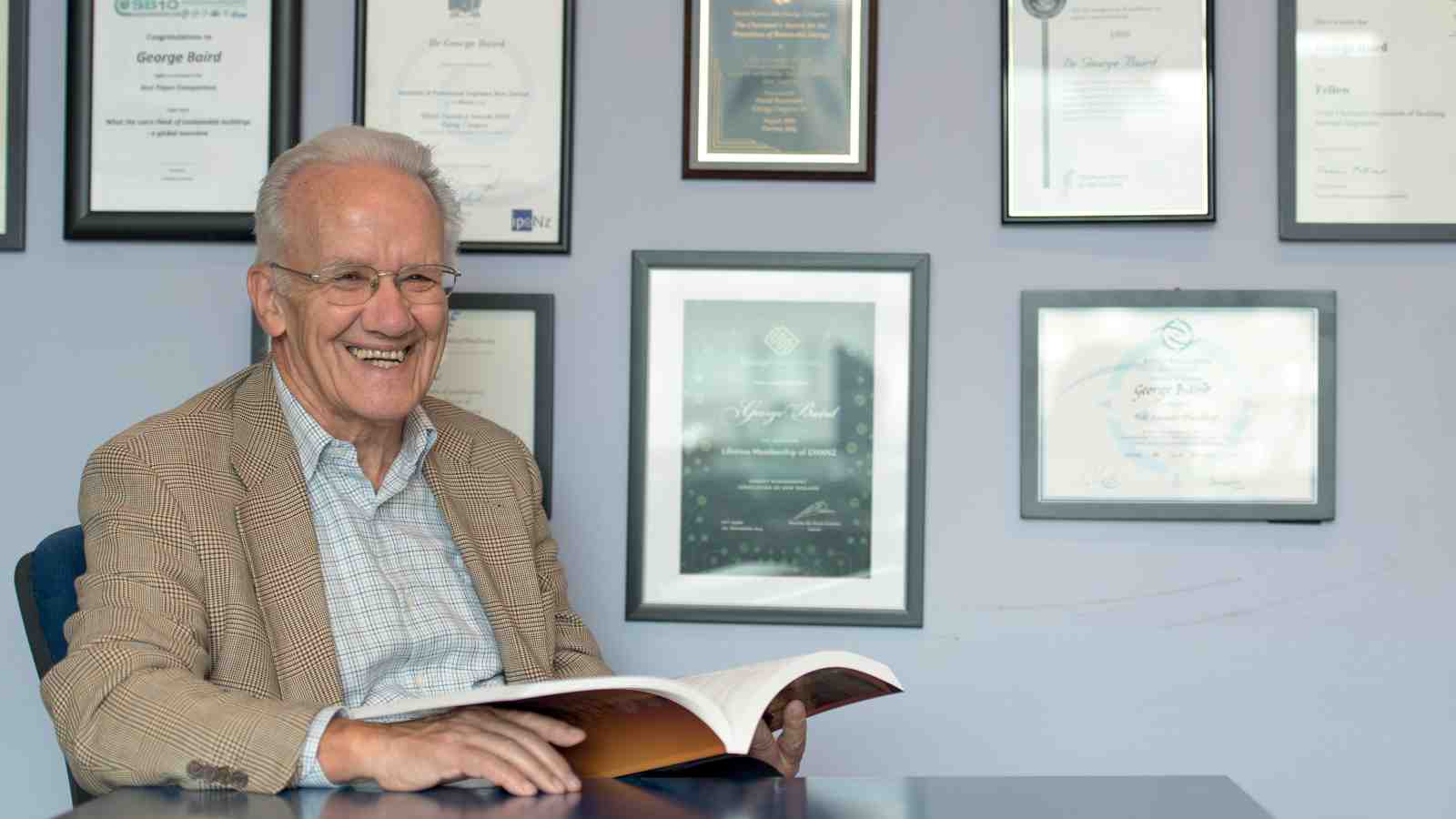 His walls are lost behind an abundance of accolades, and his bookshelves are overflowing with decades of knowledge.
Formerly a lecturer in building services engineering in Aberdeen, Scotland, George arrived in Wellington in November 1975—lured to New Zealand by the School's founder, Professor Gerd Block, who had a bold vision of establishing an architecture school in the capital.
"Gerd was an exceptional leader," says George. "He set out to differentiate us from the only other architecture school in the country at the time, and luckily the handful of academic staff he had was an enthusiastic bunch determined to turn Gerd's vision into reality."
That original group of staff included John Daish, John Gray, Barry Pearce and Dr John Webster—names that are cemented in the School's history.
The School's first intake of students in March 1976 consisted of twenty-five "mature" students, says George—a stark contrast to the number of students enrolled today.
Although the course structure hasn't changed a lot over the years, George is pleased that there is now much more room for specialisation.
"Building Science was the base degree then, leading on to a Bachelor of Architecture. Now students can choose from a range of different areas to specialise in—it's fantastic."
Over the years, the School has been housed in different locations around the city. In its early days it was based at Victoria's Kelburn campus. As numbers grew, a purpose-built laboratory was constructed in Fairlie Terrace and later the School shifted to its current building in the heart of Wellington's Cuba Street district.
George, who retired in 2014, says his career has had many highlights. He has had four major books published—two in collaboration with colleagues at the School—has won numerous awards and been appointed Dean of the Faculty of Architecture on multiple occasions throughout its forty-year history. The biggest milestone for him, however, was becoming an emeritus professor in 2014, shortly after his retirement.
"It's not something I won or worked towards, it is an assessment by my peers and I feel honoured by that."
The School of Architecture celebrated its fortieth anniversary in March this year. Alumni, current staff and students attended an academic symposium about global architecture in the 1970s, a cocktail function at The Boatshed on Wellington's waterfront, an alumni celebration involving presentations from staff and alumni and an exhibition that highlighted the School's rich history.