Flipping the classroom
Lecturers Kevin Sweet and Michael Dudding are turning the architecture classroom upside down by doing away with lectures and implementing a different approach to learning.
Victorious Autumn 2016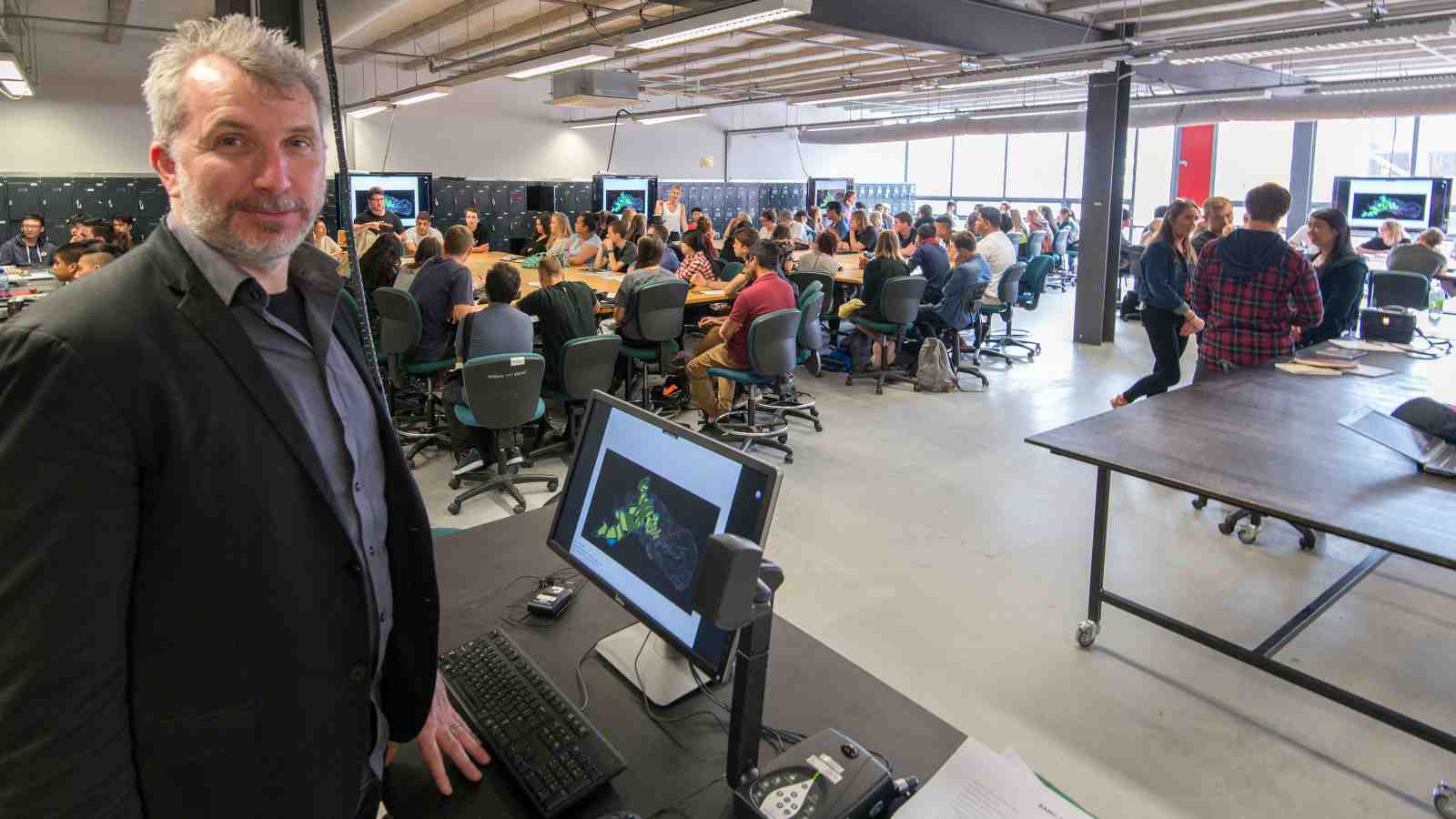 The pair have introduced a 'flipped classroom' model to their classes, replacing lectures with short online videos students can watch in their own time. The students also attend two weekly studio sessions where Kevin sets tasks that reinforce the video content.
"This move away from one-hour classroom-based lectures allows the students greater flexibility when managing their workloads," says Kevin.
"It's also beneficial for international students whose first language isn't English, because they can take as long as they need to process the material."
But Michael says to implement the flipped classroom model—which relies on a series of specifically designed learning tasks to actively engage students with the taught content—with large groups of students, the right technology is required.
The physical studio is modelled on a technology-enhanced active learning (TEAL) approach. There's a centralised teaching station equipped with a computer, and eight large monitors—one for each group of students.
Software designed to enable this type of learning environment—VuePoint-Connect—is installed on the computers and allows Kevin to mirror his computer screen to the monitors throughout the room, or to share one group's work on the other seven monitors.
Kevin also wears a microphone and can be heard clearly through centrally located speakers as he moves around the classroom.
"This way of teaching creates a collaborative learning environment, ensuring the students really understand what they've been taught each week. Since we implemented it last year, it's proven itself as a successful teaching model, which is why we are helping our colleagues implement it in their courses as well," says Kevin.