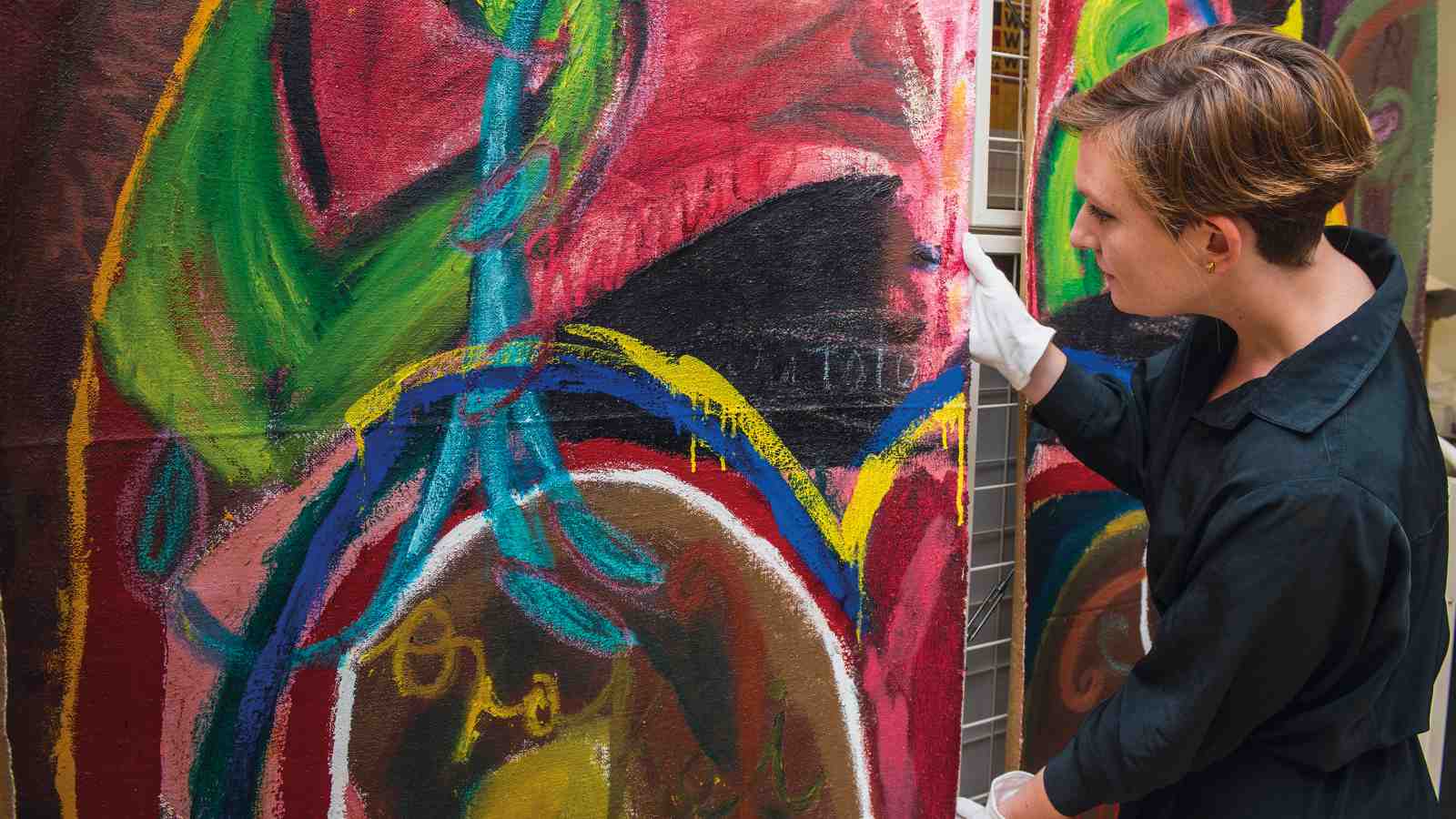 Adam Art Gallery staff also had to relocate 117 pieces of art from the Victoria University of Wellington Art Collection that previously adorned the walls of the Karori campus.
Gallery collection officer Sophie Thorn has been leading the relocation project and says the work has required "nerves of steel".
"Some of the works are incredibly valuable and not easy to move. Even with experienced handlers and careful planning it can be a little nerve-wracking."
The relocations require up to three expert handlers as well as advice from professionals, including conservators, electricians, engineers, Victoria's Campus Services and the Deputy Vice-Chancellor (Māori).
One of the biggest challenges was navigating the transfer of large works up and down stairs and through the complicated architecture of the Karori campus.
Once the works are safely relocated to the Gallery's new storage facility, Sophie will set about finding suitable homes for each piece. "There are a number of factors to consider to ensure the space is appropriate, including lighting, wall size, sunlight, student activity, surrounding furniture and other artwork. "We're also trying to put things into really considered places, so we take into account the purpose of the space and who uses it."
A prime example is Robyn Kahukiwa's large oil painting Tangata Whenua (1986). The painting was installed in the von Zedlitz building foyer in March, and looks over to a wall-mounted wood carving, Tara-Ika, that depicts an ancestor of Te Rangitane people.
"Tara-Ika is a strongly masculine piece, so it's fitting to put a feminine perspective, Tangata Whenua, nearby so the two can work in conversation."
Sophie says none of the 560 pieces in the University's art collection are displayed in offices or teaching rooms. "The collection is always in a public space—they're there for all students, staff and visitors to enjoy."