"The story of pink-blouse as well as white-collar workers has become part of labour history"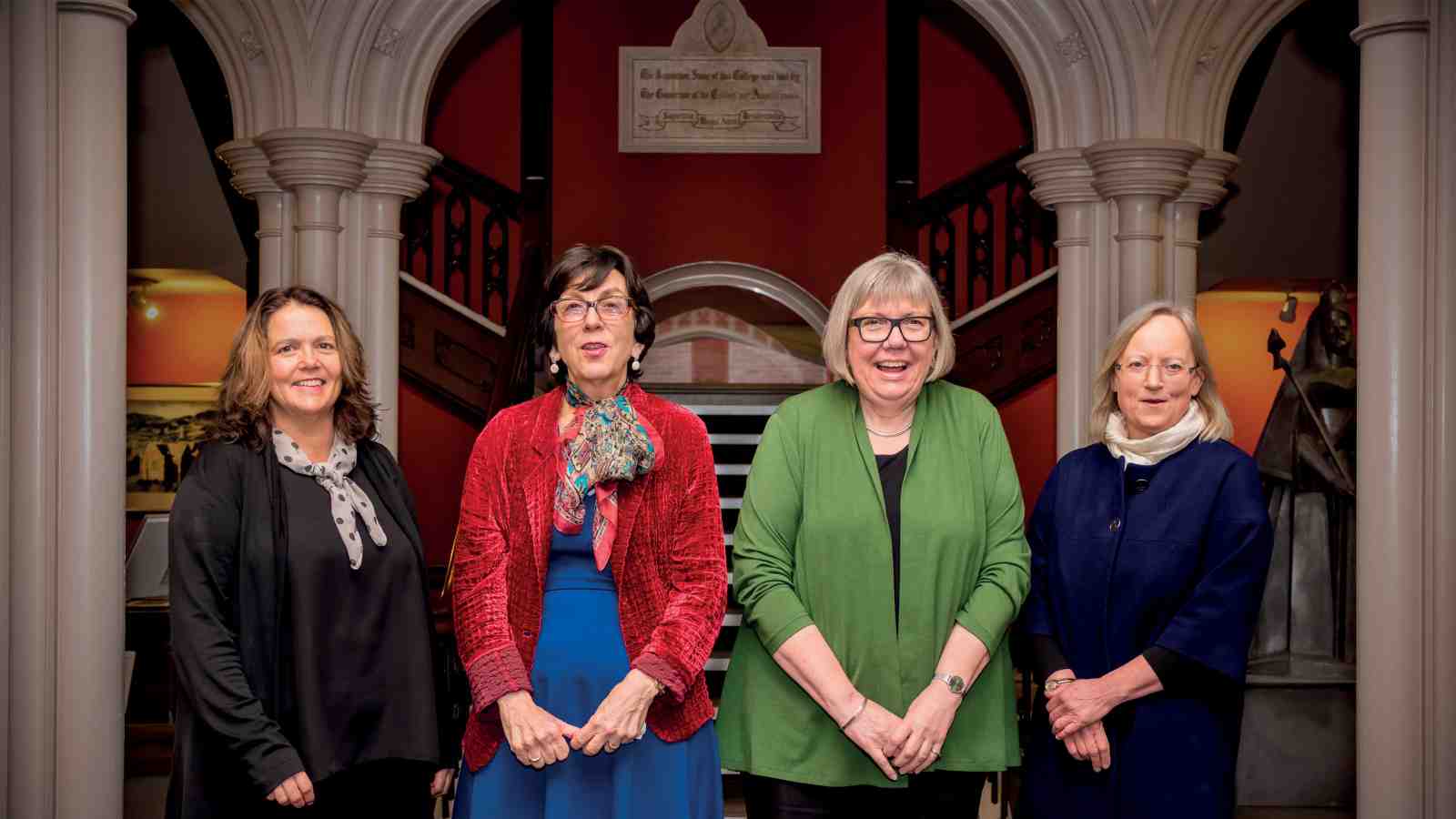 From left: Elisabeth McDonald, Dolores Janiewski, Allison Kirkman and Charlotte Macdonald.
Gender and women's issues cross a wide range of subject areas—something that's exemplified by four Victoria academics who between them have notched up 100 years of teaching and research in the field.
Associate Professors Allison Kirkman, Elisabeth McDonald and Dolores Janiewski, along with Professor Charlotte Macdonald, were presented with long service awards earlier this year, having each worked at Victoria for 25 years.
Across their respective fields—Allison in Sociology, Elisabeth in Law and Dolores and Charlotte in History—they have dedicated part of their academic work to gender and sexuality.
In her first ever meeting at Victoria's Law Faculty, Elisabeth proposed teaching a course on feminist legal theory. That idea was accepted and she hasn't looked back—Elisabeth has taught that subject for many years, as well as a course on law and sexuality, and has become a specialist in the prosecution of sexual violence.
"It seems like a long time to be teaching about this sort of thing, but I know my work on feminism and gender is certainly not finished. It would be nice if there was no need for it, but there is, especially in Law," says Elisabeth.
Charlotte feels privileged to have had the opportunity to pursue a line of research she is deeply interested in. The History professor has specialised in asking questions of women and gender. These have taken her in many directions in her research and teaching—to nineteenth century domestic servants, to the letters and diaries written as vital lines of connection, to the modernist movements of sport and fitness for men and women in the 1930s–40s and most recently to the imperial soldiers and military culture of the mid-Victorian world.
"The study of History has vastly expanded over the past few decades," she says. "No longer is it the preserve of the elite and the exceptional. The story of pink-blouse as well as white-collar workers has become part of labour history; colonial history now contains arguments about how masculinity shaped a settler society."
Watching students discover the excitement of research and discovery has been a particular pleasure says Charlotte.
Dolores, Associate Professor in History, did her undergraduate study in the United States under Gerda Lerner, who is widely regarded as one of the founders of the field of women's history. That experience inspired Dolores to focus her research on American social and cultural history, including the way race divided black and white women, rather than gender uniting them.
"There's definitely been progress in terms of gender issues since I started out," she says, "but more work remains to be done in this field. It's telling that students today are still very interested in issues of gender and sexuality, and I'm occasionally struck by the fact that more and more male students are choosing to study these topics too."
Allison, who these days is Victoria's Vice-Provost (Academic and Equity), has an academic background in Sociology. Her recent research has focused on dying and death in New Zealand and how cultural ideas about gender differences in caring abilities has implications for women in the face of a looming dementia 'epidemic'.
Allison says the topic of gender was almost invisible when she started out, whereas it is now incorporated into a wide range of courses.
"It would be difficult in Sociology to have courses that didn't consider gender in some way, because it relates to almost everything—health, emotion, family, work, education. That's why I was able to start a sociology of gender course here at Victoria in 1992.
"A lot has changed in the past 25 years, but in some way those changes could be very easily lost—we can't sit back and get too complacent."