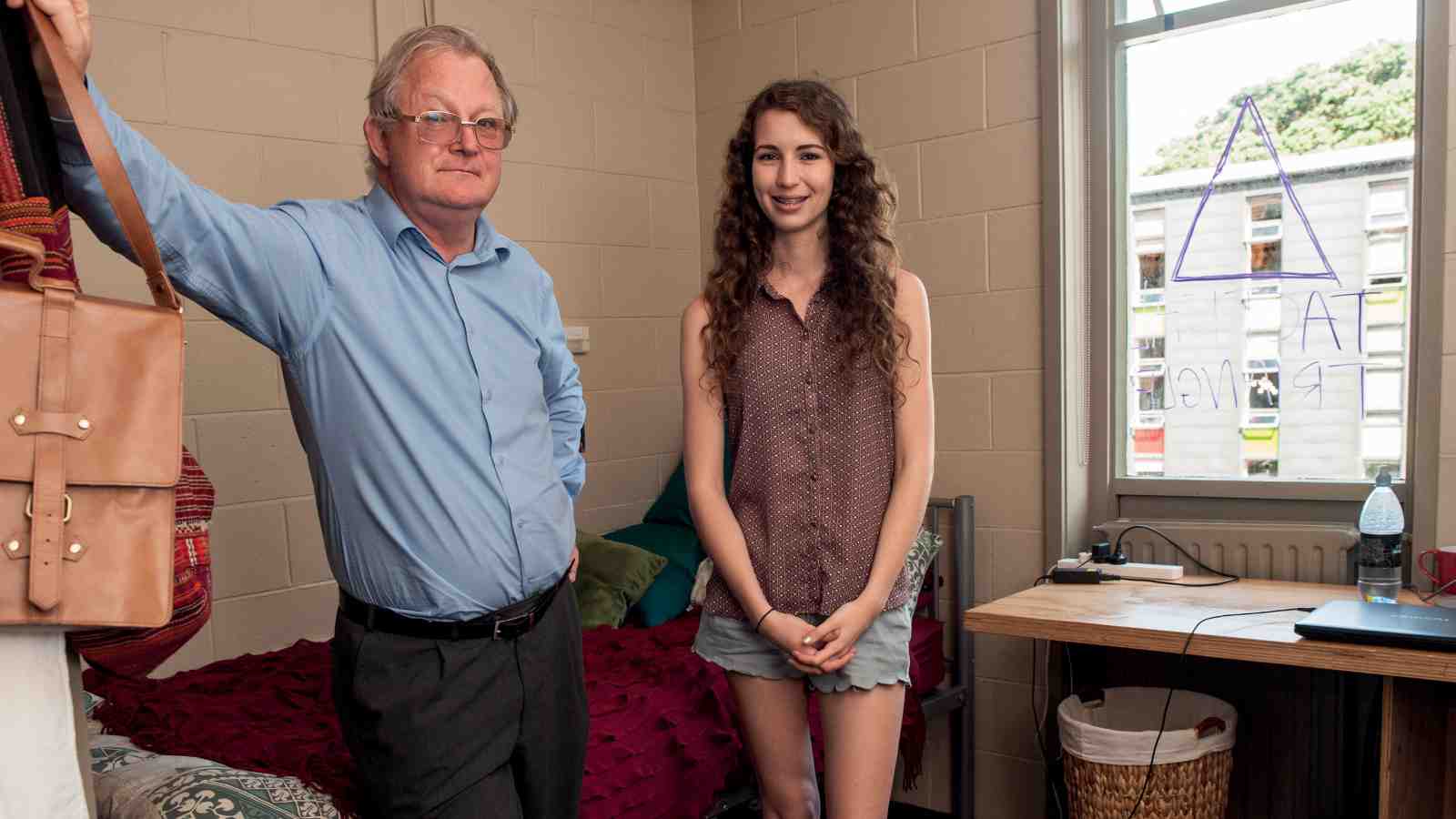 We met with international physicist and engineer, Professor Michael Kelly, who holds an honorary doctorate from Victoria and is noted for his electronics research. The foundations of Michael's distinguished career were laid at Victoria, where he was a student from 1967 to 1971. He graduated with a Master of Science with distinction in Mathematics and moved to the University of Cambridge where he was awarded a PhD in 1974 and a Doctor of Science in 1993. In 2003, he was appointed as the Prince Philip Professor of Technology in the department of engineering at the University of Cambridge.
This year his old room at Weir House is occupied by Sofia Albiston-Murray, who is studying toward a Bachelor of Arts majoring in Classical Studies and History.
Professor Michael Kelly
What is it like to be back at Weir and to see your old room?
Rather strange. I have been back as far as the entrance but not come in. I was one of the first people to live in E34, it's quite uncanny to see the room again.
What was student life like in the halls?
I didn't know anybody here when I arrived, so I made many new friends. It was good fun. In my first year, my room looked over the city—I remember people were always lobbing water bombs and things down at the cable car. I also remember the beds being rock hard.
Do you stay in touch with friends you made at Weir?
In my first year, I shared a room with a Vietnamese student with whom I've kept in touch. He went back to Vietnam and he and my mother wrote regularly. She stopped writing when the communists took over South Vietnam and about two years later, she received a letter—he'd escaped with his wife and young son. He now lives and thrives in San Francisco.
What do you remember about your room?
I was doing really well in early exams, so I think that's why I was given the L-shaped room, which is a little bigger. I woke up one night and it sounded as though there was a heavy storm outside. I flicked the light on and somebody had stuck a fire hose through the louvres. Water was shooting across the room and all my clothes and belongings got soaked, but my bed was round the corner! I think it was to have a go at me for working too hard. I've got my suspicions about who did it.
Did you get up to any antics?
Somebody was away for the weekend and a group of us got lots and lots of paper and screwed it up into tight balls. We stuck it through the louvres until their room was full.
There also used to be a prize during capping week for the most imaginative object that appeared in the Plaza, which is now the Hub. A whole group of us from Weir took our beds over there and called it the Weir House night shelter. We didn't win: the people who won had commandeered a fire engine and parked it there. They used the hose to give our night shelter a good soaking.
What type of student were you?
I was an unmitigated swot and known for it. I did math Honours, then the following year I did a crash Master's course in eight months—those two years were the hardest I have ever worked in my life.
What's your favourite story about E34?
A chap come into my room on a Saturday night to see what I was doing. He'd double-booked himself and was supposed to be babysitting the Vice-Chancellor's 12-year-old girl and 10-year-old boy. I was 19 at the time. I minded the kids a few times and 22 years later was reintroduced to the girl. A few months later, we got married.
How did you spend your spare time?
I didn't have much spare time, but I did enjoy listening to classical music. I was also very involved in the Catholic Society. I was chair of the Maths and Physics Society in my Honours year. That was about the only socialising I did.
What's your advice for new students?
I would tell them what I tell my daughter—work hard and you will always be in a position to set your own agenda.
Sofia Albiston-Murray

Is this your first time out of home?
It's my first time leaving home, but not moving cities. I moved from Christchurch to Auckland when I was 12.
Why Wellington?
Wellington is a cool, funky, artsy place. Since I'm doing a BA, it seems fitting.
Why did you choose to do a Bachelor of Arts?
I've always enjoyed social sciences and English, so wanted to continue with what I like and what I'm good at. I'm not exactly sure what I want to do yet, but I'll go with it and see where it takes me. So far I'm really enjoying what I'm studying.
What type of student are you?
I like a balance. I set myself a goal to do well, that's really important to me. My schedule isn't too bad, which is great, because I have plenty of readings and assignments to keep me busy.
What do you get up to in your spare time?
At the moment I'm all about exploring Wellington. It's great having the cable car right there, and I work in a store 100 metres away from the bottom, which is handy. I'm keen to get involved in some arts groups, but haven't had time yet.
Is university what you were expecting?
More or less—it's interesting to go from being entirely directed to having to do your own study. I've been changing my courses around a bit—yesterday I enrolled in a religious studies paper that there's an assignment due for tomorrow. It's busy, but I'm enjoying it.
What do you think about staying in the former room of a prominent physicist?
I hadn't really given any thought to previous tenants, but thinking about how many people have stayed in 'my' room is interesting.
Are you enjoying Weir House?
Yes, I've already made lots of new friends. Weir is really open and friendly. Everyone leaves their doors open and is keen for a chat. I've also been surprised by how many people I've seen here who I knew from primary school in Christchurch—it makes you realise how small New Zealand is.