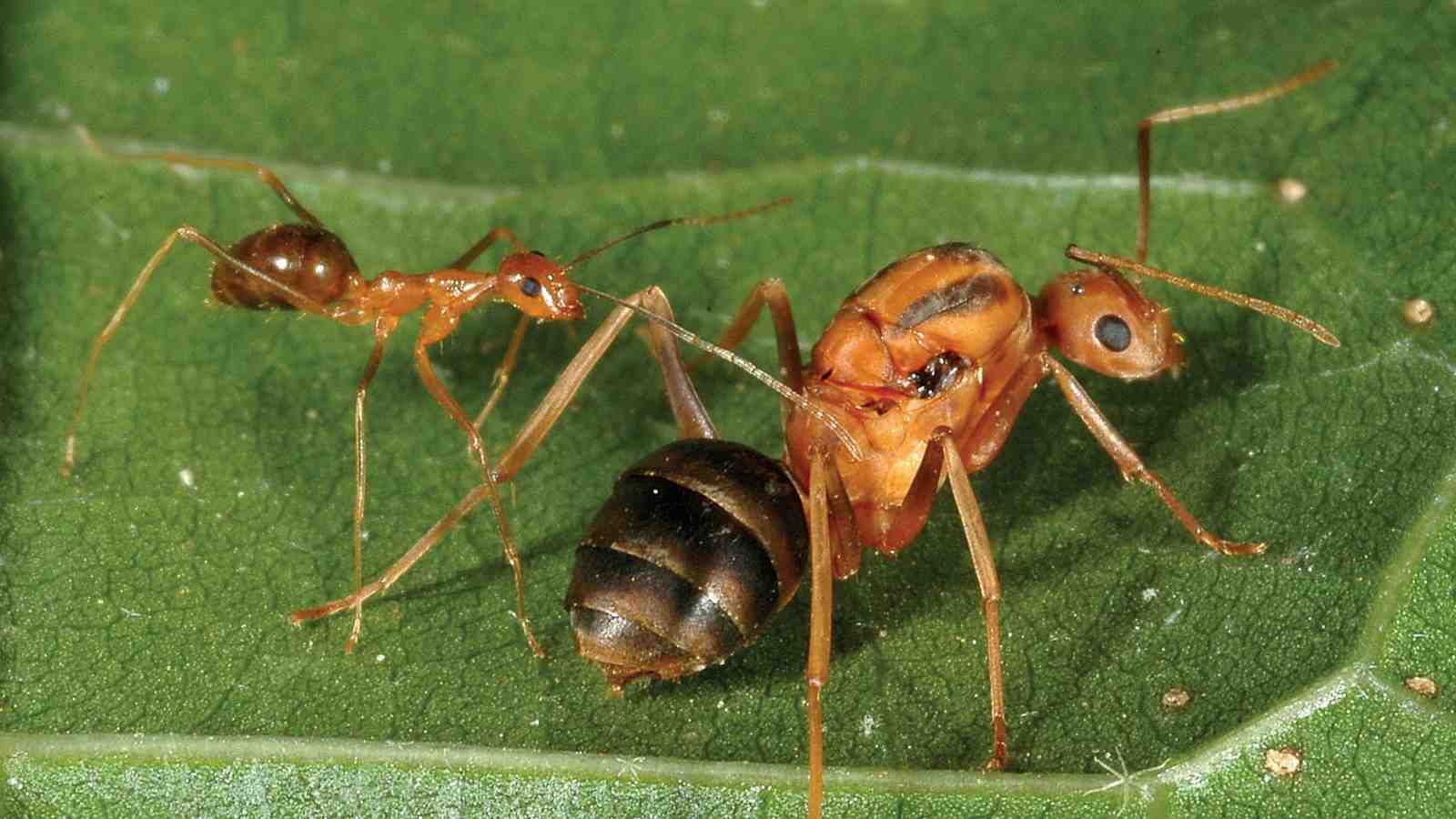 Yellow crazy ants. Credit: Phil Lester
However, it's hoped a new initiative led by Victoria University scientists will help stop the pests in their tiny tracks.
Dr Monica Gruber has been researching invasive ants in the Pacific region since 2008, and is now heading a collaborative endeavour that aims to halt the spread of invasive species.
"The work had its genesis about 10 years ago when Professor Phil Lester [from Victoria University's School of Biological Sciences] was asked by villagers to help with infestations of yellow crazy ants on two of Tokelau's three atolls. Then, in 2011, we were told the ants had spread to the third atoll and were causing damage and disruption to the lives of local people. While doing some separate work in Kiribati, we discovered the yellow crazy ant there too."
Monica is now leading the charge on behalf of Tokelau and Kiribati and, in 2013, formed a non-profit entity, Pacific Biosecurity, within Victoria University's commercialisation office, Viclink, which collaborates with a number of regional and in-country partners.
Based in Victoria's School of Biological Sciences, Pacific Biosecurity and its partners have been awarded a $1.5 million contract by the New Zealand Aid Programme to improve resources for ant management and biosecurity across the Pacific.
Controlling yellow crazy ants in Tokelau and Kiribati is a major focus of the research programme and Monica and her colleague, Dr Allan Burne, will head to Kiribati this year to start working with local government on eradication of the ants there. "We'll also be generating awareness of what increases the potential for ant incursions, and what preventative measures people can take," Allan says.
Across the region, Pacific Biosecurity's goal is to help prevent the spread of species like the little fire ant. "These tiny ants sting, and the effects of the ants can be serious when they are in high abundance," says Monica. "In some places, the ants have forced people off their land as they can't tend crops. Because they're found on both sides of the Pacific, we need to prevent their spread into the rest of the region.
"Prevention requires less effort and resources than eradication—which becomes impossible when these ants cover a large area. That's why we need to focus on biosecurity across the whole Pacific region to prevent the ants—and other invasive species—from spreading."
For more information about the initiative, visit the Pacific Biosecurity website.