As reported in the 5 February 2015 edition of the prestigious international scientific journal Nature.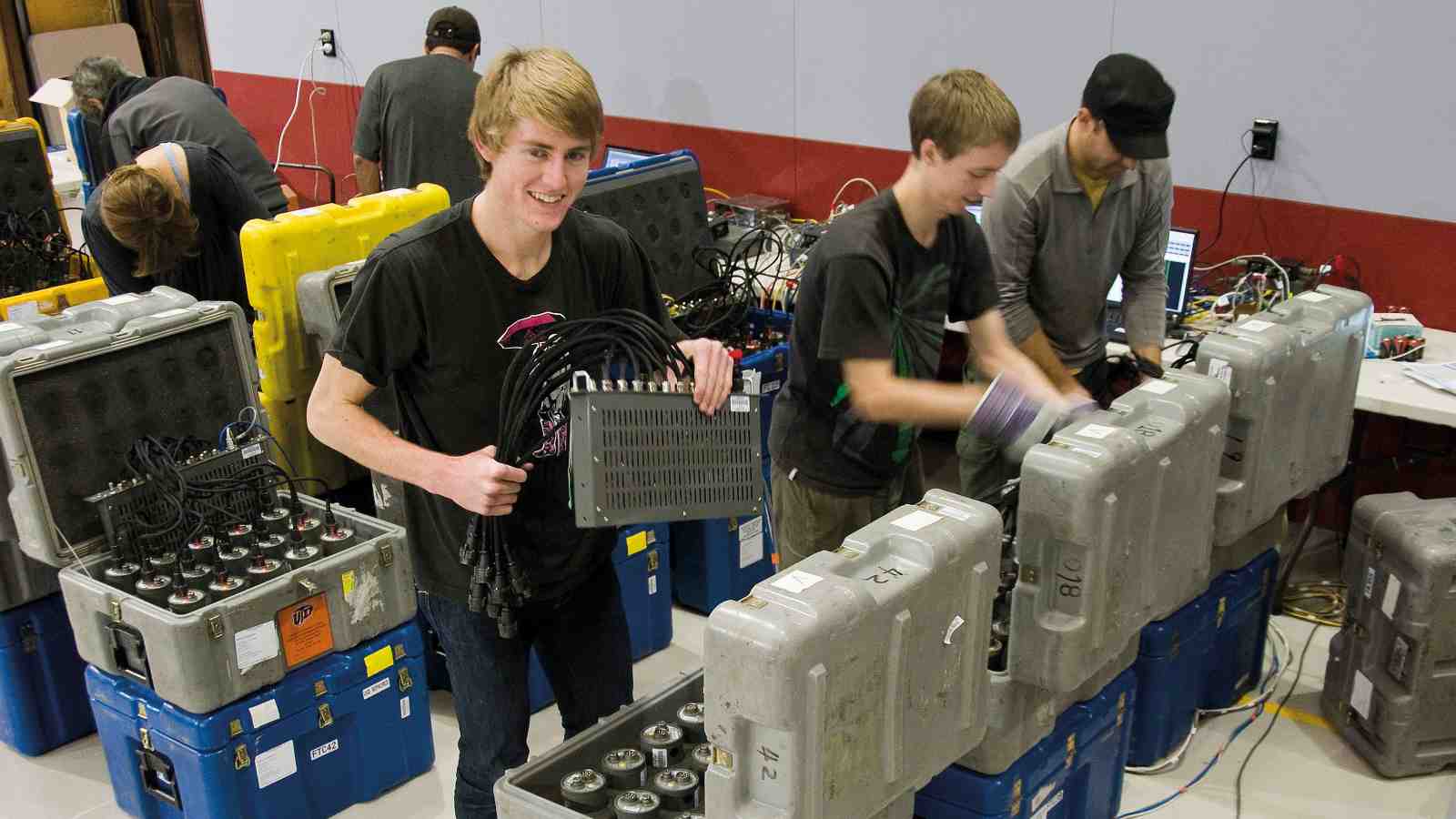 Victoria University postgraduate students prepare seismometers for deployment in specially dug holes in the coast-to-coast project. Credit Margaret Low, GNS Science
A series of controlled detonations were set off on a long line between the Wairarapa and Kapiti coasts. These allowed Victoria researchers Professors Tim Stern and Martha Savage, and Drs Simon Lamb and Rupert Sutherland—along with scientists from GNS Science and universities in the United States and Japan—to measure the seismic waves that bounced off the bottom of the Pacific tectonic plate, about 100 kilometres underneath the Wellington region.
The reflected waves gave them an unusually clear picture of the base of the plate and revealed previously unknown information that tectonic plates move around by gliding on a thin layer of 'soft' rock, which acts as a lubricant.
Tim says prior to this experiment, scientists had relied on seismic data recorded from earthquakes—seismic waves that are low in frequency and don't produce a very clear image. "By generating our own seismic waves using higher frequency dynamite shots we were able to gain a much clearer view of what appears to be a channel around 10 kilometres thick of fluid-rich, weak rock at the base of the plate.
"The weak, slippery base we discovered shows how tectonic plates can be pushed and pulled around without strong resistance from the mantle below," Tim explains. "Understanding this boundary between the base of cold, rigid tectonic plates and the underlying hot mantle underneath is central to our knowledge of plate tectonics and the very formation and evolution of our planet."
Staff within the Institute of Geophysics are involved in a wide range of research related to crustal structure and plate tectonic research in the south-west Pacific. These include projects in New Guinea, the Lord Howe Rise, the Alpine Fault, the Taupo Volcanic Zone, central Otago and the Transantarctic Mountains.