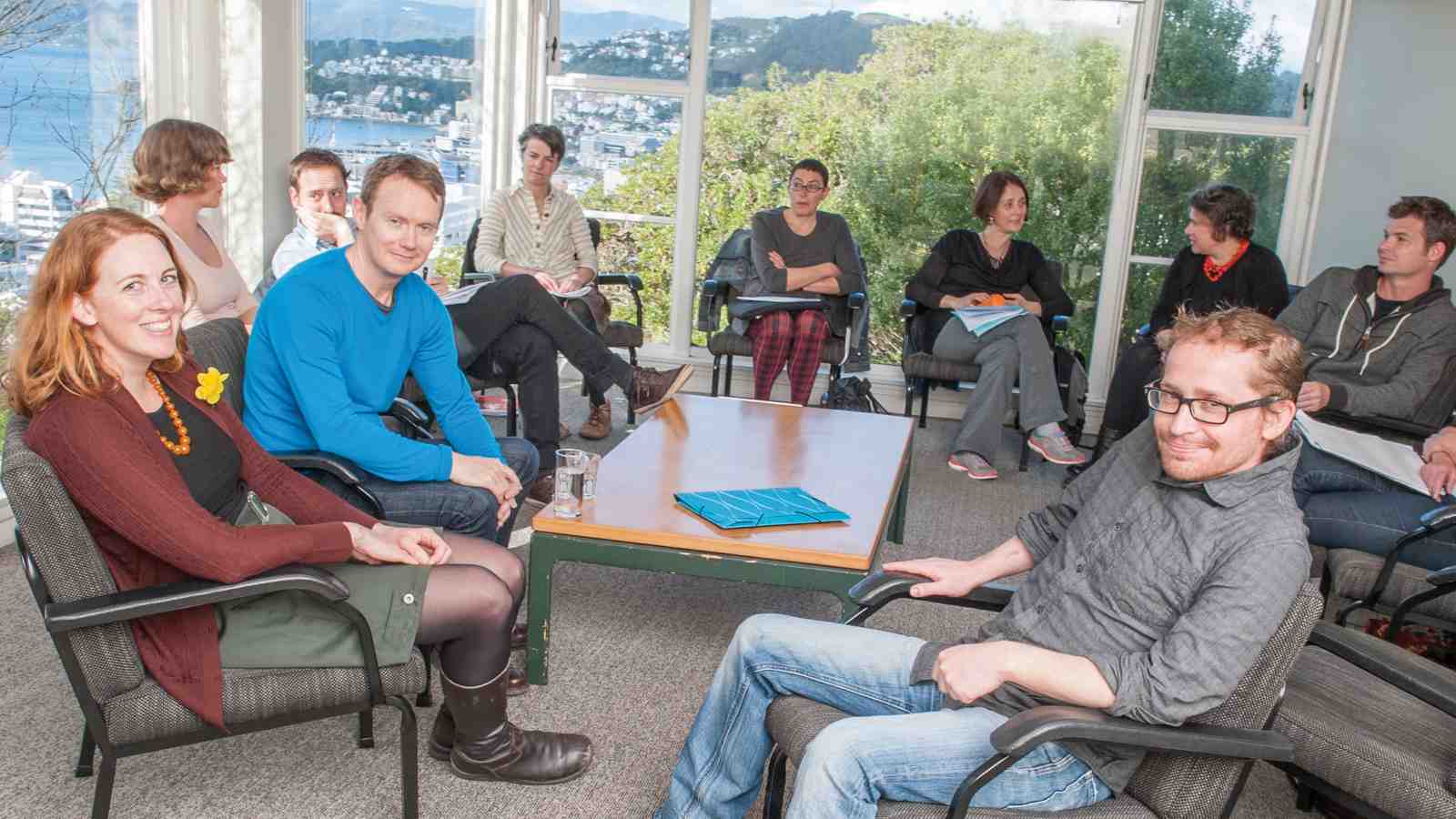 IIML Director Damien Wilkins (in blue) gets ready to discuss PHD research with Angela Andrews, Peter Cox and other creative writing students.
Since 2009, 14 writers have graduated from IIML's PhD programme and, each year, many more applications are received than can be accepted. There are currently 11 active PhD candidates.
"In the United States, a PhD has almost become the norm for anyone wanting to teach creative writing," says Professor Damien Wilkins.
"Here it's less about the job market and more about providing opportunities for people to write creatively, while also having time to think in original and innovative ways."
That was what motivated Peter Cox to return to university at the start of this year.
He graduated from the IIML with a Master's of Creative Writing in 2002 and a completed script that went on to be made into the award-winning television series The Insider's Guide to Happiness.
After more than a decade in the industry, Peter is relishing the challenge of again encountering new ideas and perspectives from other writers at the IIML and being able to focus purely on story construction, characters and technical aspects of his form.
"As a television scriptwriter in a small country like New Zealand, you have to keep your themes broad and you find yourself regularly in conversations about where and when a programme will be shown and distributed and having to adjust your material accordingly. It's just a reality of the industry, but I increasingly found it tiresome."
Peter is working on two television scripts for the creative component of his PhD and, for the critical component, he is examining what happens in the 'writer's room', the place where scriptwriters gather to thrash out story lines for television series.
"The two strands of work feed into each other," he says. "On one hand, I am looking at what other writers go through in the process of a collaborative, negotiated authorship, while also looking at what my own 'voice' is, or isn't, as I write my scripts."
Peter's work, says Damien, illustrates one of the innovative things about the IIML's PhD programme—support for "hybrid theses" in which the creative and critical components are inextricably interwoven.
Another example is Angela Andrews' project that looks at the relationships between medicine and poetry. Angela, a qualified doctor, explores the nature of medical understanding through essays and poems about clinical encounters, illness and the mind-body axis, using her experiences of being a patient, family member, medical student and a doctor.
The interdisciplinary nature of many students' research topics is also a standout feature of the PhD programme. Students are collaborating, or have done, with scientists, musicians, art historians and architects to inform their work.
By the end of 2014, eight books will have been published from the PhD programme, which, says Damien, is a good indicator of the seriousness of research outputs. Several of these books have won major literary awards.
Stellar success
The IIML is New Zealand's oldest and most prestigious creative writing programme that counts among its graduates the winner of the 2013 Man Booker Prize, Eleanor Catton, and many other leading New Zealand contemporary writers.
The Institute offers a one-year Master's programme in writing for the page or scriptwriting and a three-year PhD programme.