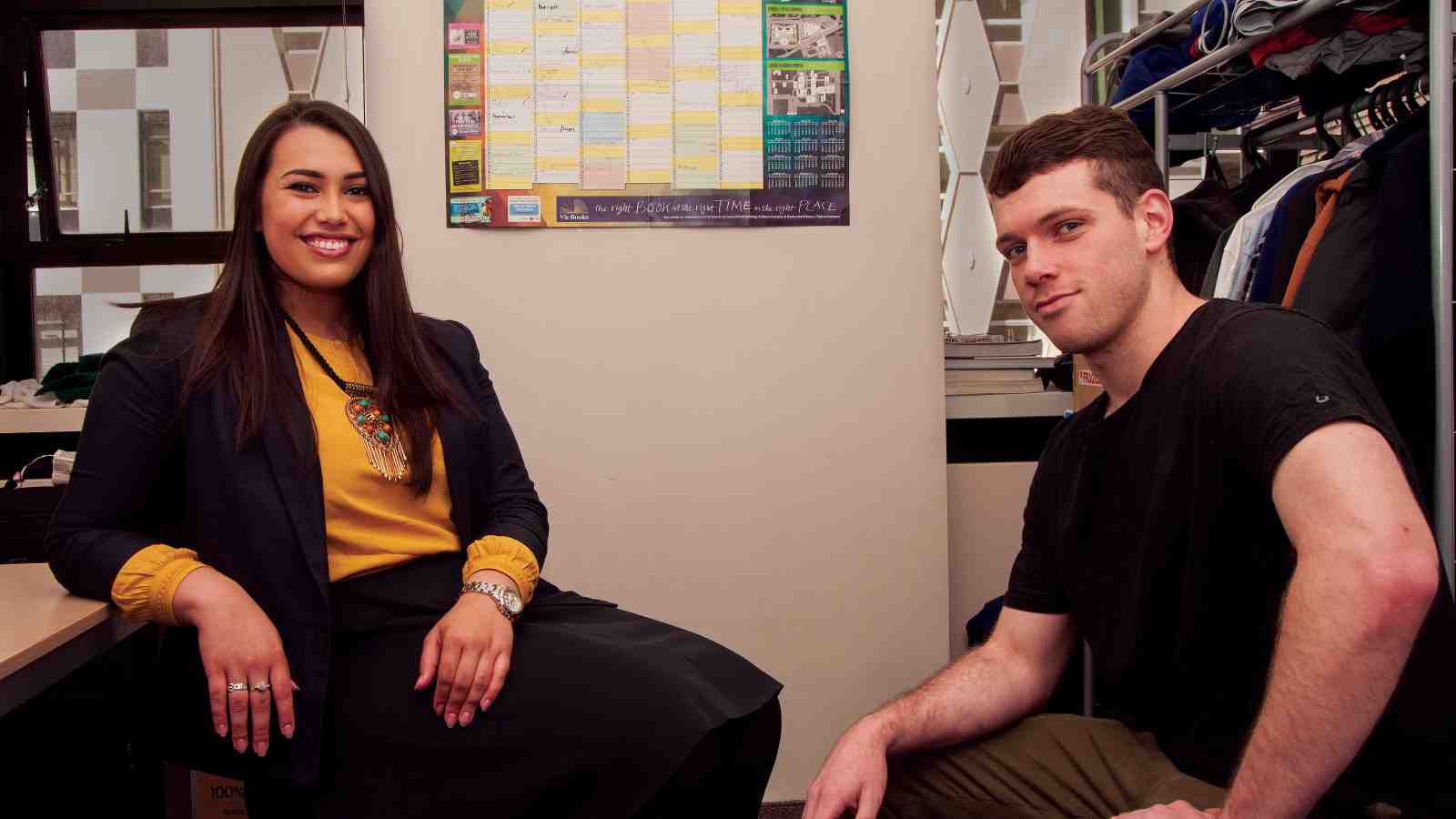 Isabella Moore left her Auckland home to study at Te Kōkī New Zealand School of Music (NZSM) in 2011. Since graduating, she has built a stellar career, this year winning the Lexus Song Quest, the Marianne Mathy Scholarship, the Dame Malvina Major Foundation Christchurch Aria competition and the Hamilton Competition's Premier Vocal Award.
The soprano says as a student she was hard-working—sometimes a little bit lazy—and a perfectionist.
Her old room at Stafford House, which offers self-contained two or three bedroom apartments, is currently occupied by first-year Bachelor of Commerce student William Walkley, also from Auckland, who doesn't share Isabella's passion for classical music but is impressed by her talent.
Isabella Moore
How did it feel to walk into your room for the first time?
I was really excited about living at Stafford House because it allows students to have a flatting experience. It was definitely a good move for me. I got the corner room that was the biggest and had the most windows, so I was very happy about that.
What was the highlight of staying at Stafford House?
Location, location, location! It's right next door to Les Mills, so I was definitely at my fittest living at Stafford (not to mention the climb up the Terrace to NZSM). It was also close to the city centre and Lambton Quay, so was only a few minutes away from my favourite pubs and the best thick cut chips.
Your most memorable moment of living in a Hall?
I'll never forget the Rugby World Cup in 2011. I was living at Stafford and my friends and I were watching the final. When we won, Wellington went off and everyone was celebrating. It was such an awesome experience.
What was the highlight of studying at Victoria?
I was a bit lazy when it came to subjects that I wasn't passionate about, but were crucial for my degree. I became a better student studying at Victoria, and I'm really grateful because I can now say that my work ethic is strong.
What music did you like to listen to?
Being a classical music student I listened to a lot of classical music and opera. But, when I needed a break from all that I would listen to RnB, hip-hop and rap music. I have memories of my friends and I making crazy videos to Beyoncé and Lil Wayne.
What did you get up to in your spare time?
Saturday morning brunch dates with friends. It was a tradition—we'd walk along Cuba Street trying out different cafés and restaurants. Also, Wellington has the best beer! I also loved going to the New Zealand Opera productions at the St James Theatre. Always a great night out!
Your advice to incoming students?
Study hard and achieve your goals. Everything and anything is possible if you put in the hours. And make sure you go to Aro Café and get a coffee, it's the best!
William Walkley
Why did you choose to study in Wellington?
I had to get away from Auckland and experience other parts of New Zealand. This is the first time that I have lived away from home. Eighteen years was long enough—it's good to have a bit more freedom!
Why did you choose Stafford House?
The whole experience of managing and making my own food was the deciding factor when choosing the Hall I wanted to stay in.
What's the best thing about the Hall so far?
The staff, hands down. Everyone from the managers to Jeff the security guard. They are all helpful and make my time at Stafford enjoyable.
What do you think about staying in Isabella Moore's old room?
She seems to be carving out an impressive career. It is cool to know that someone who is achieving in her adult life started in the same place that I am starting mine.
What do you like to do in your spare time?
Stafford House is an international Hall of Residence, so there is a massively diverse range of people. Chatting to my fellow residents in the common room and learning about their different cultures is awesome. I also like indulging in what the city has to offer—everything from having a stroll on the waterfront to having a game of pool at the pub.
What type of student are you?
Just your usual first-year business student. I am fresh out of high school and learning the ropes of independence. Next year will be more challenging, but I'll come to that hurdle when it gets here.
Do you share Isabella's musical interests?
I'm more of a Fleetwood Mac, Dave Dobbyn or David Gray man myself.