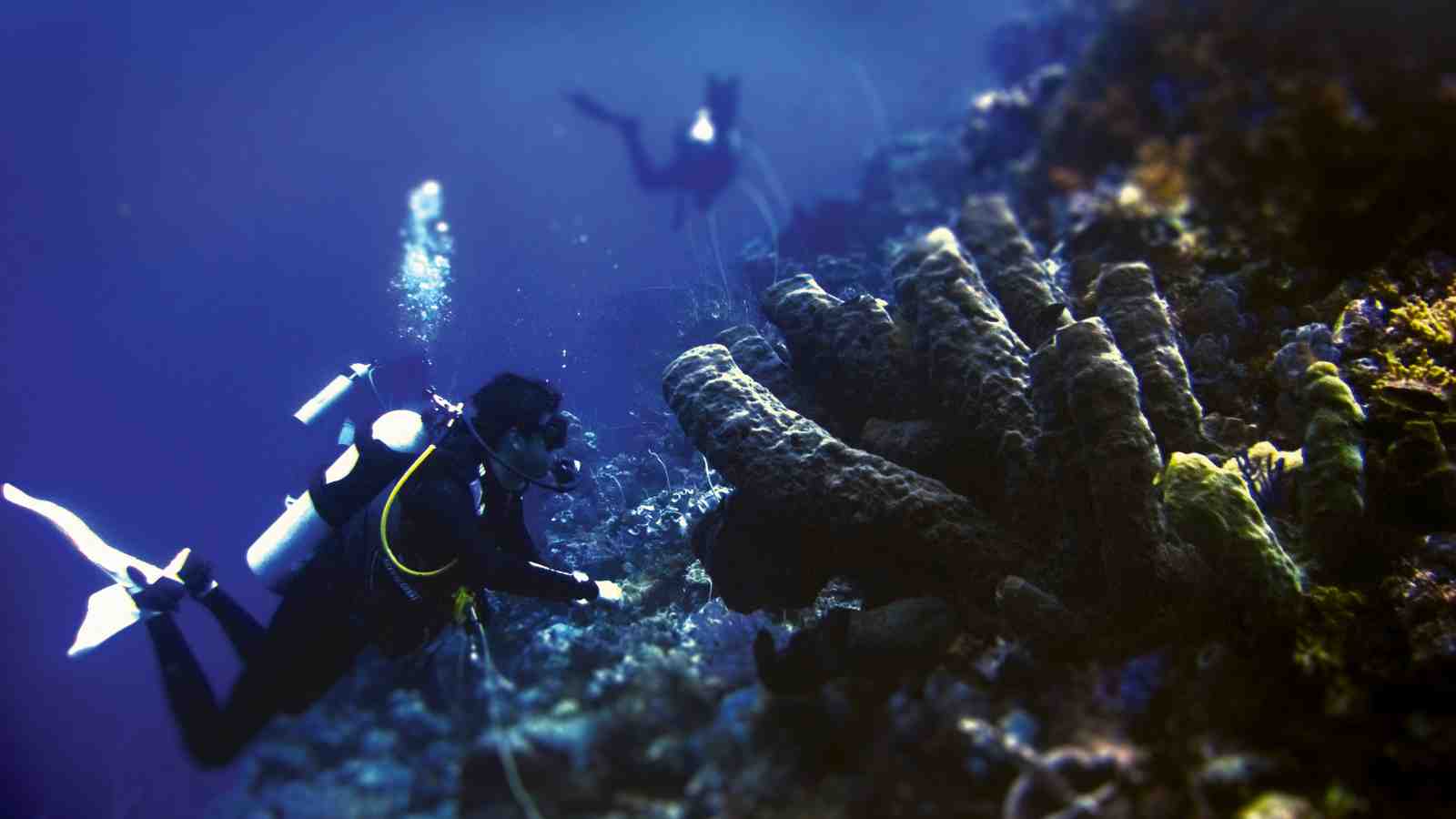 Joe Marlow observes a large organ sponge on a coral reef during a dive survey at Wakatobi Marine National Park. Credit Tracey Bates
A long-term research programme at Victoria indicates that these diverse organisms, which range in size from less than a centimetre to giant sponges which are 1.8 metres wide and weigh 80 kilograms, are flourishing in parts of the world where coral is dying.
"Globally, there is a realisation that sponges are likely to be here and doing well in a hundred years' time."
"Climate change and human impact are having a devastating effect on some marine species but, globally, there is a realisation that sponges are likely to be here and doing well in a hundred years' time," says Dr James Bell, an associate professor in Marine Biology, who leads the group.
Some of the evidence to support that view comes from studies being carried out by Victoria researchers at the reefs surrounding the islands of Hoga and Kaladupa in the Wakatobi Marine National Park in Sulawesi, Indonesia.
"It's an ideal location for this work," says PhD candidate Andy Biggerstaff, "because you have a comparatively healthy coral reef alongside one that appears to be undergoing transition from coral to sponge domination."
At the latter reef, coral cover has dropped from 30 to less than 10 percent over a seven-year period, with sponge density increasing by 50 percent in the same period.
In addition to tracking the spread of the dominant sponge species on the reef, Andy is also looking at the impact human activities are having.
"Being close to a village of 2,000 people and recent clearing of mangroves has put a lot of sediment in the water, affecting theamount of light. It seems the sponges on the reef can rapidly adapt to survive in these low light conditions whereas corals struggle."
Victoria has one of the largest sponge ecology groups in the world and is involved in research in a number of other locations,including the United Kingdom, the Central and South Pacific, Hawaii, Australia and New Zealand.
At Victoria's Coastal Ecology Lab in Wellington, Master's student Tracey Bates is looking at how sponges in temperate waters will respond to ocean acidification and rising temperatures.
"We know virtually nothing about what will happen to sponges in New Zealand waters as the climate and the ocean both change, despite the fact that wherever you find underwater rock you find lots of sponges," says Tracey.
Early findings from her work confirm what other research by the group is also showing—that sponges are resilient and able to adapt to changing conditions.
James says sponges are among the simplest of all organisms—most are attached to a reef, sucking in water through their pores, filtering out tiny particles of food and then pumping the water out again.
"Reefs that are dominated by sponges may not be as productive as coral reefs as a source of food for people because they won't support the same number of species. But, given the fact that they seem to thrive in conditions expected of marine environments in the future, it's vital that we understand more about them."