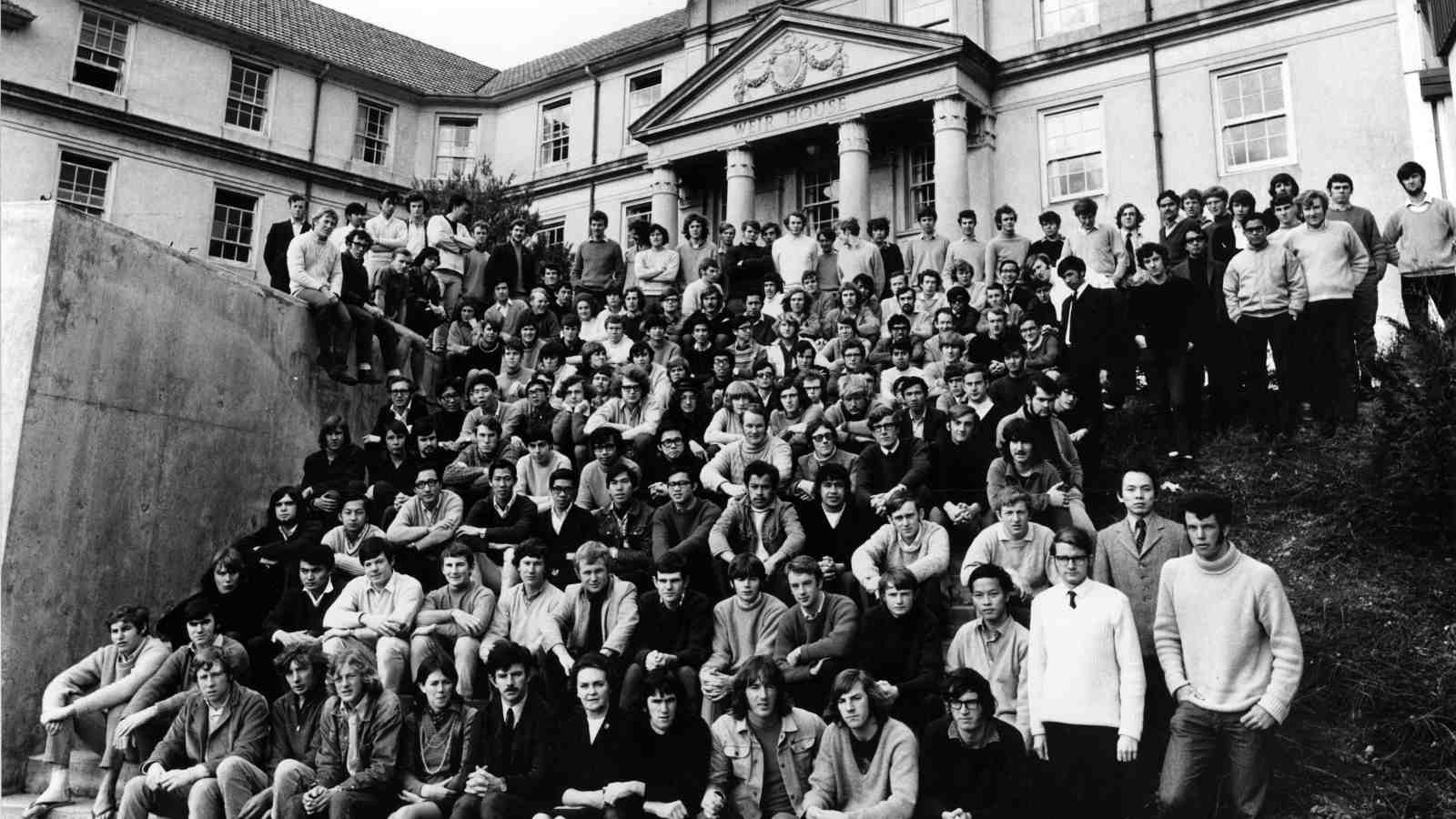 1970 group portrait of Weir House residents, some of whom will be at the November reunion. Credit: Weir House Residents' Association archives. J.C. Beaglehole Room (VUW 2/384)
Among the participants will be Law alumnus Tan Sri Chong Kah Kiat, one of many Malaysian students who studied at Victoria during the 1970s.
'KK', as he likes to be known, became interested in the legal profession when he discovered Perry Mason detective stories as a youngster. He decided to pursue Law at university, and eventually found himself in a "sleepy, but clean and green" Wellington in 1971.
"My two most admired lawyers in my home state of Sabah in Malaysia were both outstanding graduates of Victoria University, and New Zealand and Australia had been (and continue to be) favourite education destinations for Malaysian students," says KK.
Unlike many other Southeast Asian students who were contemporaries of KK's, he chose to go flatting in Kelburn, rather than stay in a hostel.
Favourite pastimes included spending lazy weekends on the sloping hills of the city's Botanic Garden and playing sports, especially squash and tennis.
But it wasn't all rest and relaxation and, in fact, his leadership skills were able to shine through his love of sport, as he founded and led the organisation of the first New Zealand Malaysian students' sports tournament in 1974. This saw around 100 Malaysian students from around the country gather in Wellington for a competitive tournament, which also led to some lifelong friendships.
"My five years at Victoria gave me invaluable opportunities—including establishing a good network of friends."
On completing his Master of Laws degree, KK returned to Malaysia, where he joined a private legal practice, but quickly became active in politics. His long, successful political career included time as a minister in the Prime Minister's Department and later as the Minister of Tourism Development, Environment, Science and Technology in his home of Sabah, culminating as the Chief Minister of Sabah.
Many of his Southeast Asian colleagues who studied at Victoria have also gone on to high-profile careers in areas including business, the legal profession, arts and culture, politics and science.
The connection between these graduates has proved so strong over the years that a large group of alumni, including KK, who studied together during the 1970s have stayed in touch and organised reunions from time to time.
Two of these have been held in Malaysia, in 2008 and 2012, and at the end of this year, the group will undertake their first New Zealand reunion.
The get together will include several days in Wellington, including visits to Victoria Business School and other faculties, a tour of Weir House and a welcome on to Te Herenga Waka Marae on Kelburn campus. The group will also attend question time at Parliament and an afternoon tea in the Grand Hall, hosted by Members of Parliament, and a special celebration dinner hosted by University Chancellor Ian McKinnon and his wife Jenny, in honour of the occasion.
"Although I've returned to New Zealand several times since my student days, I'm very much looking forward to seeing old friends and colleagues back where it all began in Wellington," KK says.
Visit the Victoria International website for more information about Victoria's international engagement in the Asia-Pacific region.
Alumni events will be taking place in Indonesia, Thailand and Vietnam in November 2014. See the Alumni website for more details or contact Lisa Li, Alumni Relations Advisor at lisa.li@vuw.ac.nz.