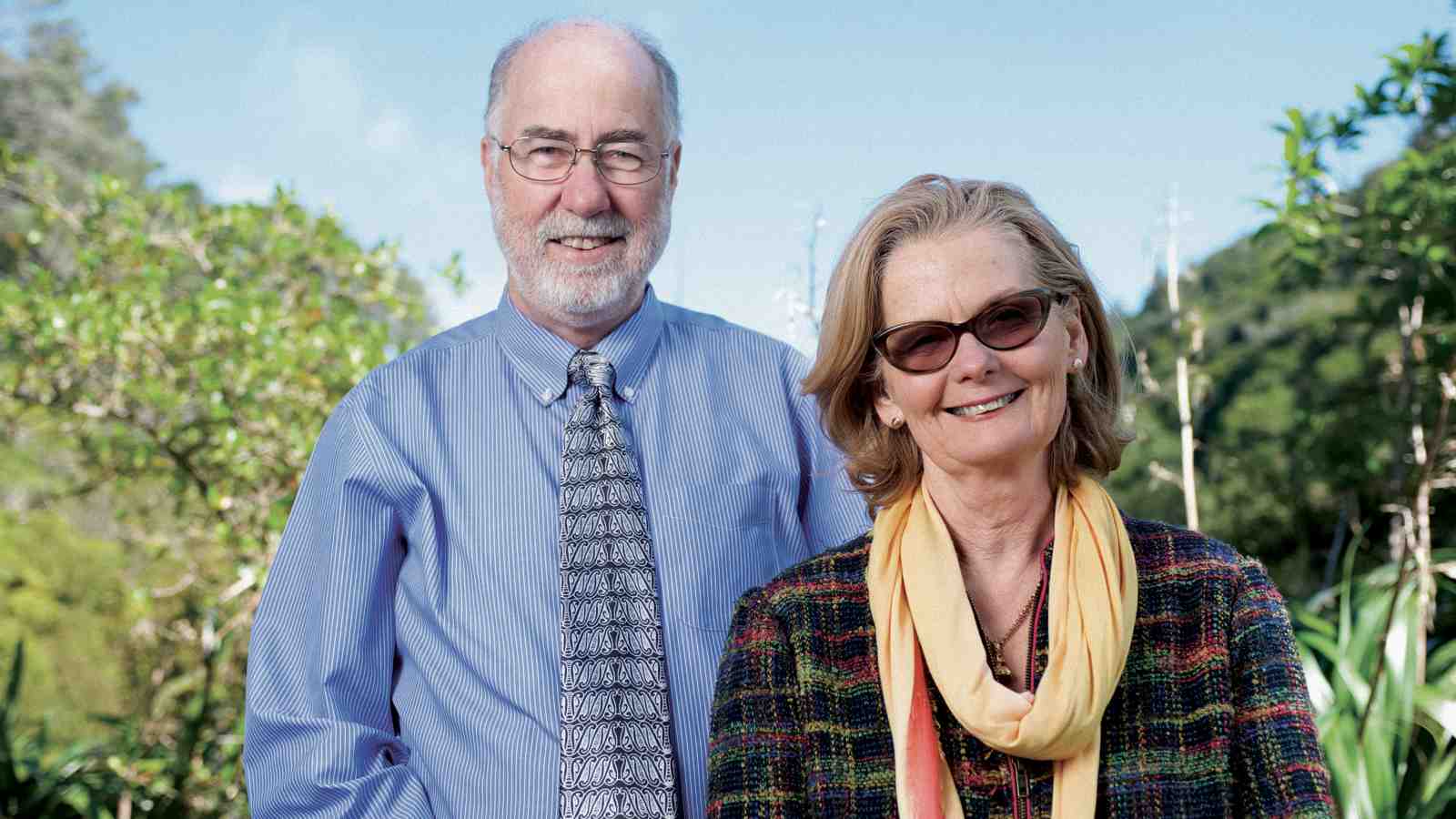 Professor Charles Daugherty and Hilary Beaton at Zealandia.
Professor Charles Daugherty, Victoria's Assistant Vice-Chancellor (Sustainability), is a current trustee for Zealandia, located in the central Wellington suburb of Karori. He says the link between the two institutions goes back to the sanctuary's early days.
"The concept was first proposed in 1992 by a group of ecologically-minded locals. Botanist Kath Dickinson and biologist Don Drake, both former Victoria staff, were involved at that foundation stage. When the Karori Sanctuary Trust was formed in 1995 it included Professor John Wells, a former head of Biology and then Dean of Science at Victoria.
The late Professor Sir Paul Callaghan was a trustee. And Nicky Nelson from the School of Biological Sciences is the Victoria representative on the Guardians of the Sanctuary, an oversight group."
Since its inception, Zealandia has been the focus of dozens of postgraduate research projects. "These studies have helped Zealandia make important decisions about things like breeding, translocation of species or how to remove non-native plants in a way that doesn't open the land up to an invasion by weeds," says Charles.
One milestone has been Victoria's School of Biological Sciences overseeing the translocation of tuatara to Zealandia, marking the return of the species to the mainland after at least 100 years' absence. "It's been a huge success," says Charles. "You can go there every day and see a tuatara."
Dr Kevin Burns, the deputy head of Victoria's School of Biological Sciences, who teaches two university courses at the sanctuary, can often be found taking classes on field trips through Zealandia's unique forest.
"Zealandia is absolutely fantastic," he says. "It is one of the largest assemblages of New Zealand's surviving native bird species, and is only a stone's throw from campus.
"A big part of my work is investigating animal minds. We found out that robins could count and we know it's because they're stealing food and want to get the biggest stash—but we could only find that out by coming to Zealandia and studying them at close range.
"Scientists usually spend enormousamounts of time preparing to go to remote locations to do this sort of work, whereas we can just roll out of the Kelburn campusand it's right there for us."
Victoria and Zealandia worked together in 2006 to get a grant from the Ministry of Education which was used to establish a Master's degree in ecological restoration. To date, 31 students have graduated from the programme.
In 2011 a Memorandum of Understanding between the two organisations was signed to foster greater research collaboration.
Zealandia's chief executive Hilary Beaton says the sanctuary's longstanding relationship with Victoria is a valuable one. "Our joint influence and expertise can come together for the greater good of our pursuit of restoration conservation."
Charles agrees. "Zealandia is important for Wellington and for New Zealand. It's an ecological restoration project in the middle of the city. And for more than a decade, Wellingtonians have enjoyed the fruits of that, through the growing presence of tui, kaka, kereru and other native species in our city.
"Our plan is to continue to grow our relationship with Zealandia into more of a formal partnership so we can do more together."