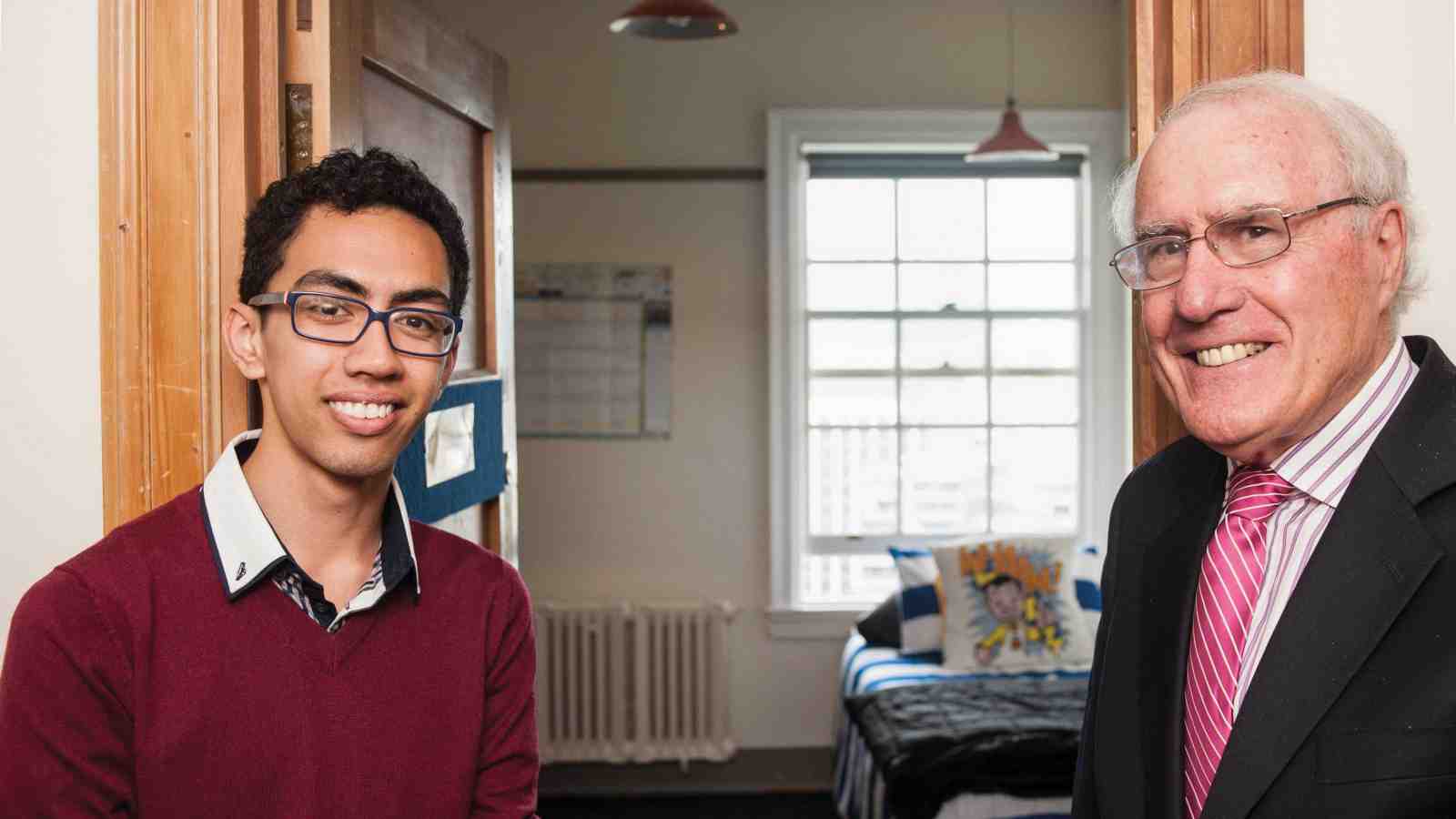 It's been half a century since Rt Hon Sir Geoffrey Palmer QC has seen his old room at Weir House, currently occupied by first-year student, Joel Rudolph.
Sir Geoffrey, a Victoria graduate, has had a career in politics as a prime minister, deputy prime minister and a member of parliament, and as a law practitioner and professor.
Joel is studying toward a Bachelor of Arts and joined Victoria University on an Excellence Scholarship. He left home in Whanganui in February to move to Weir House, where he is the current resident of Sir Geoffrey's old room, B11.
Sir Geoffrey Palmer
How does it feel to be back at Weir House and your old room?
The place looks very familiar, but is different in many ways. First of all, it was very macho in those days—there were no female students at all and a lot of beer drinking went on. There was no carpet in the hallways or rooms either.
What's your fondest memory of B11?
I was in this room when they were building the overseas terminal. Instead of doing as much study as I should have, used to watch the construction proceed.
I had a record player too. I used to be a member of the World Record Club, which sold records cheaply, and I remember playing a whole lot of Beethoven records.
Do you keep in touch with friends you made at Weir House?
I met a lot of very interesting people in the three years I stayed at Weir House. There were some very able people who went on to make their mark in many different fields. The two people who were across the hall when I was in B11, John McCarthy and David Onley, are both lawyers—both of whom play golf with me.
Was it normal to stay for more than a year?
Yes, it was common for people to stay at least two, and sometimes three years. It was hard to get in though and you had to have a pretty good academic record.
What was the worst?
I didn't like the food very much. There was a lot of saveloys and tripe, I remember. In my second year I got a bit thin and the doctor prescribed stout to build me up.
Did you always know you wanted to be a lawyer?
My mother told me when I was seven years old that I had the gift of the gab and should become a barrister, and I never questioned that judgement for a minute.
What type of student were you?
I was a fairly hard-working student. I got involved in student journalism and eventually became the editor of Salient—in those days you had to sell it on campus too. I was usually engaged in some university activity or club. The Student Union was built during my years, and that was a great addition to the place.
What was the best part of living in a Hall of Residence?
We had balls in those days. My now-wife Margaret was a student in Christchurch so I'd travel down on the overnight ferry to go to her ball and she'd come up here to go to the Weir House ball.
Did you get up to any antics?
I nearly got arrested on a panty raid once. The Police got a couple of the girls to identify who did it, and fortunately I wasn't one of them. Eight students were arrested and I was the only law student among them, so I told them not to say anything. There were a lot of antics in my day.
What's the biggest difference for students nowadays?
I still teach at the University and I think the students are preoccupied with getting their degrees, because from an economic point of view life is pretty uncertain for them. For us in the 60s it was paradise. It wasn't a question of getting a job. I could have gone to several law firms to get a job. That doesn't happen now.
What's your advice to incoming students?
From a learning point of view, your university years will set you up for life as long as you take them seriously and try to get the best out of them that you can.
Joel Rudolph
What are you studying?
I'm doing a Bachelor of Arts majoring in Music and Theatre. I'm also taking a couple of English papers this year. From there, I'm not quite sure but it'll be in the musical or theatre direction.
Have you always had an interest in music and theatre?
I have actually, but I don't know where it came from. Neither of my parents have musical backgrounds. My grandmother always said it was her because she'd play opera CDs in the car and I was the only one who would listen.
Was B11 what you were expecting?
Better! A couple of my friends are in shared rooms and I just happened to be in a single room, and I have a view—it was a nicesurprise. One of the schools I went to in Whanganui was in a big old building. When I walked into my room here it felt familiar, like I'm closer to home.
What do you think about staying in Sir Geoffrey's old room?
It's so interesting. I'm not very political—although I do have an uncle who is the Labour Party candidate for Te Tai Hauāuru—but I'd known of Sir Geoffrey and his tenure as prime minister. When I explained to my friends who Sir Geoffrey is, they thought it was pretty cool. The older people I told, like my parents and grandparents, said, "Oh he's a really nice guy, I liked him."
What's the best thing about Weir House so far?
The number of pianos around here. I'm a pianist and it's nice not to have to gofar to play. Playing music is a great stress reliever too and I only need to go down one floor to bang out a few chords.
What do you get up to in your spare time?
I didn't plan my first trimester out very well, so I've got a heavier workload than I intended—I'm just trying to keep on top of that at the moment. Once my workload eases up, I'll be joining the theatre and film clubs.
Sir Geoffrey had his bed and desk the other way around. Will you follow suit?
I would! But all the extension cords are on the other side of the room now.