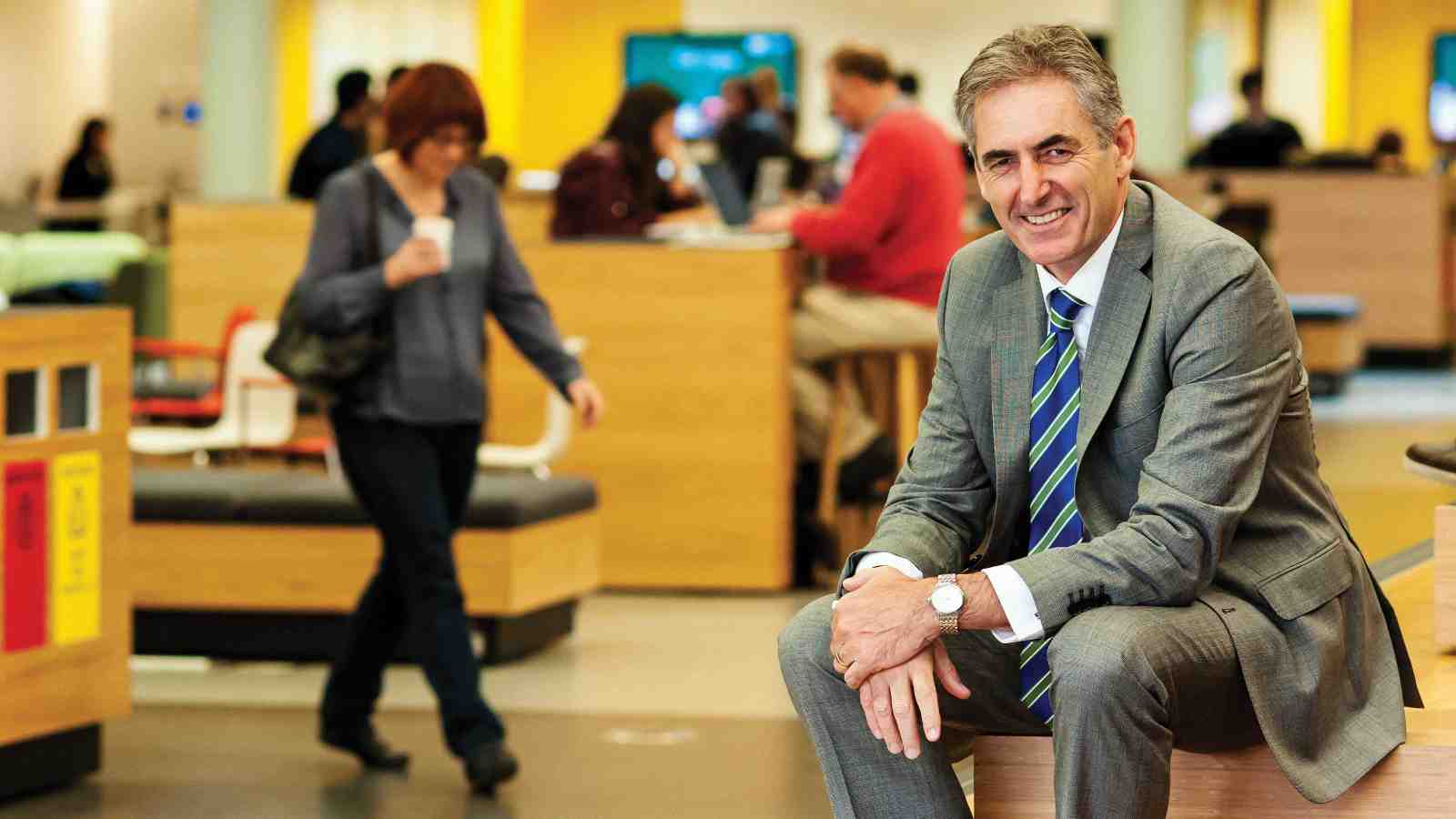 He worked as a veterinary practitioner before moving into teaching, research, clinical and leadership roles at universities in America and New Zealand. Grant was Head of the Institute of Veterinary, Animal and Biomedical Sciences at Massey University and then Dean of the Faculty of Sciences at The University of Auckland before coming to Victoria.
What made you apply for the role of Vice-Chancellor at Victoria?
It was clear to me that Victoria is a high-quality and ambitious university. One good example of this is the results of the recent Performance Based Research Fund [PBRF] assessment. Victoria's first place shows that the University is not only committed to academic excellence but also a university that can translate ambition into achievement.
Was being a Vice-Chancellor part of your career plan?
I've never been a great career planner but along the way I have been offered, and have taken, opportunities that led to me establishing academic credentials, looking after staff, heading units and then faculties and ultimately leading a university. It's something that has unfolded and each part has brought delightful life experiences which have contributed to the next phase.
What are some of your formative influences?
Many and varied. Being a sixth generation New Zealander has created a sense of whenua. I was raised in a tight-knit family in a small rural town—instilling in me a feeling of connection to heartland New Zealand. Tramping and fly fishing in our wilderness areas makes me feel privileged to be a New Zealander. Twenty years as a practising veterinarian taught me the importance of compassion. You also become very outcome focused because you have to move to a result—life and death can depend on it—with imperfect information. Making decisions on what you've got and driving to a conclusion has become very much part of what I do.
What are your early impressions of Victoria?
Two things stand out—the genuine excellence in both teaching and research at Victoria and the modesty of the University with regard to its achievements. As Professor Pat Walsh commented during his departure, Victoria now knows it can achieve things of which it can be very proud. But the story of Victoria's excellence has not yet been clearly conveyed to all of our communities of interest.
What are your top priorities as Vice-Chancellor?
The first job of an incoming Vice-Chancellor is to listen and I have been doing, and will continue to do, a lot of that. My overarching goal is to ensure Victoria cements its place amongst the global elite of capital city universities.
There is an immediate need to promote understanding about Victoria's high research and teaching quality. We have work to do to define our distinctive areas of strength—one of which is the humanities, an area which fits well with a capital city university but which is under ill-informed threat all over the world.
On the research side, I am determined to build on Victoria's fantastic PBRF results. That means developing, recruiting and retaining even more people with the ability to lead their fields. Globally, the pool of elite academics is actually quite small and they are in demand at all the world's top universities so we will be looking at additional incentives to encourage top people to stay with or choose Victoria. One of those incentives is ensuring we protect the ability to undertake curiosity-led research alongside translation research. One without the other is about as sensible as a value chain without raw ingredients.
The immediate priority on the teaching and learning side is to develop more vocationally orientated taught Master's programmes to provide opportunities for our alumni (and others) to return to Victoria at waypoints in their careers—whether to deepen their vocational knowledge or to change career direction. These programmes also assist the University to produce graduates with the right balance of global citizenship, employment readiness and future employability. Put another way, producing graduates with the appropriate mix of broad-based knowledge, specific competencies and personal attributes to thrive in the modern reality of a career spanning three, four or five employers often in widely different sectors.
We will also be increasing our investment in community engagement and partnerships. Partnering is implicit in the University's relationship with tangata whenua and is similarly important with Pasifika communities. Partnering approaches will be fundamental to our ongoing credibility with our overseas students and their sponsors. As a world class capital city university, Victoria is well placed to catalyse the triple helix of town, crown and gown that underpins innovation, entrepreneurship and sustainable economic growth.
What are your personal priorities?
I feel very strongly about caring for our environment. It's not rocket science to understand that a healthy economy requires a healthy society and a healthy society requires a healthy environment. Philosophically, I don't agree with the concept of the human race having dominion over the natural world but see it more as a matter of family, as Māori do, through principles like whakapapa and kaitiaki. We have a duty of care to other species, our fellow travellers in evolutionary time. More prosaically, our environment gives New Zealand a competitive edge in the world. We have to maintain our environmental credentials if we want to attract the top talent we need to go forward as a nation. I also think there are strong business opportunities in the green economy that we can take advantage of.
What do you drive?
Oh dear—yes—that question almost always comes up when people talk about an environmental ethos. Yes, I do drive to work but in an electric car, a Holden Volt. It goes like the clappers without even a puff of carbon. Perfect!