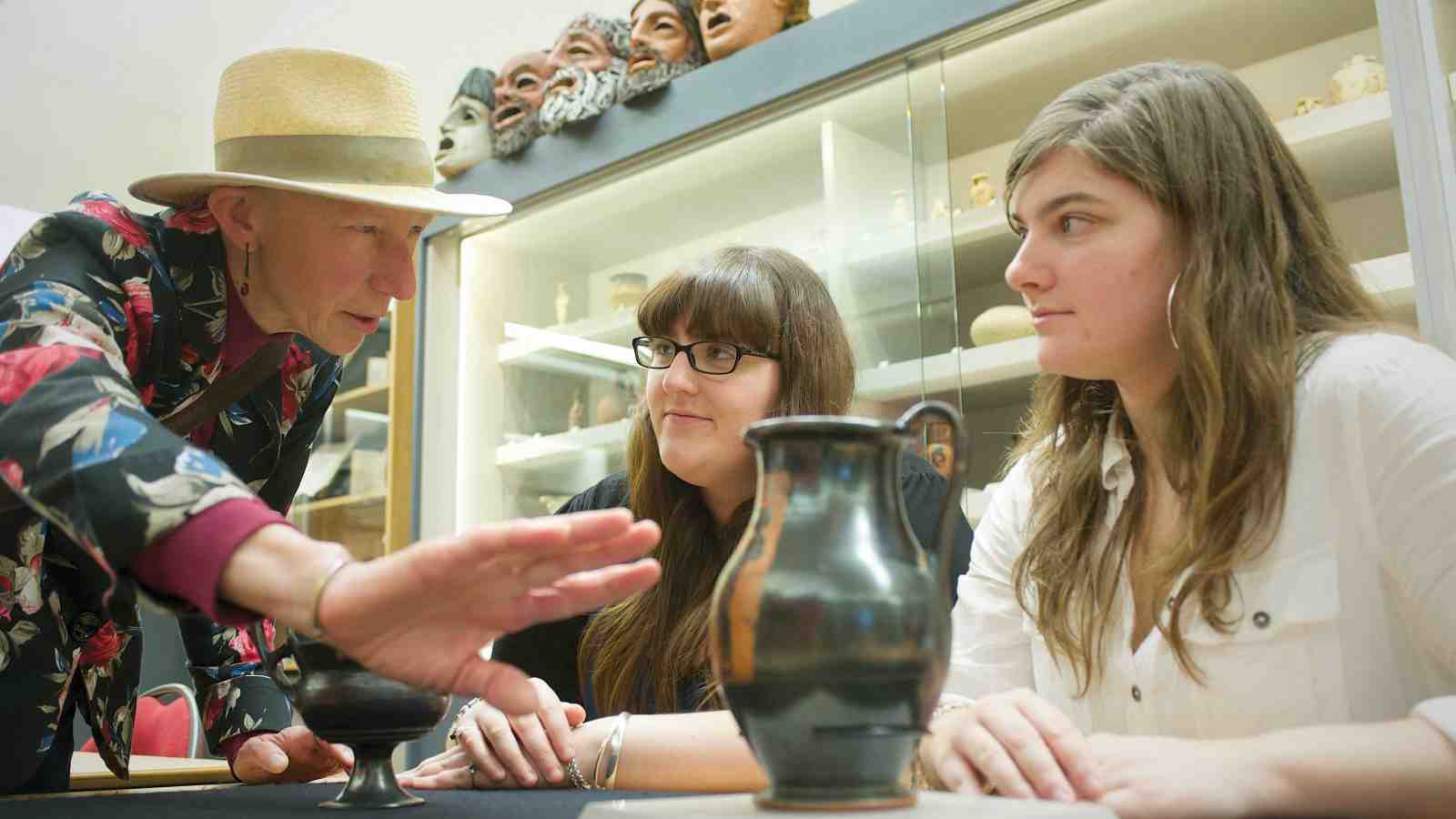 Dr Judy Deuling with students Jaimee Murdoch and Nikki Carter.
Dr Judy Deuling, a senior lecturer in Classics, Greek and Latin, admits she used to be concerned about letting students touch items in the collection. "However, our collection is meant to be used and I have accepted that concept," she laughs.
There are more than 160 objects in the museum, ranging from fragments of pottery dating to the earliest Neolithic period to a piece of sculpture dating to 2300 BCE, from the Cycladic Islands.
The majority of items in the collection have been carefully selected to complement the areas taught in Classics at the University. As a result, Judy says, the University collection offers the broadest range of Greek, Etruscan and Roman pottery, painting, sculpture, glass and coins in the country, beginning in the prehistorical Aegean Bronze Age and extending all the way to a coin, dated 401–450 CE, minted by the emperor Theodosius II.
The museum's latest acquisition is a bronze Roman strigil, dated to the third century CE, an instrument with a curved blade that was used to scrape dirt and oil from the body before effective soaps became available.
Students become involved with the collection, through 'set' identification and writing exercises, which encourage them to examine items closely and to identify and discuss the characteristics of those pieces within the collection. Additionally, Classics art tutorials are held in the Classics Museum, both at undergraduate and at Honours levels.
As well as purpose-built glass cabinets, there are drawers of ancient coins in see through cases that can be flipped over to view both sides of the coins. Likewise, decorative fragments of pottery and samples of papyrus that showcase Greek writing feature in the drawers, but are protected from excessive exposure to light. "Being able to get so close to these items really brings the Classical world alive for students," says Judy.
Such a valuable resource needs appropriate protection and, recently, earthquake-proofing measures have been undertaken. Not only have vitrines and large objects been bolted to the floor, special clips and mounts have been tailor-made for each object to ensure they are held securely in place in the display cases. Items that are frequently taken off the shelf as teaching tools have been fixed to removable trays, which are held in place with strong magnetic bases that can be gently moved in and out of the display cases.
With regular school visits, selected hours open to the public, annual visits from the Wellington Classical Association as well as being used by Classics students, the collection has no time to sit around gathering dust.
"It is wonderful to be the guardians of such a serviceable collection of material culture," says Judy.
Victoria's Classics Museum is open to the public on Fridays, subject to availability or by arrangement.